I remember the first time I had a Monte Cristo sandwich waaaay back in junior high. Our French teacher took us on a field trip to a french restaurant so we could expand our food horizon through a culinary exploration of the french cuisine. Funnily enough I picked the most North American option available. Crepe Florentine? No thank you, I'll have a fried ham and cheese sandwich. Unfortunately, I only ended up eating a couple of bites. I just didn't understand why a sweet jam would be on a savoury sandwich. And what was with the powdered sugar? My 12 year old mind just did not get it. Now that I've grown up, I get it and I love it! 

Monte Cristo is basically a ham and cheese sandwich that is dipped in an egg batter then fried.  The construction of the Monte Cristo is similar to that of a Croque Monsieur, however the latter is covered in a warm béchamel sauce and the former is typically served with strawberry or raspberry jam and with a generous dusting of powdered sugar. 
To mix things up a bit, I decided to use some leftover Belgian-style yeast waffles instead of bread, I also didn't use an egg dip. Why you ask? Because I used up all the eggs the day earlier and didn't feel like going to the grocery store in a groggy state…

But anyways, back to my original thought. Yeast waffle typically take longer than regular waffles because the batter needs to rise and is typically left overnight to rest so the yeast flavour develops. If you don't want to wait, you can find any standard waffle recipe online to quickly whip up. The first sandwich I made used two full waffles, however it ended up being a bit too much waffle for me so I fed it to Kevin. For my second attempt, I cut one waffle in half and layered in the fillings. This amount was just perfect!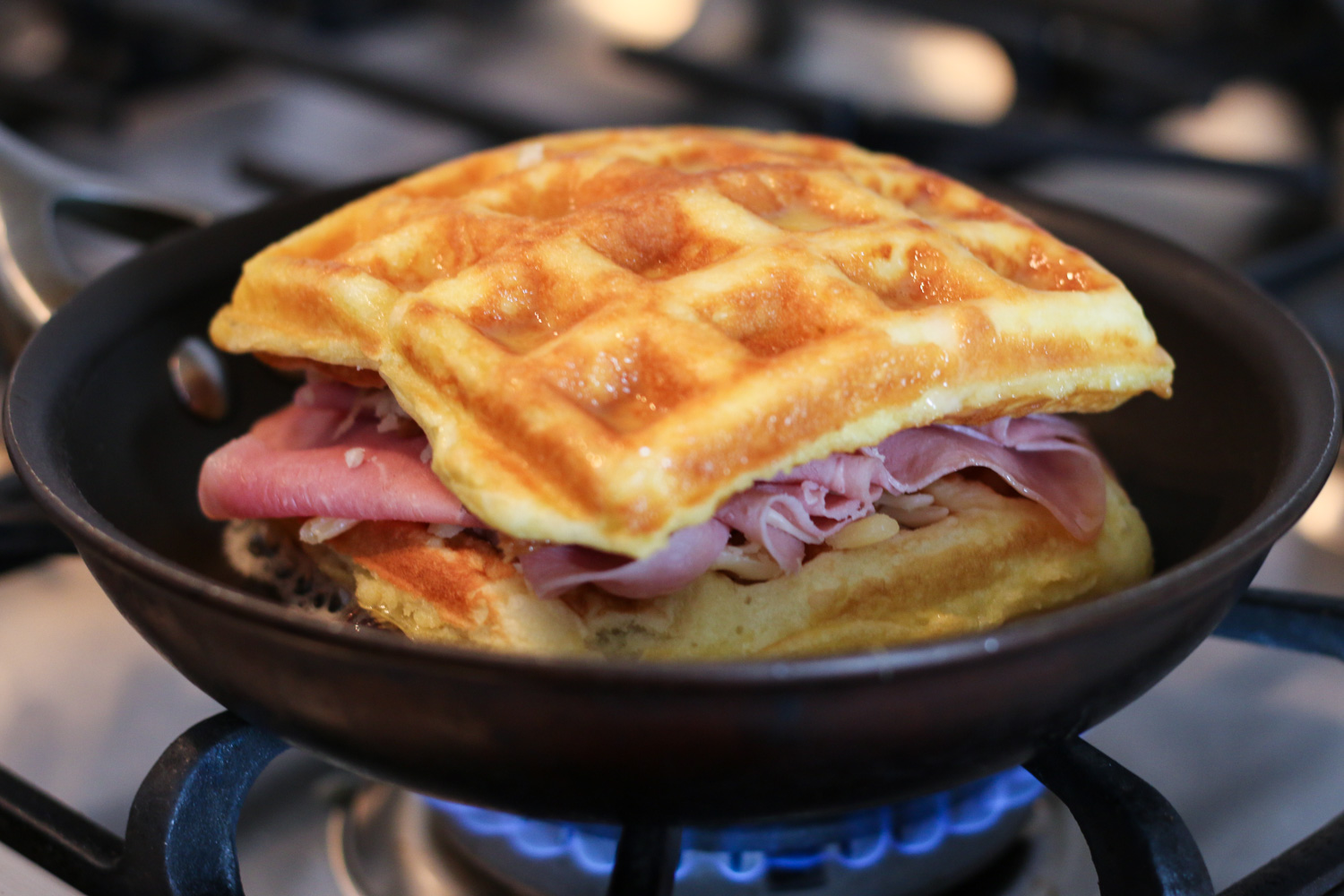 Of course with Valentine's Day just around the corner this would be a perfect breakfast recipe to surprise your sweetums honeybun with in the morning. (I just googled 'sweetums' as I thought it was an endearing term for your "significant other", turns out it is a hairy ogre from Muppets… lol.)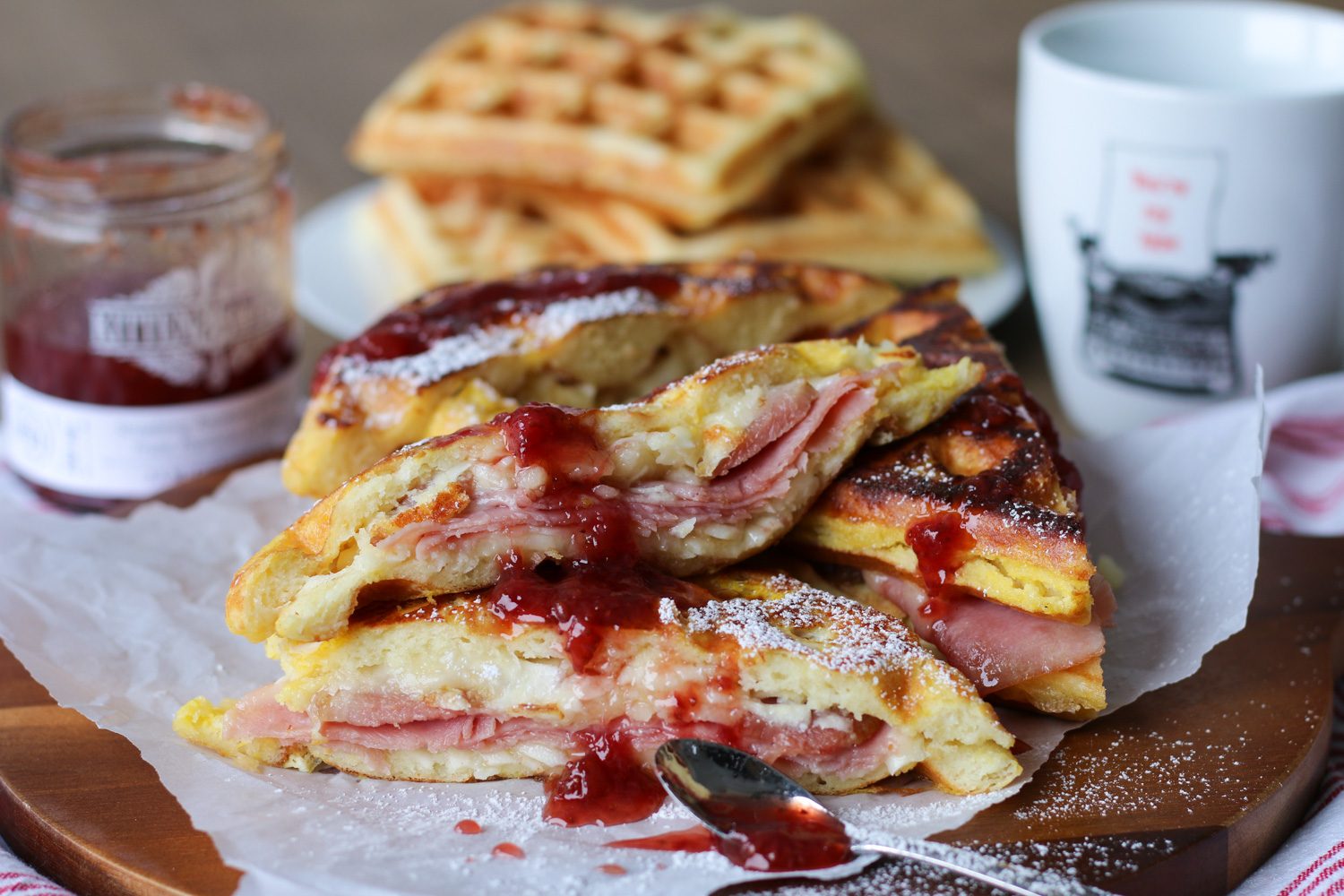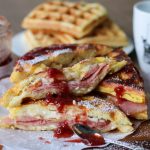 Monte Cristo Waffle Sandwich
Who needs bread when you can make sandwiches out of waffles? This Monte Cristo recipe combines two much-loved breakfast/brunch dishes - sweet waffles and a savoury ham and grilled cheese sandwich.
Ingredients
Sandwich:
2

Belgian-style yeast waffles

cut lengthwise

½

cup

Gruyère

shredded

5

ounces

baked ham

thick slices

4

cooked bacon slices

butter
Serve with:
raspberry or strawberry jam

powdered sugar
Instructions
Lay out 4 slices of waffle on the counter and top the two bottom pieces with Gruyère, ham, bacon, and another layer of Gruyère. Place the remaining waffle on top and gently press down.

Heat butter in a frying pan, when hot add the sandwich. Grill until lightly browned, carefully flip the sandwich over and continue to grill until the cheese is melted. (Note: You may want to cover the frying pan).

Repeat with the remaining sandwich.

Serve immediately. Dust powdered sugar over the sandwich and serve with a side of jam.

Enjoy!