After witnessing my stoooopid external hard drive die on me while transferring all my f*kn goddamn files (because I had a inkling that it may be prone to failing soon) and going through four of the five stages of grief… I am no longer an angry person filled with fiery rage, rather an extremely depressed person with a lingering hope that maybe, just maybe my hard drive will wake up from its deep slumber so I can retrieve the remaining files (mainly my food pictures *single teardrop*).  Luckily enough I was able to transfer over some of my recent food picture, so as I was going through each folder with panic I found picture of a breakfast bagel. I thought, yum! why didn't I ever post this? I quickly flipped through my recipe book and found a recipe for a breakfast Reuben written in no other than my lovely chicken scratch kitchen writing.
I can't say that this is a traditional Reuben sandwich, because one – I didn't use rye bread, two – I didn't use Russian dressing, three – I didn't use Swiss cheese, four – I've really only had it once in NYC and I'm pretty sure I was intoxicated so I can't recall what was in it exactly, five – there's an avocado in it – say whaaaat?

, and six – I don't care. What I can say is that it does have sauerkraut (yay! for gut health) and some kind of cured beef brisket (Montréal smoked meat), therefore it is a Reuben… right? or  perhaps a cousin of a Reuben? but more importantly it is a very yummy breakfast bagel sandwich with a very ooey-gooey fried egg on top.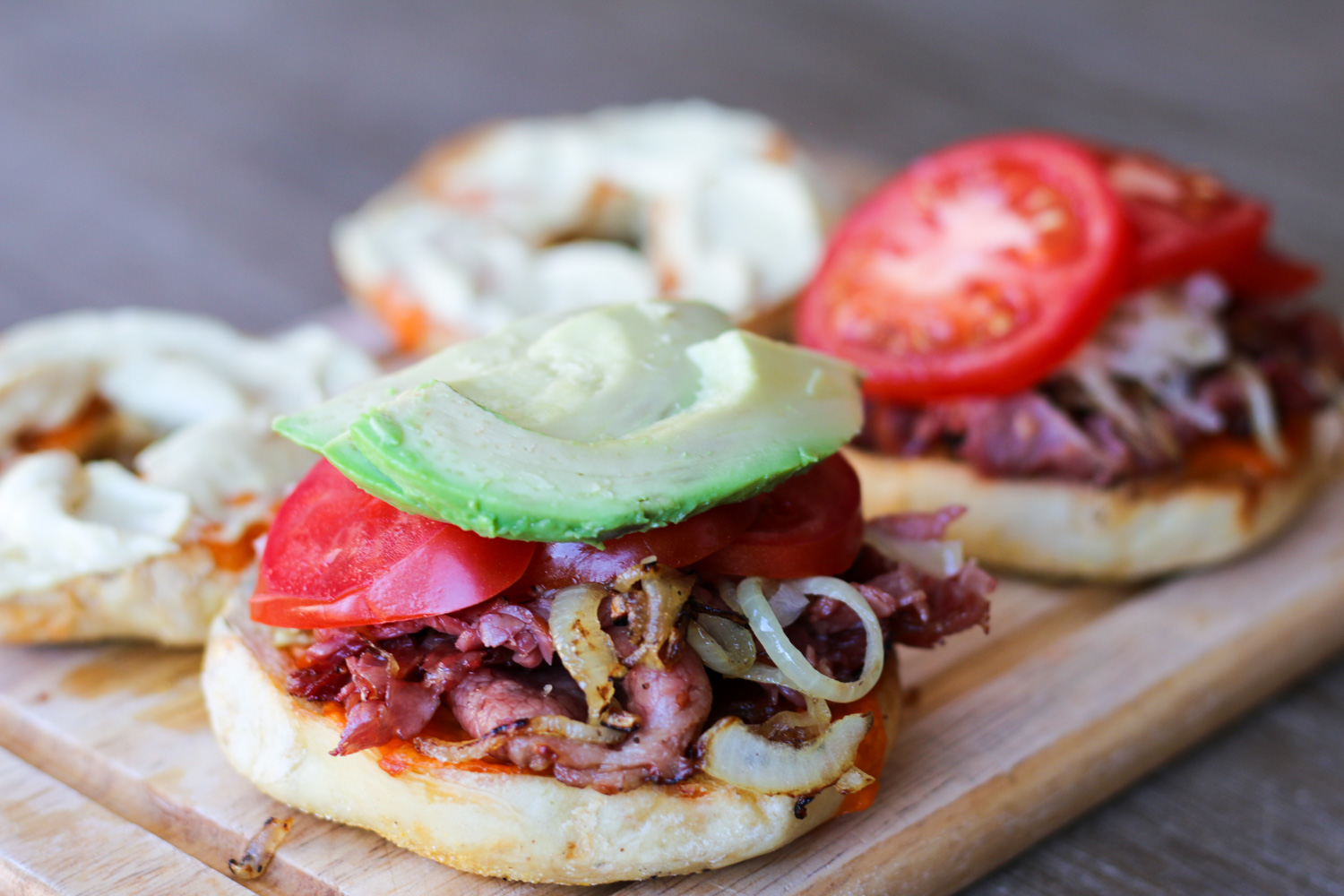 I won't lie, this breakfast bagel is most definitely messy to eat, but it's totally worth getting your hands and face all drenched in sawce and yolky goodness.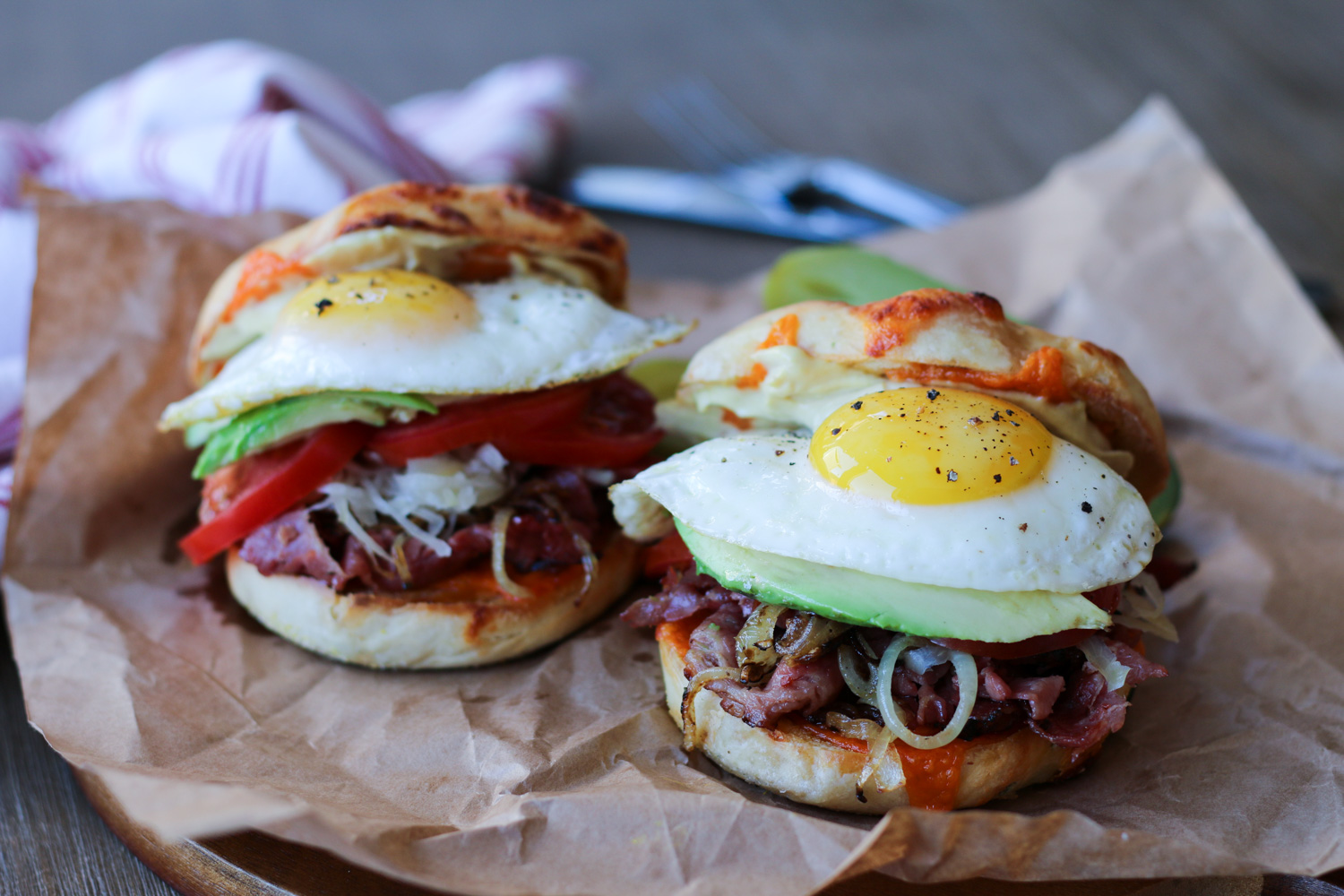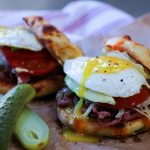 Montréal Reuben Breakfast Bagel
A breakfast twist on the traditional Reuben sandwich with loads of Montréal smoked meat, sauerkraut, sauce, and egg fried to perfection. This is most definitely the messiest breakfast bagel you will eat, but no one said that was a bad thing!
Yields
2
bagel sandwiches
Ingredients
oil

1

small onion

half rounds

salt & pepper

to taste

150

grams

Montréal smoked meat

2

bagels

cut in half

4

cheese slices

Swiss or Cheddar

2

eggs

fried sunny side up

sauce

Russian dressing, Thousand Island dressing, or mustard-mayo dressing

sauerkraut

as much as you like

1

tomato

thick rounds

½

avocado

pitted and sliced

2

dill pickles

halved
Instructions
Coat a small frying pan with oil and heat to medium-low. Add onions and sauté for about 8 to 10 mins until soft and brown. Salt and pepper to taste and reserve for later use.

Using the same pan, add the Montréal smoked meat and sauté for 5 mins until slightly browned. (Note: You can add a sprinkling of water to keep the meat moist). Reserve for later use.

Set oven to broil. Place 4 bagel rounds on a cookie sheet and place 1 cheddar cheese slice on each round. Toast the bagels in the oven, when the cheese melts and the bagel is a bit crisp remove from the oven.

Coat the frying pan with oil and heat to medium. Add two eggs to the pan, cover, and fry until the whites set and the yolk is still runny. Salt and pepper to taste.

To prepare the Montréal Reuben, slather on your sauce of choice on the bagel tops. On the bagel bottoms, add Montréal smoked meat, sautéed onions, sauerkraut, tomato slices, avocado slices, and fried egg. Top with remaining bagel half and lightly press together.

Enjoy with dill pickles!