Goma dare or sesame sauce has always been a staple at our table when we enjoy shabu shabu (Japanese hot pot). In fact we usually have to make loads of it because my brothers would always fight over who got more. Seriously, this still happens to this day, it's like no one has grown up! 

 But every now and then my mom and I would get so caught up in the preparation of all the little dishes that we sometimes would fall back on bottled sesame sauce… all the while forgetting how EASY it is to make!
With my recent gluten intolerance, I've come to terms that I literally can't have any prepared Japanese sauces because 9/10 will contain soy sauce (i.e. gluten). So I've been on a mission to remake a lot of my favourite sauces like tonkatsu sauce – which btw I think I've finally nailed the recipe, but I digress… Luckily for me, my mom already has a recipe for goma dare that she has been using for ages. Every now and then she'll swap out the rice vinegar for white vinegar if she doesn't have any on hand. For some reason rice vinegar seems to be the one ingredient that I also always forget to re-stock. White vinegar definitely adds a more noticeable vinegar taste, but it's nothing bad. I prefer however, the subtle and delicate vinegar taste of rice vinegar, so if I'm using this sauce for noodles or making a batch for the masses, I'll always make it with rice vinegar.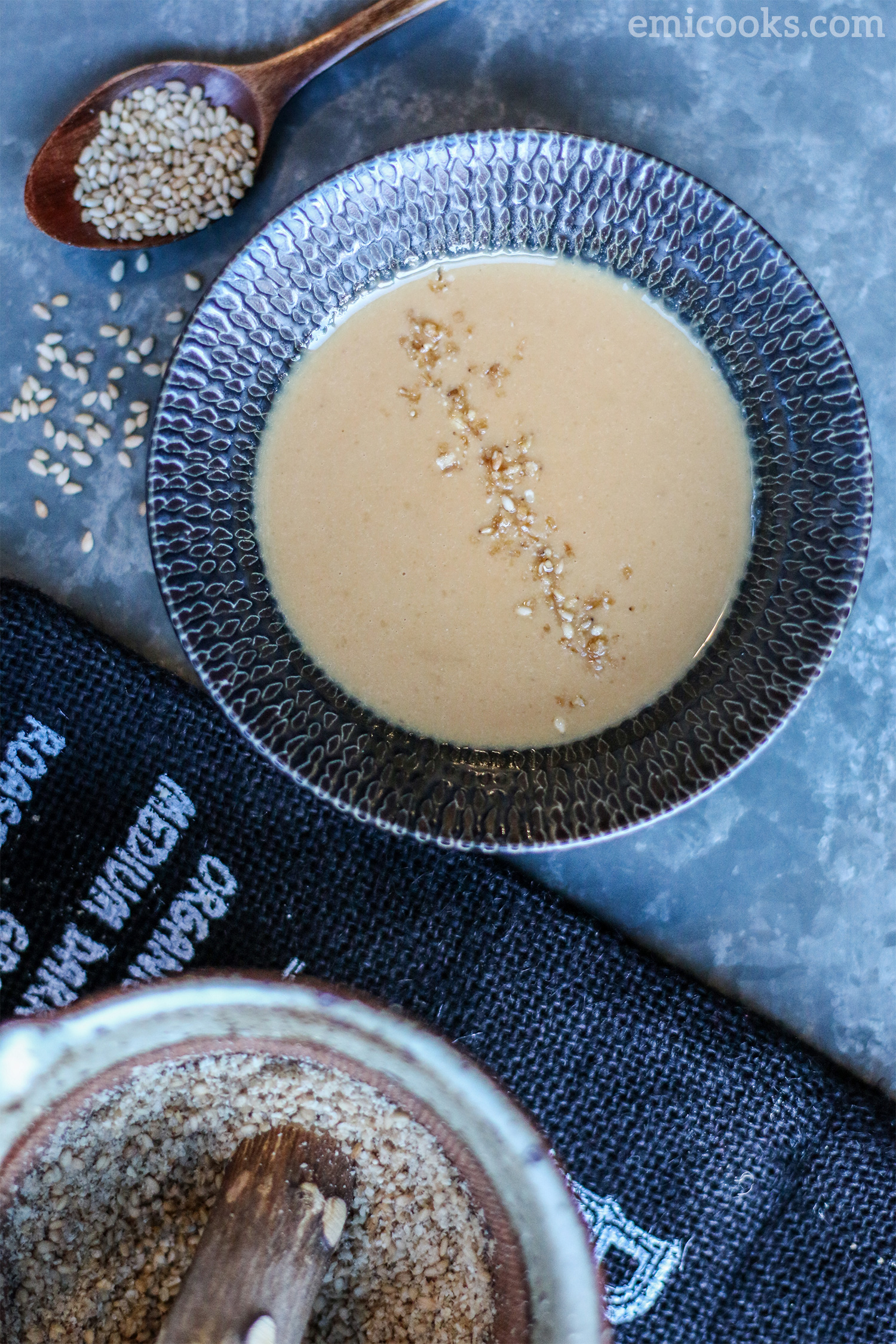 Some recipes call for grinding freshly toasted sesame seeds, and yes mama-san has previously made goma dare with freshly ground seeds, but we live in a world where convenience is at our fingertips and sometimessssss I like to take advantage of that… so I use tahini because it's already a pantry staple for me. What's not to like about it? It's pre-ground and already smoothed out. For me, I prefer a smoother goma dare sauce whereas others may invite a bit of texture to their sauce. To each their own, if you like a bit of texture, you can add a teaspoon or so of ground sesame seeds.
This sesame sauce is S-E-R-I-O-U-S-L-Y good on everything. I kid you not. Here are just a few ideas of what you can drench this delicious sauce on:
Anything shabu shabu – It's amazing on any kind of simmered meat, fish, tofu, and/or vegetable. (It's really dangerous, fights at the dinner table happen over who gets more sauce.)
Cold tofu – Not just tasty on warm tofu, but also on chilled silken tofu. Instead of the typical chilled tofu (hiyayakko) with katsuobushi, ginger, green onions, and soy sauce, try dressing the tofu in goma dare sauce, ginger, and green onions for a something different.
Salads –

It's great as a dressing on fresh, crisp salads (spring mix, cherry tomatoes, cucumbers, etc.). All you have to do is thin out the sauce with extra rice vinegar.
It adds a wonderfully nutty flavour to steamed spinach salad (hourensou gomaae).

Poke bowls – Instead of marinating tuna or salmon in a shoyu based sauce, you can coat the fresh fish in goma dare sauce. Just add some Japanese mayo, fresh toasted sesame seeds, and green onions to the sauce for extra flavouring.
Grilled skewers – If you add a bit of Japanese mayo to the sauce, you can baste some freshly grilled squid (ikayaki), chicken (yakitori), or any kind of protein (steak, pork, shrimp, etc.) prior to serving.
Any kind of NOODS – This is hands down my favourite sauce to use in noodle dishes.

Add to stir fried ramen noodles with loads of garlic, red chili peppers, ground pork, and toasted pumpkin seeds (or peanuts – but I have a nut allergy).
Add to creamy sesame udon noodles with bits of soft scrambled eggs, garlic, pork, and pretty much anything you can possibly add
Drizzle over cold ramen noodles (hiyashi chuka) with shredded egg, ham, cucumbers, tomatoes, and whatever else you can find in your crisper.

Rice – I found Kevin hiding by the fridge once eating rice drenched in this sauce, so it made the list. 
Well hopefully some of those ideas have tempted you enough to try out this super simple recipe. Trust me, you definitely won't regret it!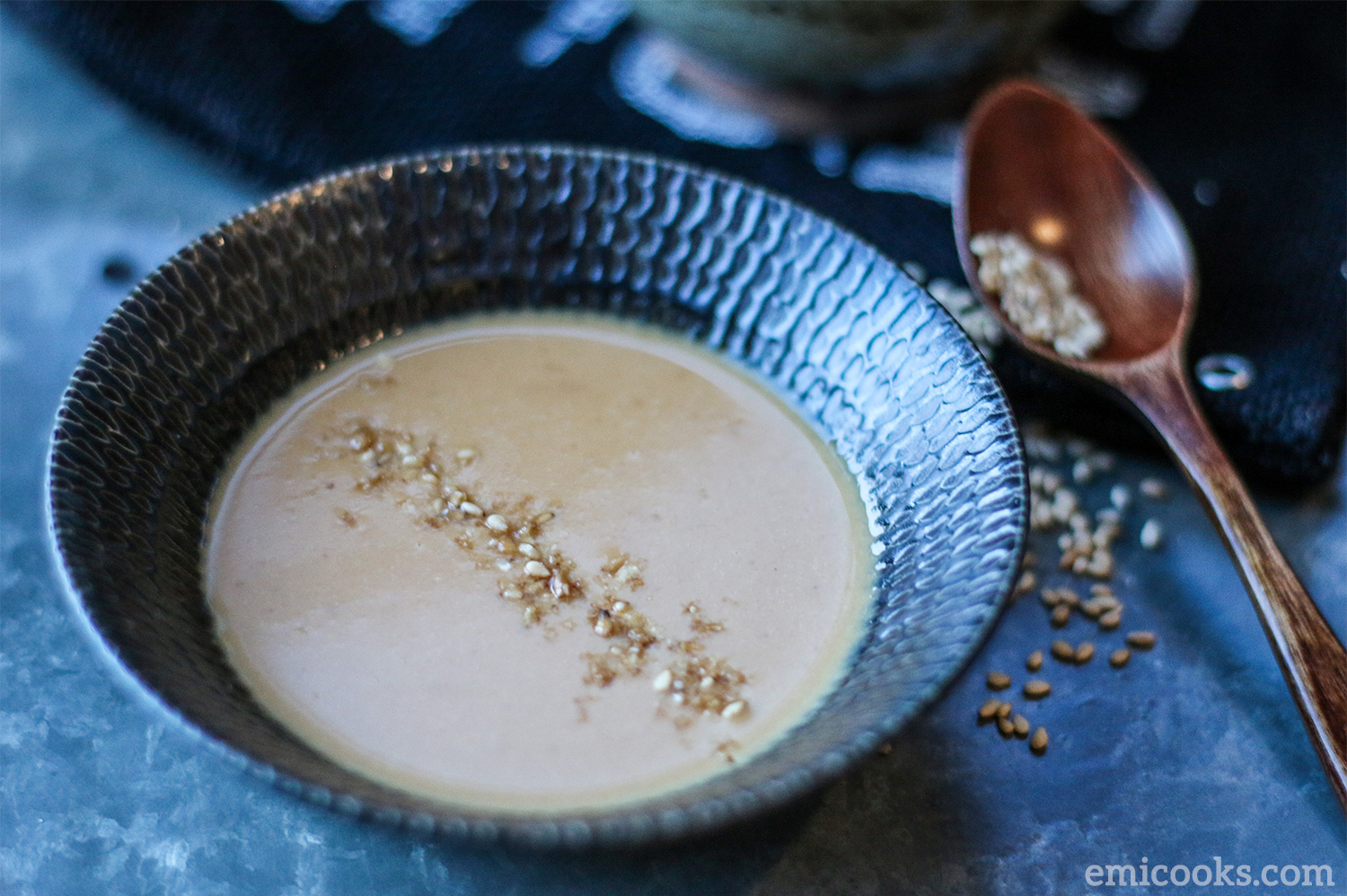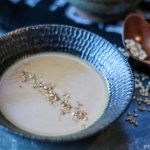 Goma Dare (ごまだれ) Japanese Sesame Sauce
Goma dare, Japanese sesame sauce, is an extremely versatile sauce that can be added to almost anything. Traditionally used as a dipping sauce for shabu shabu (hot pot), but can also be used to dress salads, meats, rice bowls, noodles, and much more! You can never have enough goma dare in your life! This recipe makes 1/2 cup which is a good serving for two people, but can easily doubled or tripled!
Ingredients
2

tablespoons

tahini

(I use Nuts to You Nut Butter brand)

1

tablespoon

shiro (white) miso

(optional gluten free)

1

tablespoon

soy sauce

(optional gluten free)

1

tablespoon

mirin

1

tablespoon

rice vinegar

2

tablespoons

dashi liquid

(2 tablespoons water + 1/8 teaspoon dashi powder)

1/4

teaspoon

(1 small clove) garlic

grated

1/8

teaspoon

white sugar
Instructions
Add all ingredients to a small bowl and whisk to combine.

Use immediately or store in the fridge in an airtight container for up to one week.
Recipe Notes
To make this sauce a bit more indulgent you can add in 1 tablespoon of Japanese mayo

To make this recipe Gluten Free, substitute:

regular soy sauce with gluten free soy sauce

miso paste for miso without barley

In a pinch you can substitute rice vinegar for white vinegar