Oh baby, these delectable, ooey, gooey Canadian treats will have you in tears as you eat them. My nana used to make these all the time for holiday get-togethers with the fam-jam. She usually switched them up every now and then making either tarts or squares. Regardless of the shape, they are dank damn good! This is coming from someone who HATED raisins growing up. I now embrace the glory of raisins, I don't think I can have a cinnamon bun without raisins in them… mainly because I love to soak them in rum. Anything with alcohol is better right? RIGHT?! 
But I digress, it wasn't until I saw the actual recipe from my nana that I realized there were coconuts in there. Who knew?! I also noticed there was 2 cups of sugar in the recipe. Me being me, decided to cut out some sugar, I only put in 1 ½ cups which isn't that much of a decrease… Ok I messed up, I decided to cut down the sugar after I had already poured in 1 ½ cups. It's the holidays and you are supposed to gain some holiday weight, so whatever. However, when I make this next time I will definitely cut it down to 1 ¼ cups.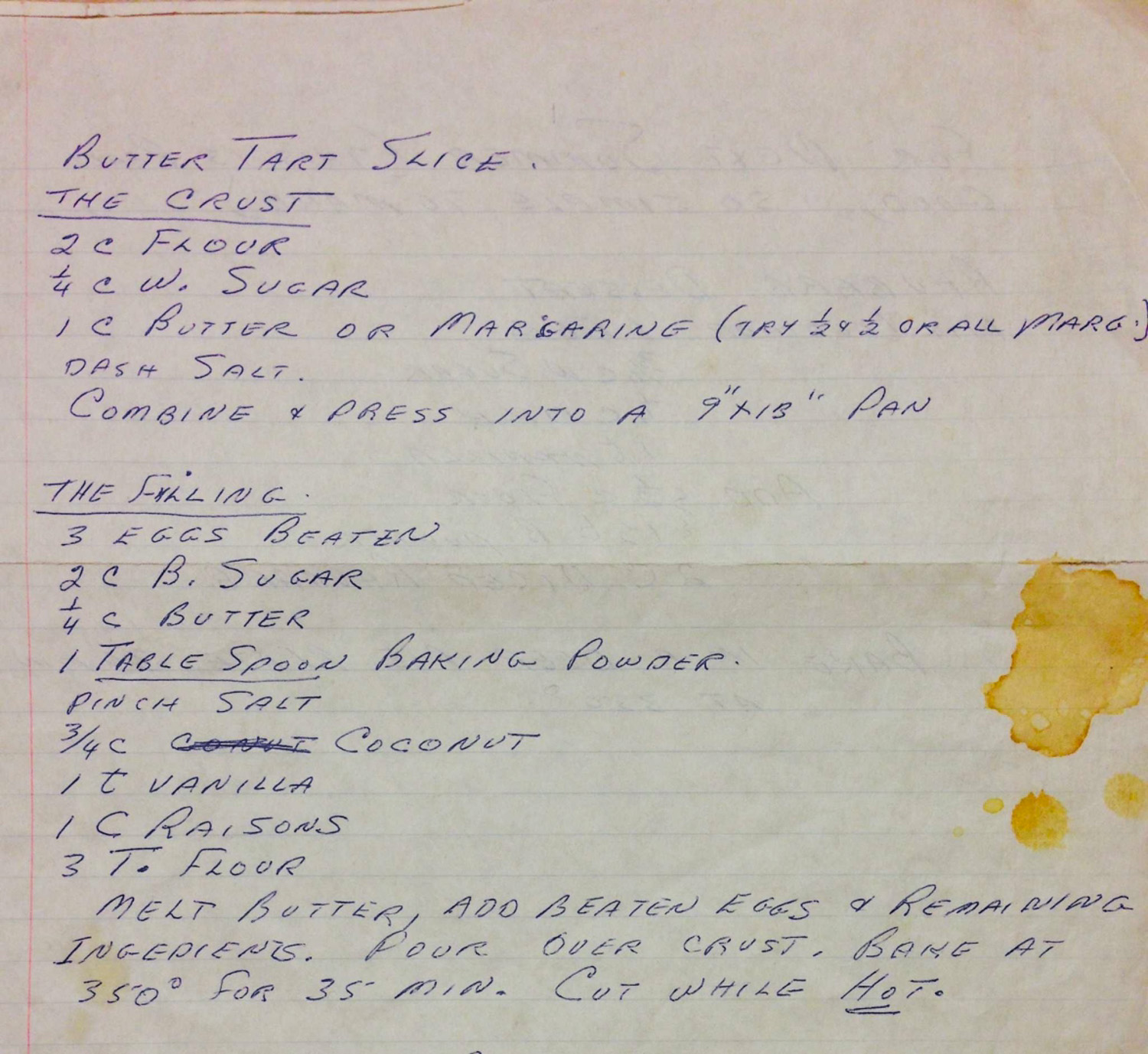 Making this is SUPER EASY. I know I say that for everything I post on here, but it is seriously easy.  See, I summarized the recipe in 4 easy pictures below. You can't mess this up and even if you do, I'm sure it will still taste great because shortbread crust + butter + brown sugar + raisins + coconut = deliciousness.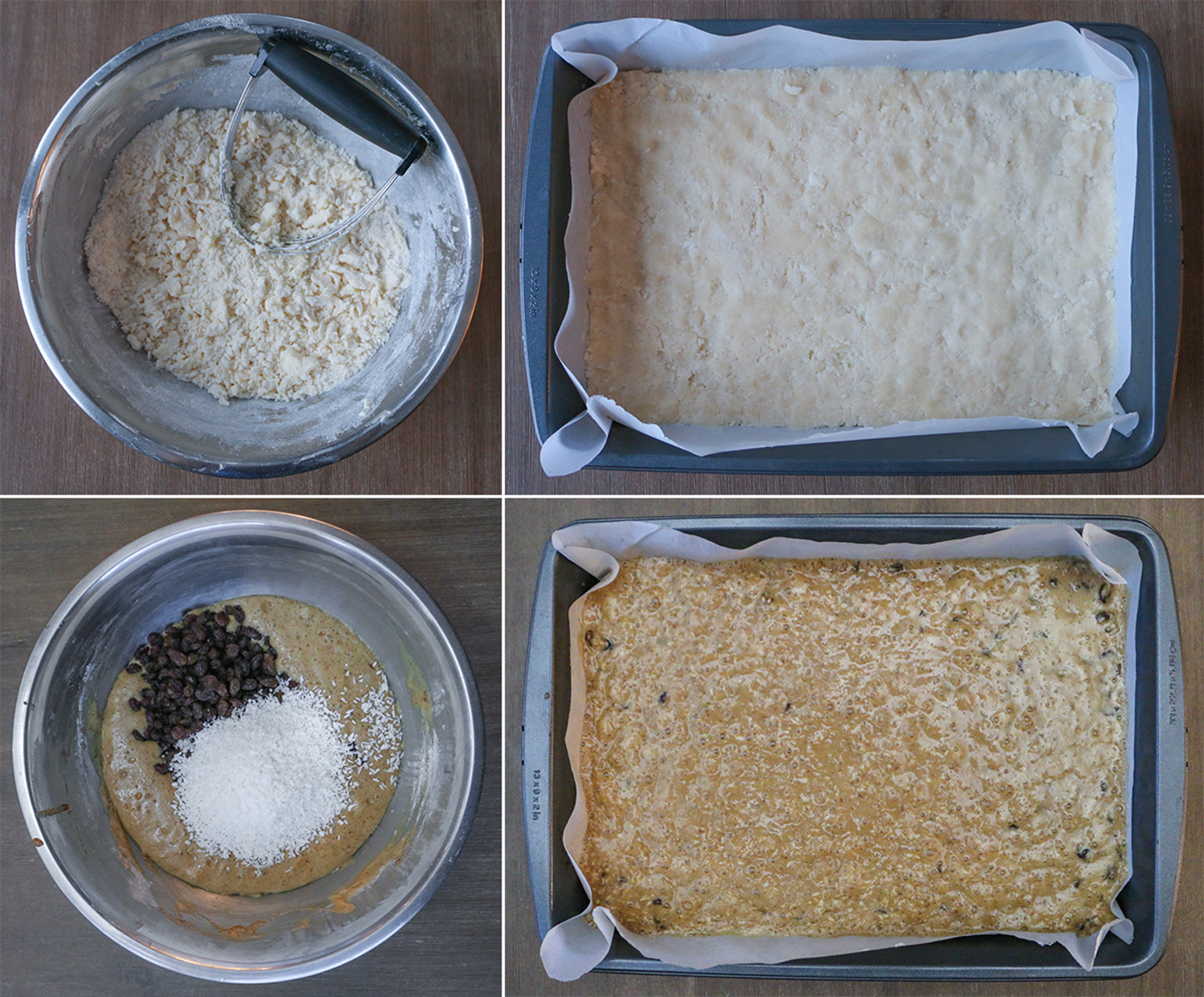 If you aren't a huge fan of raisins, you don't have to use them… but be warned, you will make the butter tart gods very unhappy. I have seen recipes with nuts in the filling, so feel free to use that if you like. I personally have never tried them, because I'm allergic to nuts. However, I imagine them to be delicious as well.
I've made the tart version in the past (not using my nan's recipe) and it does take a while longer because you have to shape the crusts in muffin tins. So this version is especially great for a lazy baker for someone who has so many things to bake during the holidays that they could care less about making little tart shells.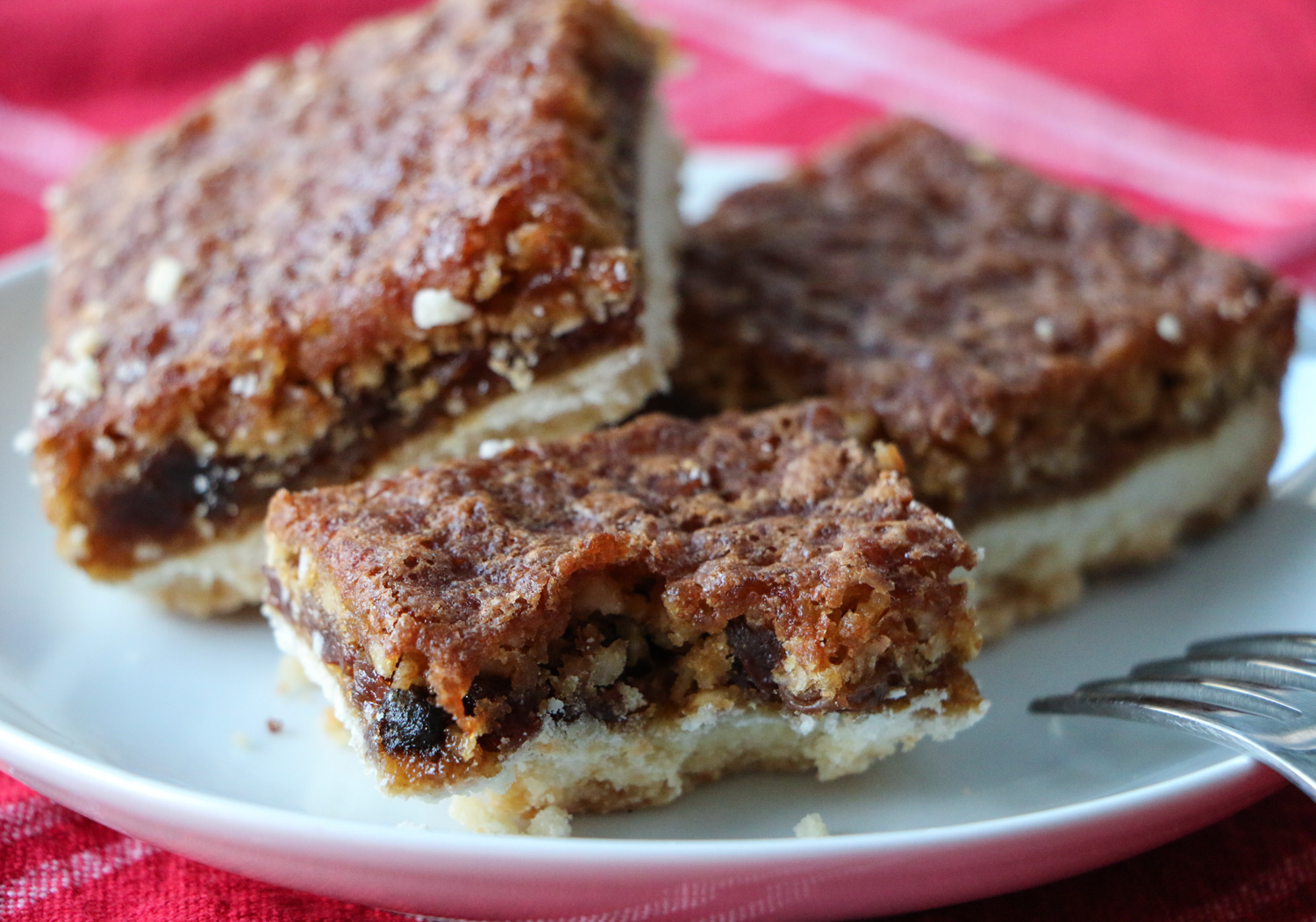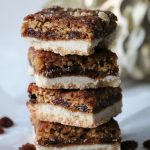 Nan's Butter Tart Squares
A Canadian treat made with butter, sugar, raisins, and egg baked on a shortbread crust. So delectable, ooey, and gooey that it will have you in tears as you eat them.
Yields
24
(2 ¼" x 2") squares or 32 (2 ¼" x 1.5") squares
Ingredients
Shortbread Crust
1

cup

butter

room temperature

¼

cup

white sugar

2

cups

flour

pinch

salt
Butter Tart Filling
¼

cup

butter

1 ½

cups

brown sugar

can reduced to 1¼ cup

3

eggs

beaten

1

teaspoon

vanilla

1

tablespoon

baking powder

3

tablespoon

all-purpose (AP) flour

pinch

salt

1

cup

raisins

¾

cup

coconut
Instructions
Preheat oven to 350 F. Lightly grease and line an 9" x 13" pan with parchment paper.

In a large mixing bowl, cream butter and sugar until combined. Using a pastry cutter, blend in flour and salt until it resembles a soft dough. Press the dough evenly into the bottom of the prepared pan.

Bake in preheated oven for 20 minutes, or until lightly browned.

Meanwhile, prepare the filling. In a large bowl, cream butter and brown sugar until light and fluffy. Beat in eggs and vanilla. Then stir in baking powder, flour, and salt. Add raisins and coconut and mix to combine. Pour the filling over the crust.

Bake for 30 to 35 minutes or until filling is set. Cool. Loosen the edges and remove from the pan. Cut into squares (as big as you like).

Enjoy!