Print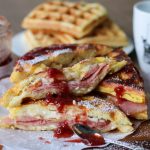 Monte Cristo Waffle Sandwich
Who needs bread when you can make sandwiches out of waffles? This Monte Cristo recipe combines two much-loved breakfast/brunch dishes - sweet waffles and a savoury ham and grilled cheese sandwich.
Lay out 4 slices of waffle on the counter and top the two bottom pieces with Gruyère, ham, bacon, and another layer of Gruyère. Place the remaining waffle on top and gently press down.

Heat butter in a frying pan, when hot add the sandwich. Grill until lightly browned, carefully flip the sandwich over and continue to grill until the cheese is melted. (Note: You may want to cover the frying pan).

Repeat with the remaining sandwich.

Serve immediately. Dust powdered sugar over the sandwich and serve with a side of jam.

Enjoy!