YAAASSSSSS! Linguine and clams. What more can I say? If you love seafood and you love pasta, then this perfect combination is a marriage made in pasta heaven. The seafood flavour is so subtle that even those who aren't fans of seafood would love this – like Kevin. He really likes raw seafood  (sushi, sashimi, and the like) but for some reason he doesn't like cooked seafood. Weird right? I've also added an abundance of clams and shrimp to this dish. I've had this a couple of time at restaurants where the clams (the main star!) were definitely lacking, so I decided to jam pack it with seafood yumminess. The more, the better. Amiright?
Ever since I had my first pasta making session a year or so ago at my friend's house I've we've been dying to redeem myself ourselves of my our pasta making misfortunes. My god, I have never had such bad pasta in my life. This was pretty much my first time making pasta and teaching it to two of my friends. Obviously I was totally an expert. Duh! All we had was a rolling pin and brute strength to roll out the pasta dough. For the love of god that dough did not want to roll out! After we had given up on rolling, we decided to cut our losses and just cook it. I have never seen such stiff pasta. Luckily we had some dry pasta because those pasta brick were inedible! The dinner wasn't a total bust though, we ended up with a nice hearty bolognese and mussels marinière. Excuse the Instagram pictures: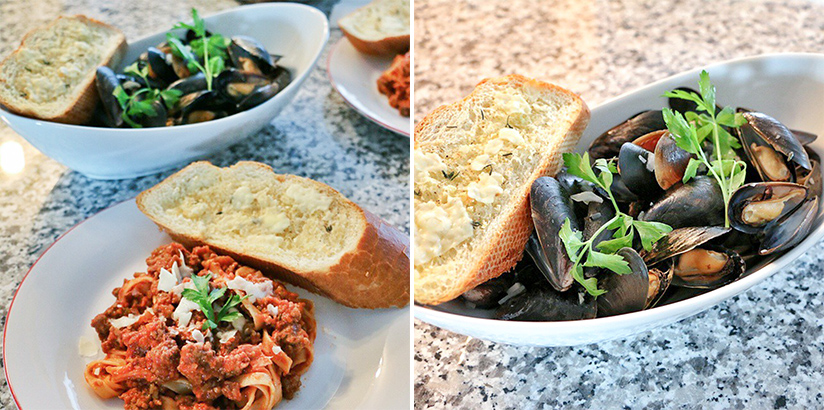 After buying a pasta machine for Kev's Christmas gift, I developed a new appreciation for fresh pasta. I'm pretty sure I use it wayyyy more than Kev does. Maybe I was secretly buying it for myself?!

 S'all good, everyone gets fed and everyone is happy. After making a few dozen pasta doughs, I was pretty confident that I could teach my friends how to make some damn goooood pasta with clams. Well because, we've all been dying to make pasta with clams!
See look! My friend is a pro! (Sadly I was blinking in this picture. 

)
I even got them doing the loop method! How fun! Naturals I tell ya.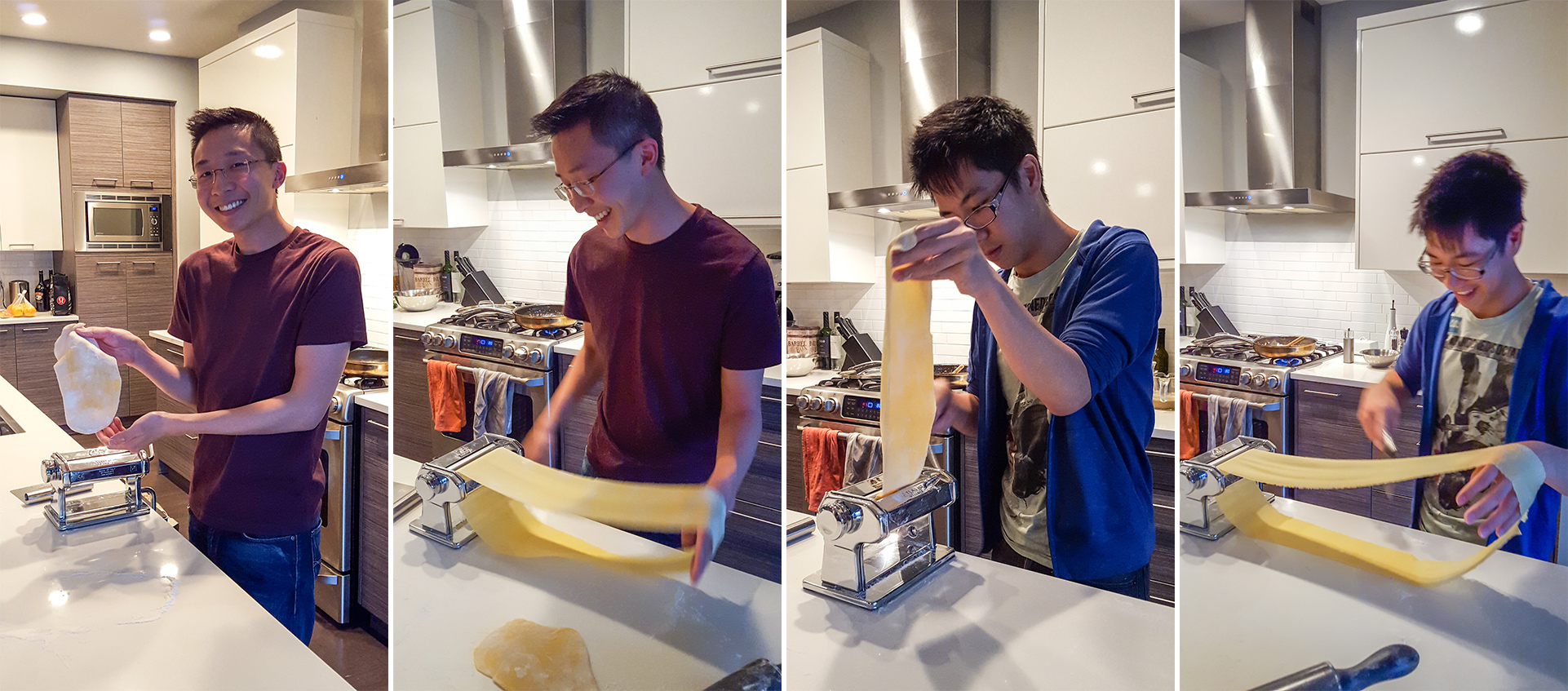 You really don't need to be an expert to make this. If I can make it while being tipsy off sangria, I'm pretty certain anyone can make this!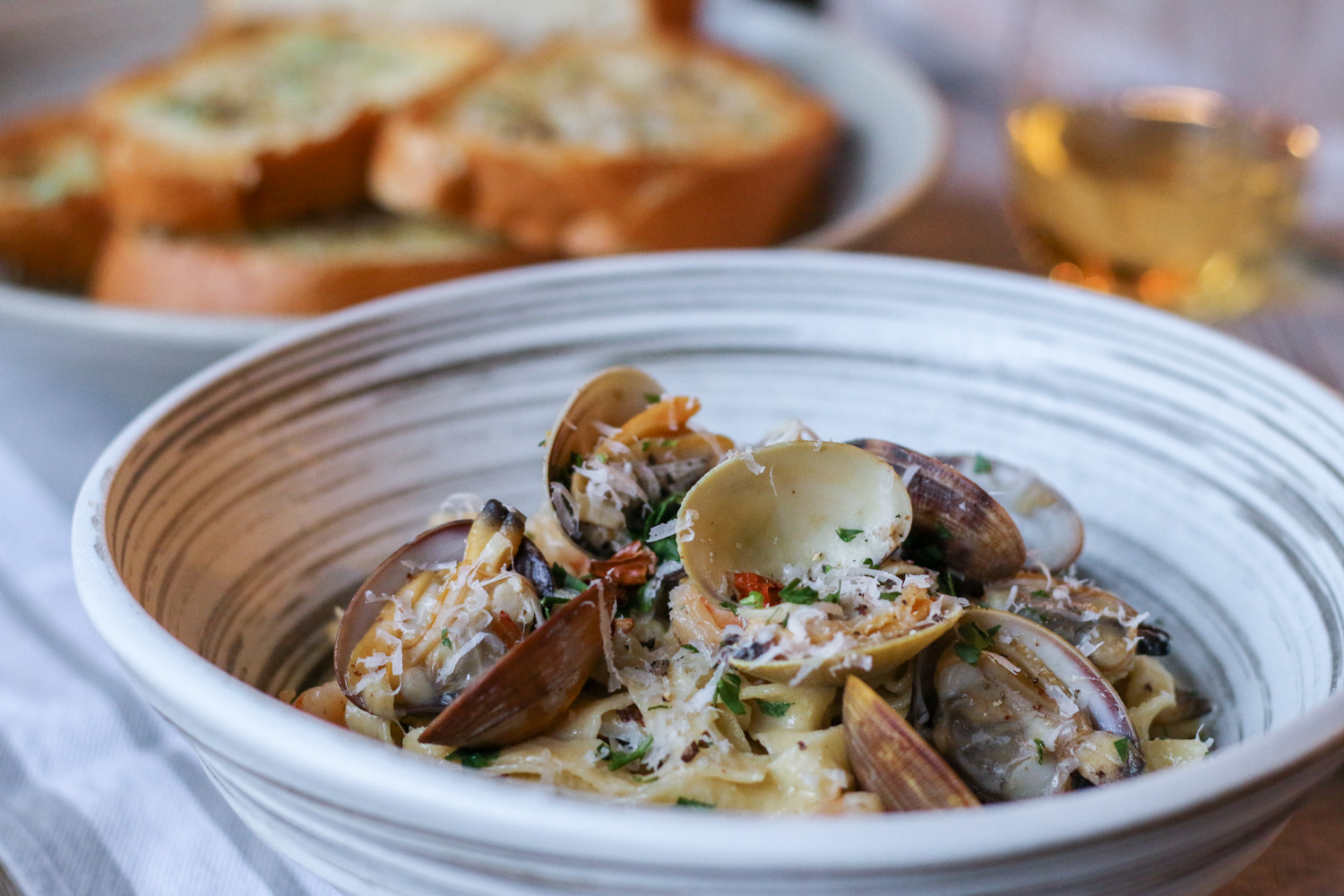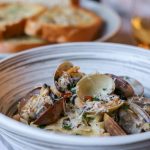 Linguine with Clams in Creamy White Wine Sauce
Seriously delicious and simply amazing! Fresh linguine with clams in a creamy white wine sauce. Accompany this dish with wine and buttery garlic toast and you are set!
Ingredients
oil

7

cloves

large garlic

minced (divided into portions of 3 cloves and 4 cloves)

3 ½

pounds

Manila clams

scrubbed and purged

1

cup

white wine

½

cup

water

1-2

tablespoon

butter

pinch

red chili flakes

or as much as you like

½

medium onion

minced

½

pound

70/100 shrimp

peeled and deveined, chopped (optional)

¼

cup

heavy cream

½

cup

Parmesan

grated

2

sprigs

thyme

fresh

¼

cup

parsley

fresh, finely chopped

1

pound

linguine

fresh
To Serve
Parmesan

grated

red chili flakes

black pepper

fresh cracked

fresh parsley

finely chopped
Instructions
Coat a large sauté pan with oil and heat to medium-high. Add 3 cloves of minced garlic and cook until golden (be careful not to burn the garlic). Add about two thirds of the clams to the pan along with wine and water. Cover and steam for about 5 minutes until the clams open. Carefully remove the clams and place in a large bowl to cool. (Discard any clams that have not open.) While the clams cool, reduce the wine sauce. When reduced, reserve the wine sauce for later use. When the clams are cooled, remove the meat from the shells and discard the shells.


Bring a large pot of salted water to boil.

Using the same pan, add butter, chili flakes, 4 cloves of minced garlic, and onions. Sauté for about 5 minutes until the onion is softened. Add the chopped shrimp, cream, reserved clams, and reduced wine sauce (make sure to not add the grit at the bottom). Stir and add the remaining clams, cover and steam for about five minutes or until the clams open. (Discard any clams that have not open.)

Drop the fresh linguine into the boiling water and cook for a few minutes until al dente. (If using dry pasta, boil for the recommended time on the package).

While the linguine cooks, add in Parmesan, thyme leaves, and parsley.

Add the cooked linguine into the pan and toss to coat. Divide the pasta among four bowls, top each with equal amounts of clam (in shells). Top each bowl with grated Parmesan, red chili flakes, fresh cracked pepper, and parsley.

Enjoy!