I've been sick for more than a week now since coming back from my trip, so I've living off soups, teas, and whatever Kevin has so kindly prepared for me. The lack of variety in my diet has made me long for something other than hot flavoured water, something with texture and crunch! As Kevin and I were both decaying on the couch Saturday (he's sick too, but seemed to have recovered quicker than me), he mentioned wanting to dip some crusty bread into truffle oil and balsamic vinegar. Mmm – yum!  Since I've been wanting to make Ken Forkish's Overnight Whole Wheat Bread recipe for a while now his comment was all that I needed to get me out of my couch slump.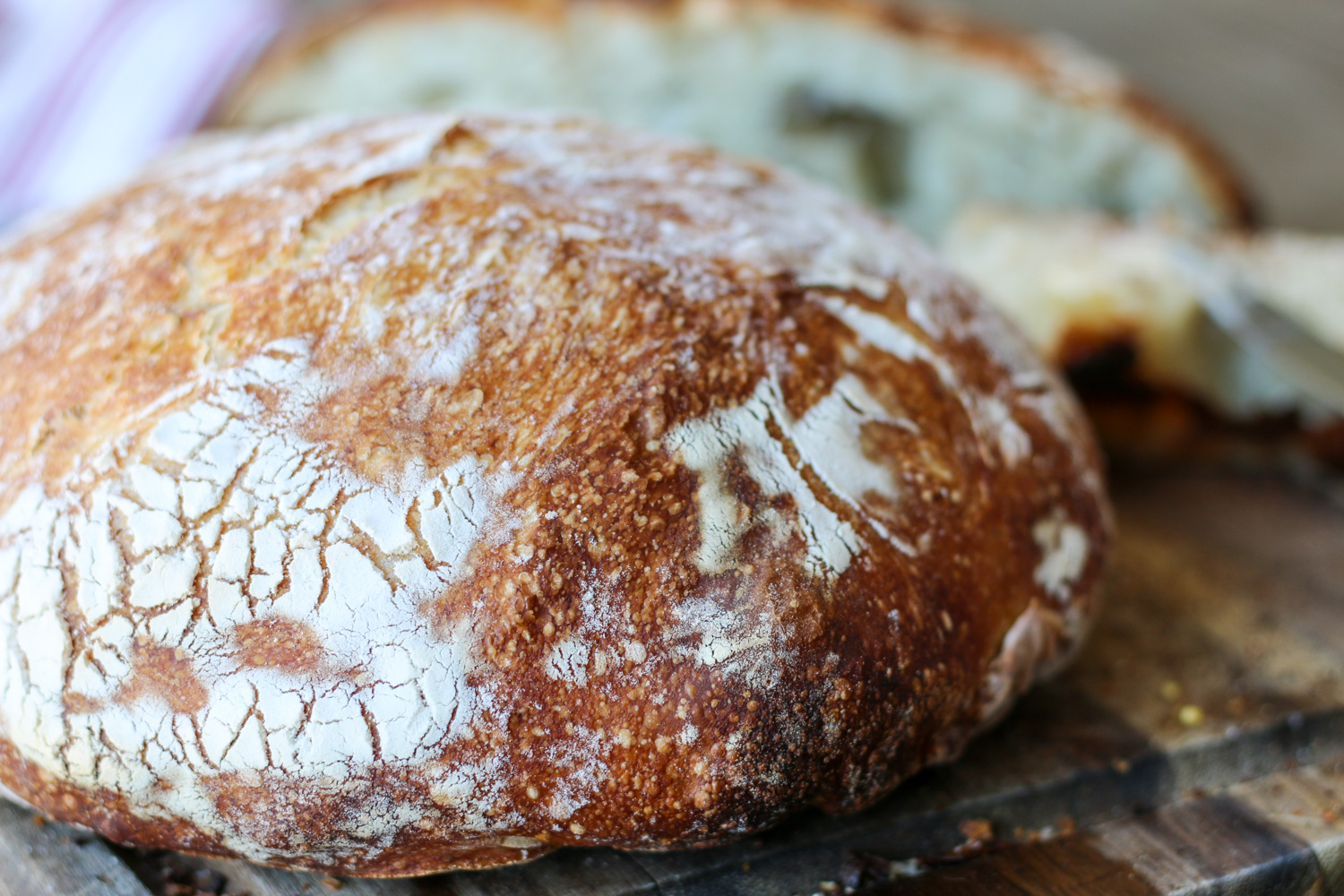 Sunday afternoon the sun finally decided to come out after a long (toooooo long!!!!) rainy and gloomy hiatus, so I really wanted to sit in the backyard and enjoy and nice fresh sandwich with the bread I had just baked. (Can't a girl just enjoy some nice bread in the sun?! C'man!) I had an abundance of dill, lemons, and a huge tub of Greek yogurt that needed to be used so I decided to make a refreshing lemon dill dressing to accompany the crispy romaine, tomatoes, cucumber, and soft avocado. This is by no means a Greek style sandwich, in fact I didn't realize I had made tzatziki until I was typing up the recipe! Woops.
This sandwich uses thick slices of garlicky and cheesy whole wheat bread broiled to toasty perfection. I personally enjoy sandwiches with a nice hearty slice of bread and a thick crust (I LOVE BREAD CRUST – please don't even get me started on crust-less sandwiches

). To me it's just a bit more appealing than sandwiches with thin bread slices which deflate when held… but don't feel obligated to use a thick hearty bread, it can be swapped it out for something else – just make sure there's crust on it

. For the meat, I used some salt and pepper chicken that was cooked on the barbecue a day ago. You can use deli meat if you like, but try and make this with a nice juicy slice of chicken breast or thigh. You won't regret it.
Now come on, I'm sure you have most of these ingredients in your fridge and pantry, so get on  – start building your sandwich!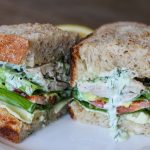 Chicken Tzatziki Sandwich
Juicy chicken drizzled with refreshing tzatziki topped with crispy vegetables, sandwiched between two hearty cheesy garlic toasts. This sandwich is a simple yet flavourful summer treat.
Ingredients
Tzatziki
1 ½

tablespoon

Greek yogurt

1 ½

tablespoon

mayo

1 ½

inches long

cucumber

grated

lemon wedge

3

sprigs

dill

fresh, chopped

garlic powder

salt

black pepper

freshly cracked
Garlic Toast
2

slices

rustic whole wheat bread

butter

Parmesan

thinly sliced

garlic powder

salt

black pepper

freshly cracked
Sandwich Filling
romaine lettuce

cucumber

thinly sliced

tomato

thinly sliced

avocado

sliced (about ¼ of an avocado)

2

chicken thighs

sliced and warmed (I used salt and pepper chicken)

Dijon

optional
Instructions
To make the tzatziki, add equal parts Greek yogurt and mayo to a small bowl. Grate the cucumber into the bowl and squeeze in one lemon wedge. Add chopped dill, a couple of dashes of garlic powder, salt, and pepper to taste.

Turn on the oven broiler to high. While the oven warms, generously butter two pieces of bread (face side up) on a cookie sheet. Layer on enough slices of Parmesan to cover both faces of bread. Add garlic powder, salt, and freshly cracked pepper. Place the cookie sheet in the oven and broil for 3 mins or so. Make sure the bread does not burn.

While the bread gets toasty, prepare all the sandwich fillings. When the bread is nicely toasted and the Parmesan is melted, remove from the oven and start building the sandwich.

Layer on lettuce, cucumber, tomato, avocado, and warmed chicken slices. Top with tzatziki and Dijon mustard (optional).

Cut in half and enjoy!
Recipe Notes
The measurements are not exact for this sandwich, it's meant to be more of a guide. You can use your own creativity to adjust the ingredients and taste as you like.
To make this recipe Gluten Free, substitute the bread for a gluten free bread of your choice.