I can't say that I've had a long history with Sticky Toffee Pudding as I have had with my Nan's Christmas Plum Pudding. My secret love affair with the pudding started only a month ago when I had my first taste of this heavenly gift. I couldn't believe how moist and yet light as air the pudding was. The pudding was surrounded with a pool of salted caramel sauce and sprinkled with flakes of salt.  Each mouthful of pudding had a delectably sweet and salty note. Everything was so harmonious, I just had to recreate this.
My first attempt at making this was a bit heart shattering, I ended up with a pudding that had a coffee cake-like texture with an overall colour that was too light. The flavours were there, but it just wasn't the same! So I experimented with using pastry flour instead of all-purpose, replaced the white sugar with demerara (had I been able to find muscovado, I would have used that), and added in some molasses not only for colour, but to boost the flavour profile. Good lord the results were earth shatteringly amazing! The difference the flour and additions of other ingredients was just what this pudding needed. I had a minor gluten epiphany when I was able to see the difference in texture resulting from the different level of protein content in the two flours. If you don't have pastry flour or cake flour, you can definitely make your own substitute, there is a post on the Kitchn describing how to make it, basically you replace part of the all-purpose flour with cornstarch. I haven't tried this, but I may in my next baking adventure.
I think the real secret to this recipe is the use of Medjool dates, which is the holy grail of dates. So soft, so sweet, so sticky… I'm assuming that is where the "sticky" name comes from. The addition of baking soda to the dates makes them even more soft, which really helps when they are blended. My puréed dates ended up with a nice silky smooth texture. My only one regret with this recipe is that I didn't soak the dates in Earl Grey tea.

 I wanted to make another batch with the Earl Grey just to see if it added a whole new flavour dimension to the recipe, but Kevin and I had been eating sticky toffee pudding non-stop, I just couldn't get myself to make anymore. (Update December 2017: I have tried soaking the dates in Earl Grey (2 tea bags) and I can definitely give it a thumbs up. I've updated the recipe below to reflect this.)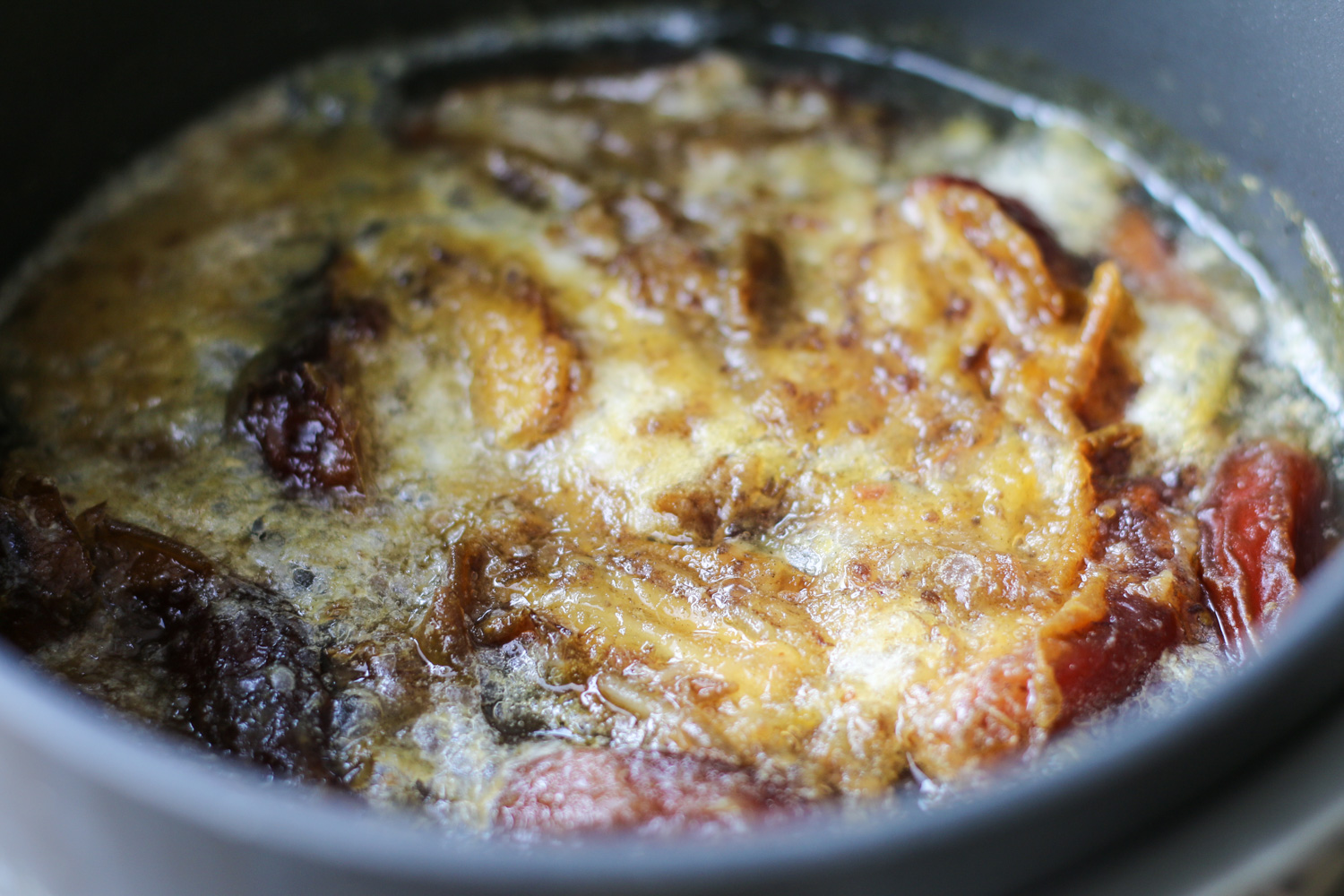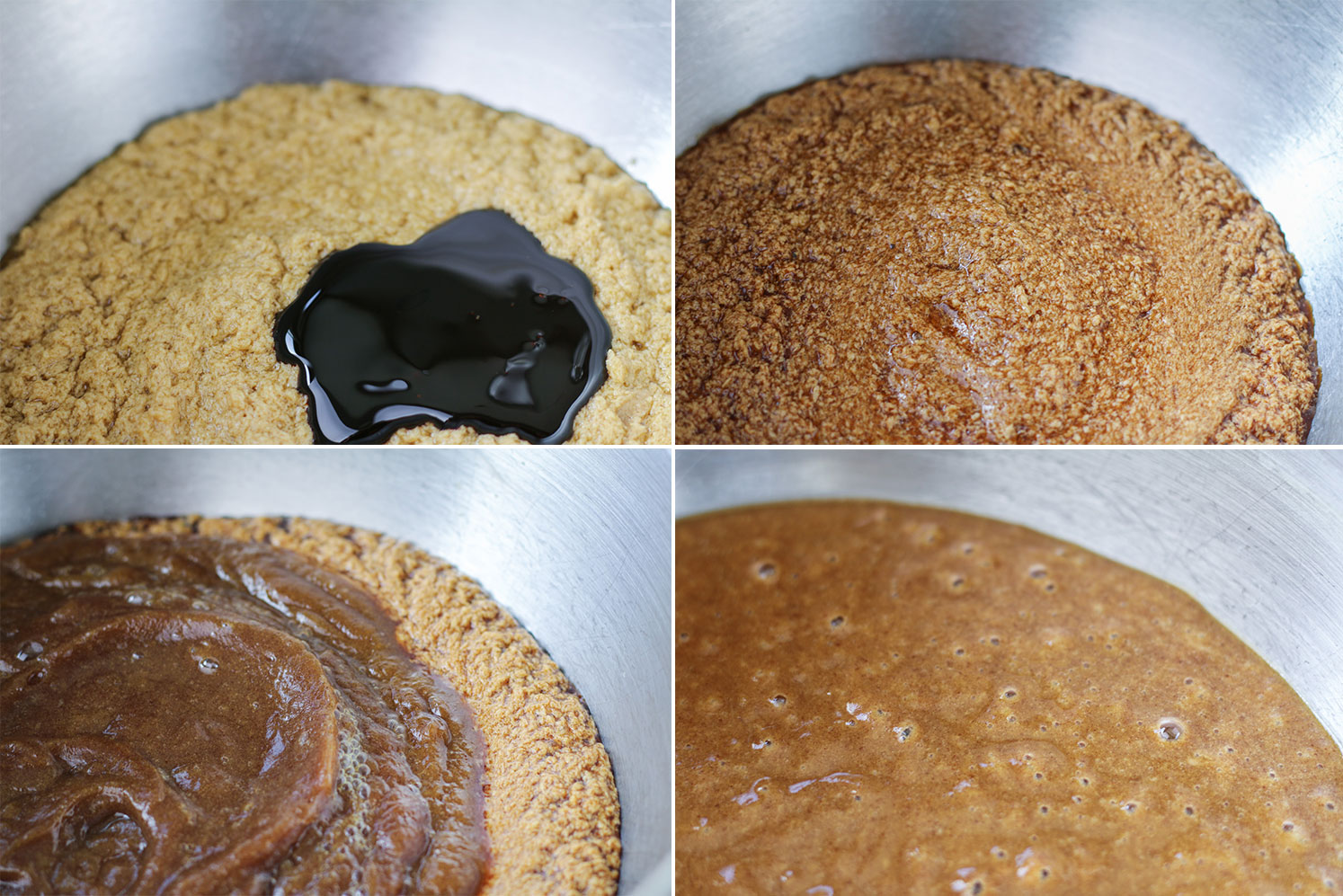 The best part about this pudding, is the fact that not only do you soak the pudding in salted caramel sauce, but you add more when you serve. You can't get enough of salted caramel. Trust me. You can use any kind of toffee or caramel sauce to top the pudding. I ended up using demerara sugar instead of brown sugar to keep with the recipe theme, I also decided to add some bourbon  because alcohol makes everything better? 

The addition of bourbon is completely optional (you could even try dark rum – yum!), since I made this pudding for a family gathering I soaked half the pudding in the bourbon salted caramel sauce and half with regular salted caramel sauce. Both taste absolutely fantastic and even the kids loved it.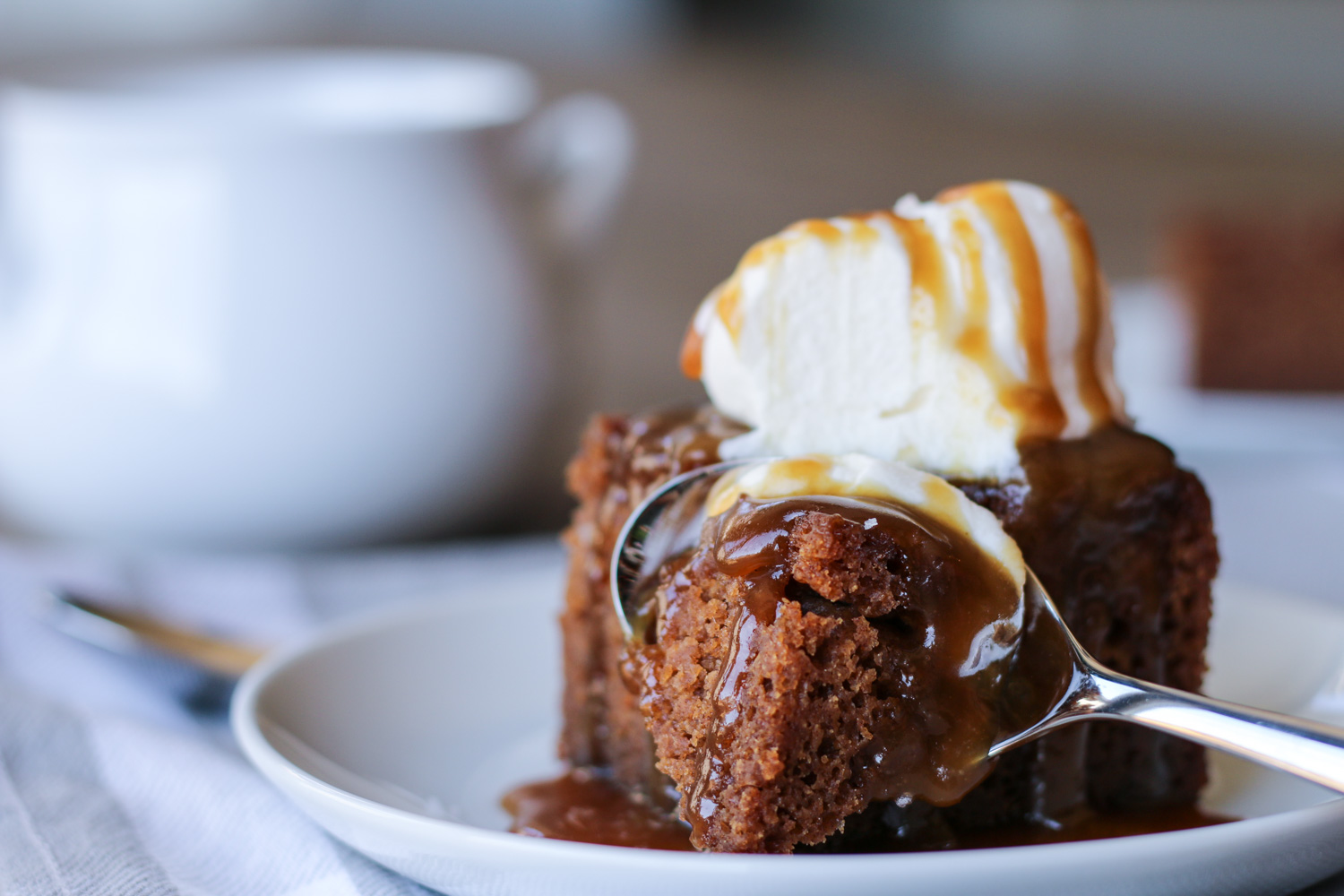 Update December 22, 2019: *Gluten Free Edit*
For years I haven't made this recipe because of my gluten-woes, but after some research and testing, I've managed to create a gluten free version that yields a very similar light and fluffy texture as the pastry flour version. To make this gluten free I used 3/4 cup of Bob's Red Mill (BRM) Gluten Free 1 to 1 Baking Flour and 1/4 cup of potato starch. The reason I replaced a portion of BRM baking flour with potato starch is because it adds lightness to baked good. I've also tested countless gluten free flours and have found that blends consisting of sweet rice flour (aka – mochiko) provides gluten free baked good with a nice soft bounce, which is what BRM baking flour blend provides.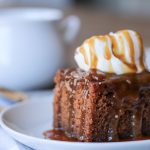 Sticky Toffee Pudding with (Bourbon) Salted Caramel Sauce
An extremely moist and subtly sweet pudding made with dates, drenched in salted caramel sauce, served with whip cream and a light sprinkling of fleur de sel.
Ingredients
Pudding
2

cups

(280 grams) Medjool dates

whole with pits, about 18 to 20 dates

1 ⅔

cup

water

1

teaspoon

vanilla extract

1

teaspoon

(5 grams) baking soda

2

bags

Earl Grey tea

1

cup

(133 grams) leveled pastry flour*

see notes for gluten free option

1

tablespoon

+ 2 teaspoons (18 grams) baking powder

1 ¼

teaspoon

(9 grams) table salt

½

cup

(1 stick) unsalted butter

room temperature

½

cup

(72 grams) demerara sugar

gently packed

2

large eggs

1

tablespoon

molasses
Salted Caramel Sauce (Yields over 1 ½ cups )
½

cup

(1 stick) salted butter

room temperature

1 1⁄3

cup

(200 grams) demerara sugar

gently packed

½

cup

+ 3 tablespoons heavy cream

1 ¼

teaspoon

(9 grams) table salt

3 to 4

tablespoon

bourbon

optional
Finishing
salted caramel sauce

whip cream

fleur de sel
Instructions
Preheat the oven to 350F. Butter and lightly flour a 10" x 7" (1.4L) baking dish; set aside.

Pit the dates and place into a medium sized pot. Add water and bring to a boil. When the water reaches a boil, remove from heat and stir in vanilla and baking soda. Add the tea bags to the liquid and steep for 15 to 20 minutes. Let the mixture cool and remove the tea bags before placing into a blender. Purée the date mixture until smooth; set aside to cool.

In a small mixing bowl, sift together flour, baking powder, and salt.

In a large mixing bowl, cream butter and demerara sugar until light and fluffy. Add in one egg at a time, beating well after each addition. (Note: the batter will look curdled). Add the molasses and cooled date mixture, mix to combine.

Incorporate the flour mixture into the date mixture a quarter at a time. Do not overmix the batter.

Pour the batter into the prepared baking dish and place in the oven on the middle rack. Bake for 45 mins or until an inserted toothpick comes out with a few moist crumbs.

While the pudding is in the oven, prepare the salted caramel sauce. Over medium-high heat, combine butter, demerara sugar, cream, and salt into a small pot. Stir until the sugar has completely dissolved. Lower the heat and add the optional bourbon, stir for 5 mins. Remove from heat and allow the caramel to cool before serving.

Remove the pudding from the oven. Using a toothpick, poke holes all over the top of the pudding. Pour about a third of the salted caramel sauce over the top of the pudding. Let the pudding cool just a bit before serving.

Serve the warm pudding with a generous drizzle of salted caramel sauce, a dollop (or more) of whip cream, and a sprinkling of fleur de salt.

Enjoy!
Recipe Notes
The pudding and sauce can be made a day in advance, just remember to serve it warm.
If adding bourbon to the salted caramel sauce the extra liquid will thin out the sauce, you can simmer over low heat while stirring frequently until desired thickness is achieved.
Puddings can also be baked as mini loaves for holiday gifts. A 6 cup mini loaf pan (4.3" x 2.7" x 1.8") works well with this recipe. Bake for 30 mins at 350F.
To freeze the pudding and sauce, wrap the pudding in plastic wrap and place in a freezer bag. Caramel sauce stores well in a glass mason jar.
I've made this recipe 5 times now and only once did I ended up with a runny batter, the other 4 times the batter was very airy and fluffy. The texture, taste, or rise were not affected by the batter consistency.
*To make this recipe gluten free:

Substitute the pastry flour for 3/4 cups of Bob's Red Mill Gluten Free 1 to 1 Baking Flour and 1/4 cup of potato starch (should still be 133 grams combined)

Potato starch provides a very light texture similar to pastry flour
Sweet white rice flour (mochiko) in BRM blend provides the necessary thickening and stickiness to keep the pudding together while keeping the end results moist and light

Bake for an extra 15 minutes covered with tin foil, when done a few moist crumbs should be on the toothpick
Let the pudding rest before serving, the cake will be slightly more delicate than the regular 'gluten' pudding
Similar to the regular pudding, the pudding will become slightly dense when chilled, but when warmed it have a very light texture