Some may say the best things in life are free, I say the best things in life are sugar coated… buttery… and flaky. I'm talking about scones dammit! The best things in life are scones, fresh out of the oven and still steaming. If these scones are so great, then what can possibly make them better? Well my friends, salted caramel makes everything better. If you've read my previous post, you may know by now I have a thing for salted caramel. I'm an avid believer that caramel, salted or not, belongs on  e-v-e-r-y-t-h-i-n-g. Well, okay maybe not everything, but it most definitely belongs drizzled over these scones. Why? Because apple and caramel are natural lovers, and white chocolate well that's just a no-brainer.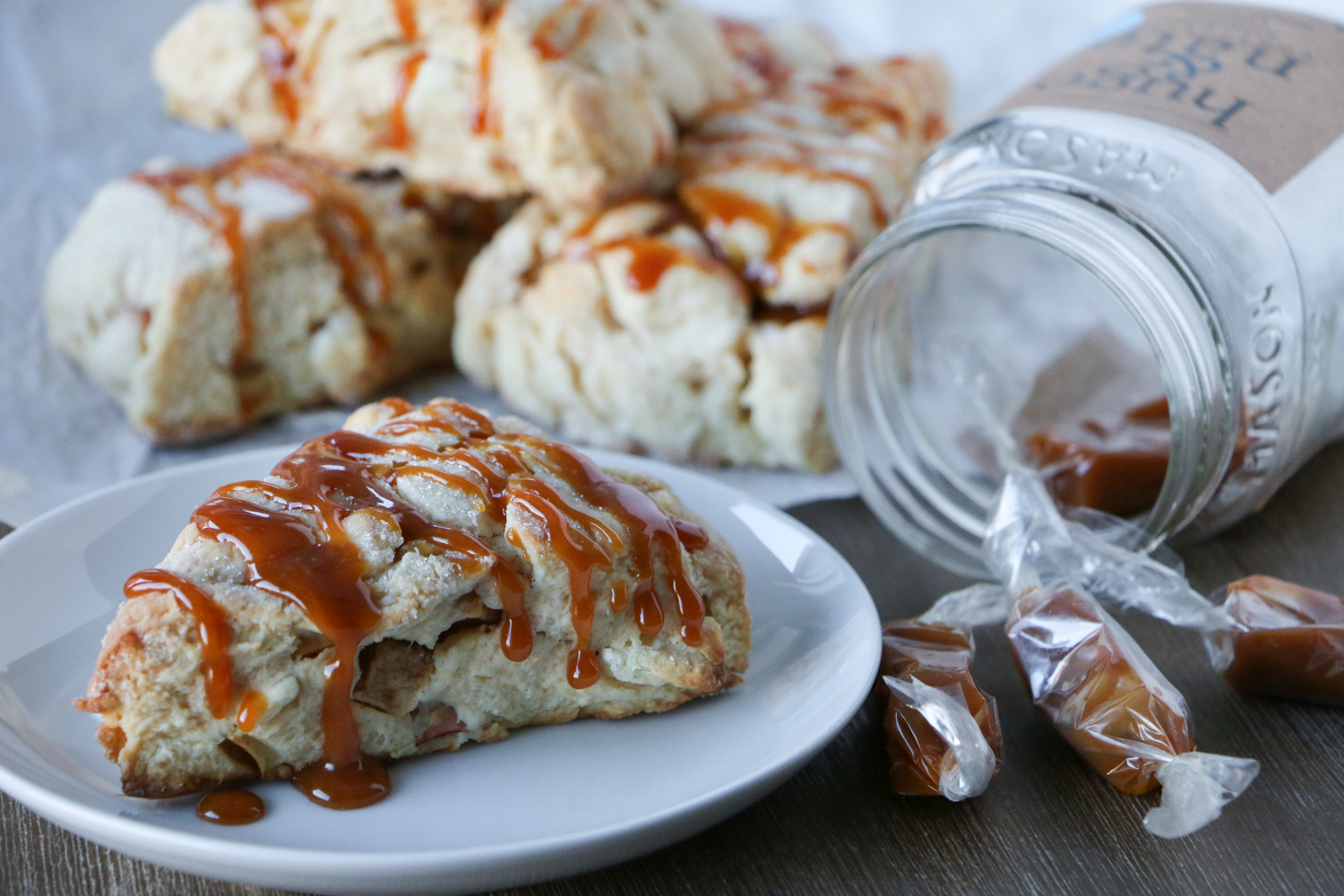 My love for scones really started when I was younger, my nana would always bring over scones whenever she was visiting. Since she had such an abundance of rhubarb, we were always gifted with tons of rhubarb jam (among so many other yummy jam varieties) which I loved putting on my scones for breakfast!
After moving out of my parents house, the amount of scones in my life diminished to a point where I no longer ate them… mainly because no one had baked them for me! The struggle was definitely real.

 So when my mom had surprised me with a batch of apple scones I was absolutely thrilled. They were so yummy I had to get the recipe from her. I have no idea where this recipe came from originally, but who cares, it's amazing! Since then I've been making this recipe for quite some time now and over the years I've made a few modifications.
Now, I'm no scone expert, but here are a few lessons I've learned over the years. Make sure your ingredients are cold. In fact, you should freeze your butter and grate it. Trust me, you will thank me later. Cutting will become so much easier and the butter will remain a solid until it is placed in the oven. When the butter melts, it creates what I like to call "heavenly butter pockets" which creates a tenderlicous, flaky scone. Also, you should never overwork the dough. Don't listen to Rihanna, you don't want to work, work, work, work, work, asdasdasgfdasd, work, work, work, work, work the dough! Only knead until everything is just incorporated. A little bit of lumps and bumps are fine, we do not want a smooth dough. Overmixing will make the gluten form more than necessary, meaning you will end up with chewy scones and probably less friends for doing so. The truth hurts. I know.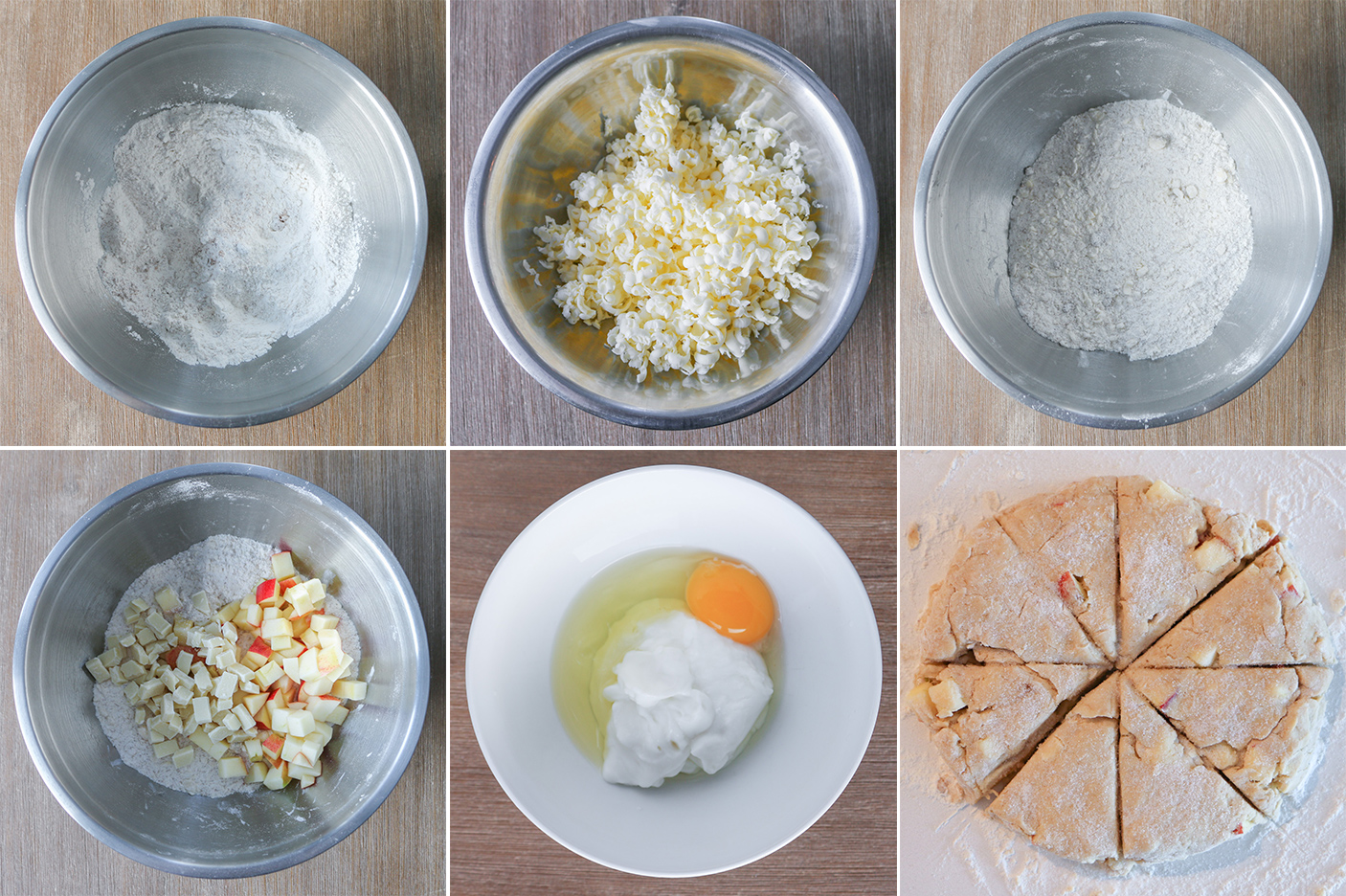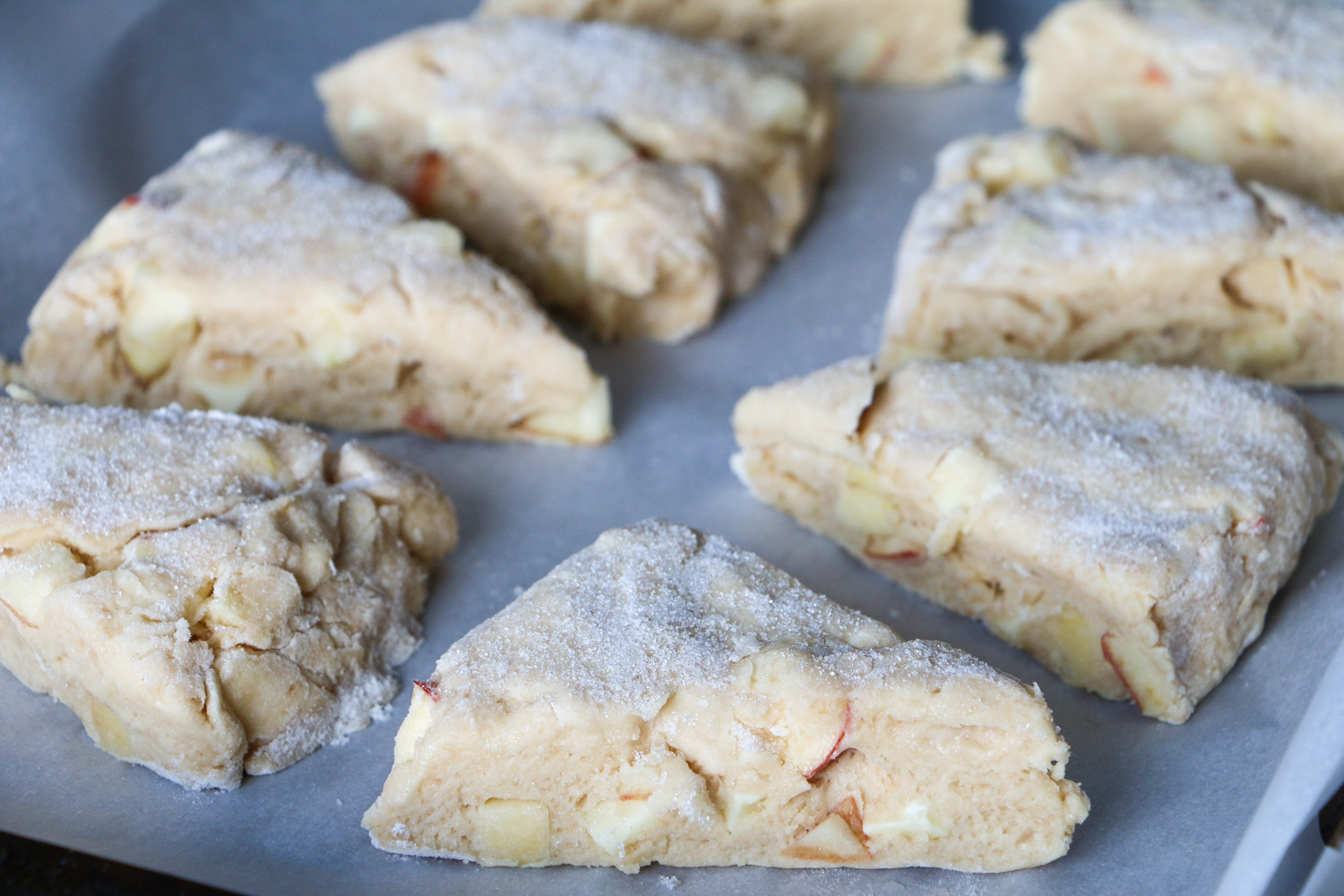 The great thing about scones is that you can keep a batch of them in the freezer and warm them up when you have guests over. Just make sure you don't eat them all before your guest come over!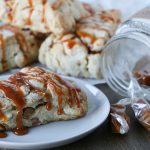 Apple and White Chocolate Scones with Salted Caramel
These buttery, tender, and flaky apple and white chocolate scones are a perfect treat for afternoon tea or a holiday get-together. Make these scones extra decadent with a drizzle of warmed salted caramel.
Ingredients
For the Scones:
2

cups

all-purpose (AP) flour

3

tablespoons

brown sugar

2

tablespoons

white sugar

1

teaspoons

white sugar

for sprinkling on scone

1

teaspoons

baking powder

¼

teaspoons

baking soda

½

teaspoons

salt

½

cup

unsalted butter

frozen

½

cup

sour cream

1

egg

large

1

cup

Gala apple

diced (about 1 apple)

½

cup

white chocolate chips
For the Salted Caramel (Sally's Baking Addiction):
3

tablespoons

unsalted butter

½

cup

white sugar

¼

cup

heavy cream

½

teaspoons

salt
Instructions
Adjust the oven rack to the middle and preheat the oven to 400 F.

In a bowl, mix flour, brown and white sugar, baking powder, baking soda, and salt.

Grate the frozen butter and mix into the flour mixture. Work the butter in with your fingers. The mixture should resemble coarse meal.

Dice the apple into small pieces, should be about the same size as the white chocolate chips. (You don't have to peel the apple). Add the apple and white chocolate into the flour mixture.

In a separate bowl, whisk the sour cream and egg until smooth.

With a fork, stir the sour cream mixture into the flour mixture until large dough clumps form. Use your hands to knead the dough, but don't knead too much or the dough will become tough.

Lightly flour the countertop and shape the dough into a 7 ½ inch circle that is about ¾ inch thick. Sprinkle the remaining 1 t of sugar onto the dough. Cut the circle into 8 equal triangles.

Line a cookie sheet with parchment paper. Place the scones 1 inch apart. Bake for 15 to 17 minutes, or until golden.

While the scones bake, prepare the salted caramel sauce. Over medium-high heat, combine butter, sugar, cream, and salt into a small pot. Stir until the sugar has completely dissolved. Lower the heat and stir for 2-3 mins. Remove from heat and allow the caramel to cool before serving.

Remove the scones from the oven and drizzle the salted caramel sauce over the scones.

Enjoy with tea!
Recipe Notes
You may use less sugar for the scone batter.