Hi I'm Emi and I'm a recovering ice cream-aholic. Kev and I have been on a serious late night ice cream streak lately, although delightfully delicious it's probably not good for the hips. 

 Thankfully our friend started having evening boot camps sessions, so it's lessen our ice cream binge sessions on the couch… but I couldn't help but make these mini ice cream dorayaki (どら焼き). Pancake (check), anko (check), ice cream (check, check and triple check). YUM-O! What makes this little Japanese treats even better is that the pancakes are made of a castella type batter. Castella is a sponge cake, which has been my FAVOURITE snack for as long as I can remember. This is why the pancakes are so good just by themselves!
Dorayaki is a Japanese pancake sandwich which is typically filled with anko (sweet red bean paste), but it isn't uncommon to see a variety of fillings such as whip cream with fruits, Nutella, custard, ice cream, the list goes on. I was originally going to make these with a whip cream type filling, but ice cream seems like the better choice. I didn't make my own ice cream, rather I just used vanilla ice cream from the store. I used a 1.5 quart tub with intentions to have left overs.

 Making the ice cream is extremely simple, all you need is matcha powder and red bean paste. I was feeling a bit lazy pressed for time that day since I was prepping for a Japanese dinner that night, so I used store bought tsubuan (つぶあん) which is a chunky red bean paste. Feel free to use the smooth variation (koshian, こしあん) if you like, I personally like the chunky texture for dorayaki.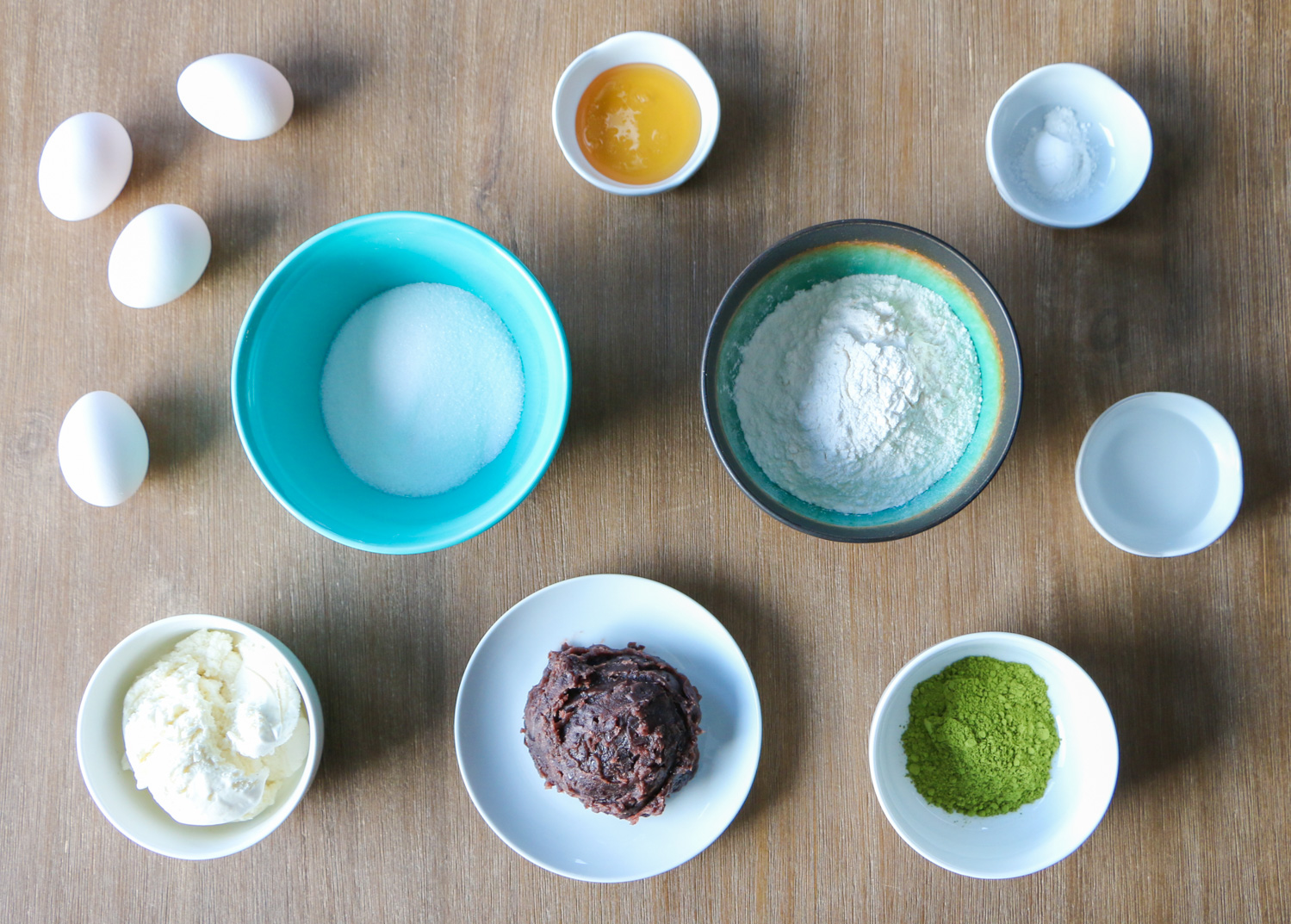 The batter itself is fairly simple as well. You want to end up with a batter that is smooth and has a thick-ish consistency. The batter should not be runny at all.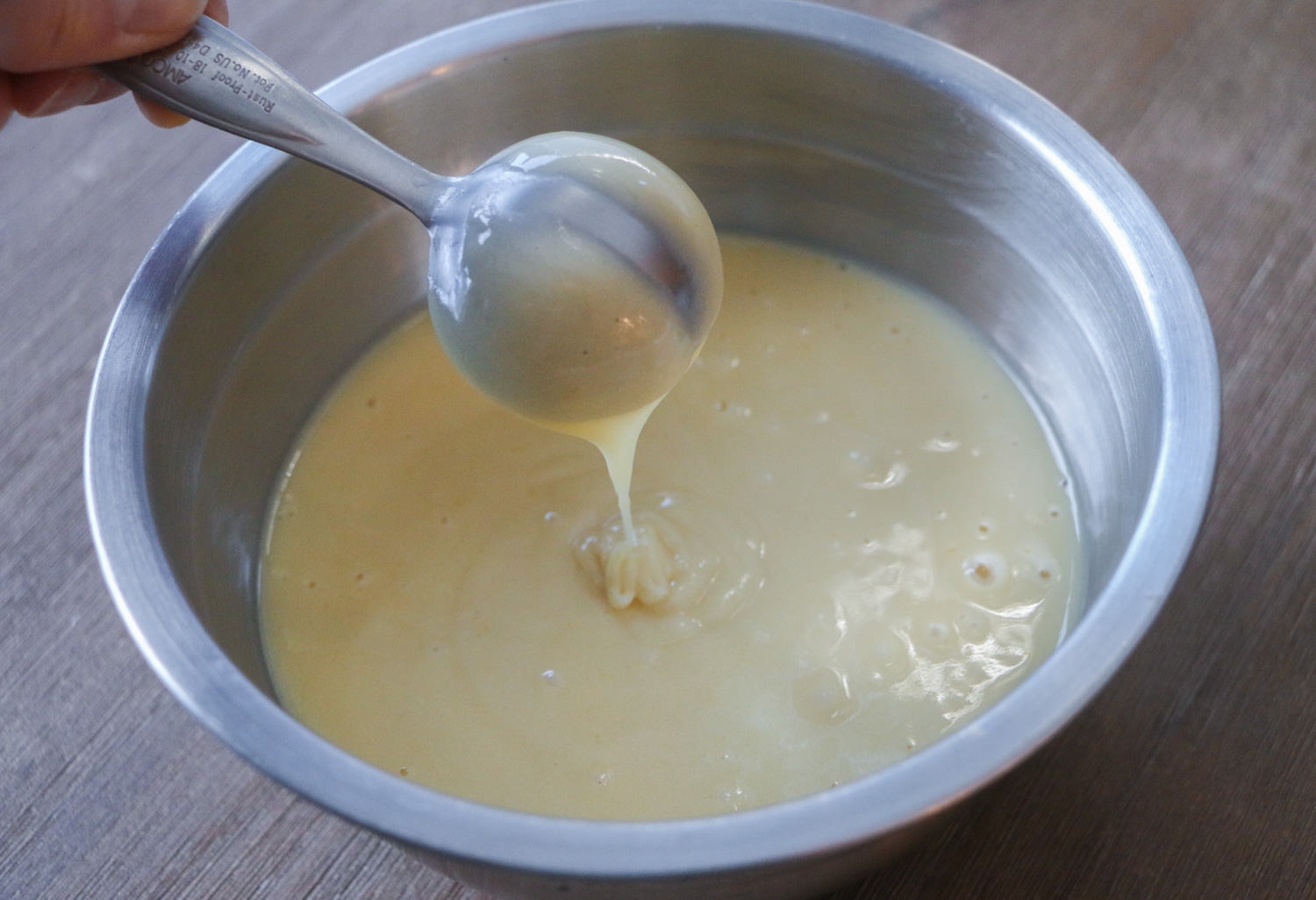 When cooking the dorayaki, you want to make sure the heat is set to a medium-low. Nothing higher or you'll burn those little pancakes! The griddle also has to be oiled and then wiped clean. This is an important step because if you leave any oil streaks, the dorayaki will end up with an uneven browned surface.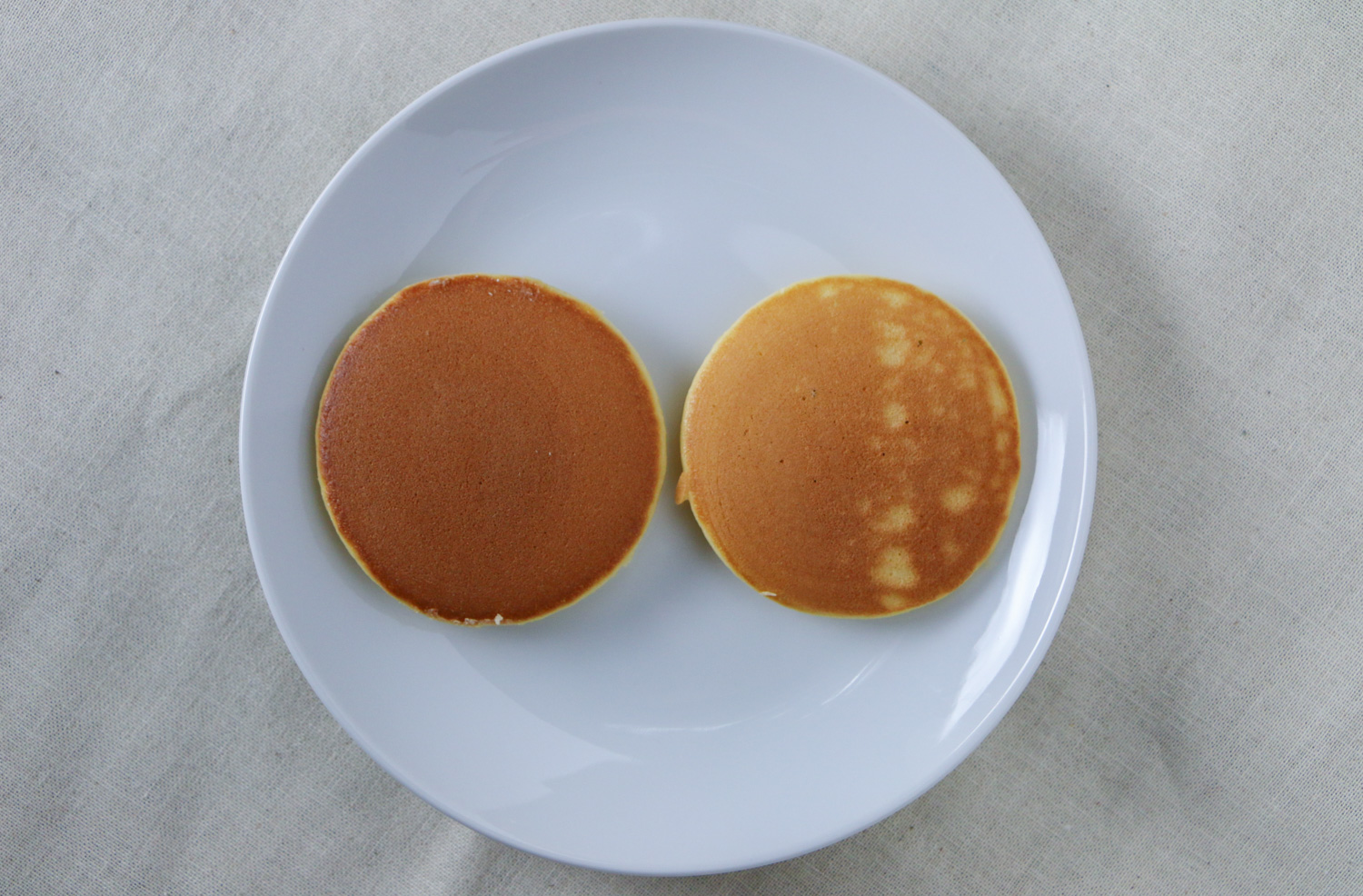 Just like traditional pancakes, when you see bubbles form in the batter, it's time to flip those little babies. When they are done cooking, it's a good idea to keep them under a damp towel so they don't dry out as you cook the remaining dorayaki.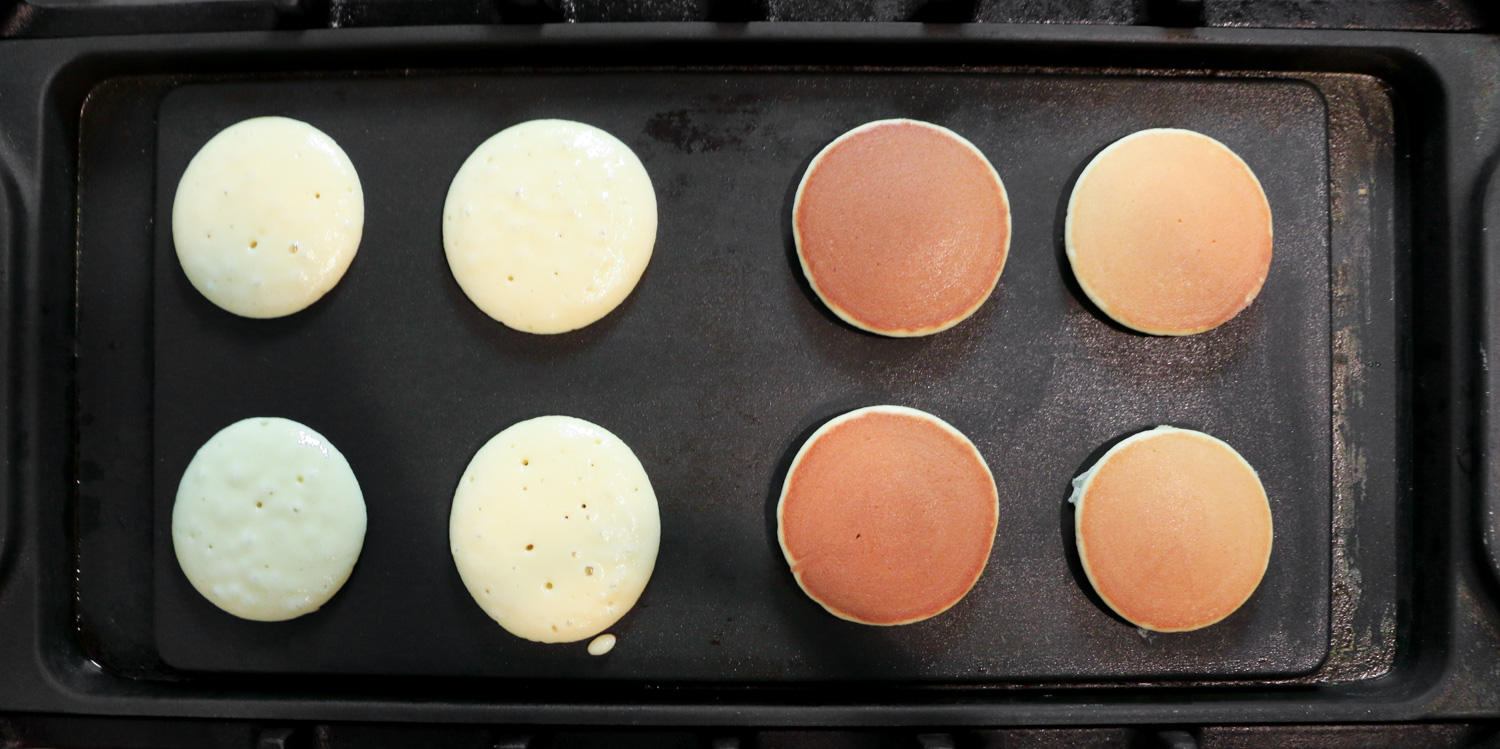 Filling the dorayaki with ice cream is very simple, just like you would with ice cream sandwiches, take a warmed spoon and scoop out some ice cream and place it on one of the pancakes. Gently press the other pancake on top and eat immediately! Because why wait?! If you can't finish all of them in one sitting, you can freeze them for later ice cream dorayaki binge sessions.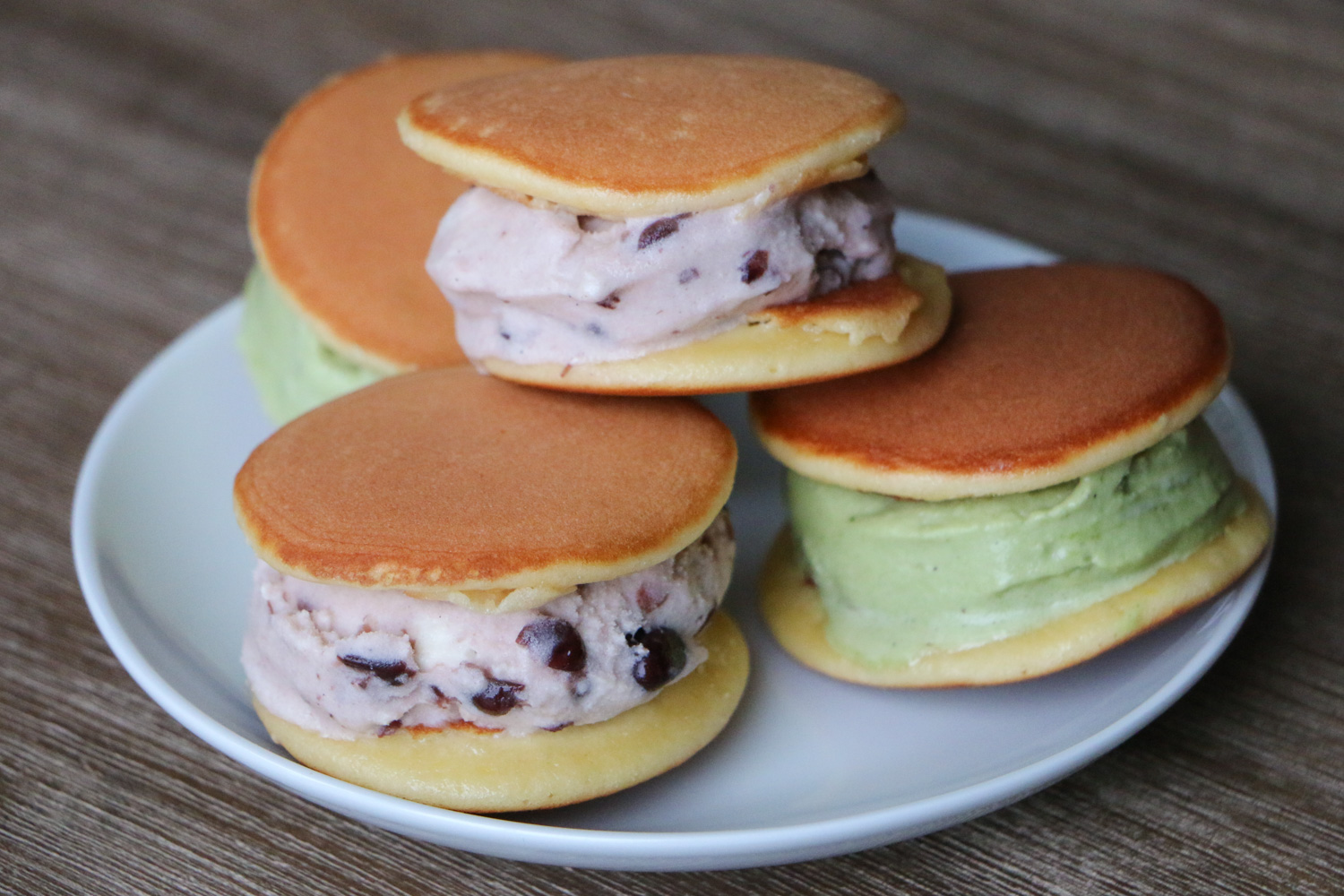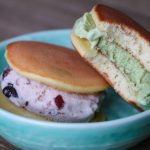 Mini Ice Cream Dorayaki
These mini ice cream Japanese pancakes are a perfect treat for those with a sweet tooth. Traditionally filled with a red bean paste, matcha and anko ice cream serve as a great alternative.
Yields
15
(2.5") ice cream dorayaki
Ingredients
Batter
4

large eggs

½

cup

sugar

2

tablespoon

honey

1

cup

all-purpose (AP) flour

sifted

1

teaspoon

baking powder

3

tablespoon

water

oil

for the griddle
Ice Cream Filling
vanilla ice cream

tsubuan

chunky sweet azuki bean paste

matcha powder
Instructions
Place vanilla ice cream into two separate bowls. In one bowl mix in matcha powder and in the other bowl mix in red bean paste. Cover the bowls with plastic wrap and place in the freezer for about 1 hour to harden.

In a large bowl, combine egg, sugar, and honey. Add in flour, baking powder, and water. Whisk until combined and smooth.

Heat the griddle to medium-low and with an oiled paper towel rub down the griddle. Using a dry paper towel wipe the griddle to remove any oil streaks.

Using a tablespoon pour the batter onto the griddle. Cook until you see bubbles (about 1.5 mins), then flip and cook for 30 seconds. Place the dorayaki on a plate and cover with a damp paper towel. Make sure the griddle is thoroughly cleaned after each use.

Scoop the ice cream using a warm a tablespoon and place in the middle of one pancake. Place the other pancake on top and gently press down. Repeat for the remaining dorayaki.

Eat immediately or place in the freezer until ready to eat. (Takes about 5-8 mins to thaw.)