A couple of months ago Kevin started eating yogurt and fruit for lunches topped with guess what – granola. I know he's pretty basic – just kiddingggg. His only one complaint was that the store bought granola, although delicious, was just way too sweet. I scanned the ingredients to make sure I had the essentials and mixed up my first batch to replicate Kev's favourite granola.It took me until the second batch to get the flavourings and ratios right, however I wasn't able to get those damn clusters to form

. Was it because I did have enough sweetener? Did I have too little oil? Did the little bits of quinoa just spite me that much that it would rather live at the bottom of the container than get eaten with his fellow oats? I did a quick Google search and found a recipe with frothed egg whites. This totally made sense! Eggs – protein – binder – duh! Why didn't I think of this?!
The addition of egg whites did just what I needed, however I had to play with the ratios again, as well as the oven temperature and length of cooking to get the crunchiest and clusterious (is that even a word?) granola. I actually went a little overboard by adding a few more egg whites to the granola mixture just to see what happened… let me tell you this, more is definitely not always better. Unless you like soft eggy granola, I suggest you stick with the 2 egg whites I have listed in the recipe.

This granola recipe usually lasts two weeks for Kevin, but if I get my fingers in it, it usually lasts a week in the pantry. I know, I know… every week I make Kevin a fresh batch of granola for his lunches, but I just can't stop snacking away at it

. Honestly guys, it's because we don't keep a lot of sweets in the house and the closest thing to "sweets" is granola, and when I'm craving sweets…I'm eating granola because it's loaded with dark chocolate and chewy goji berries. Yum!
The great thing about granola is that once you have identified the key ingredients and portions, you can start experimenting with other flavourings and add ins to create different variations with completely different flavour profiles. So give it a try and make it your own.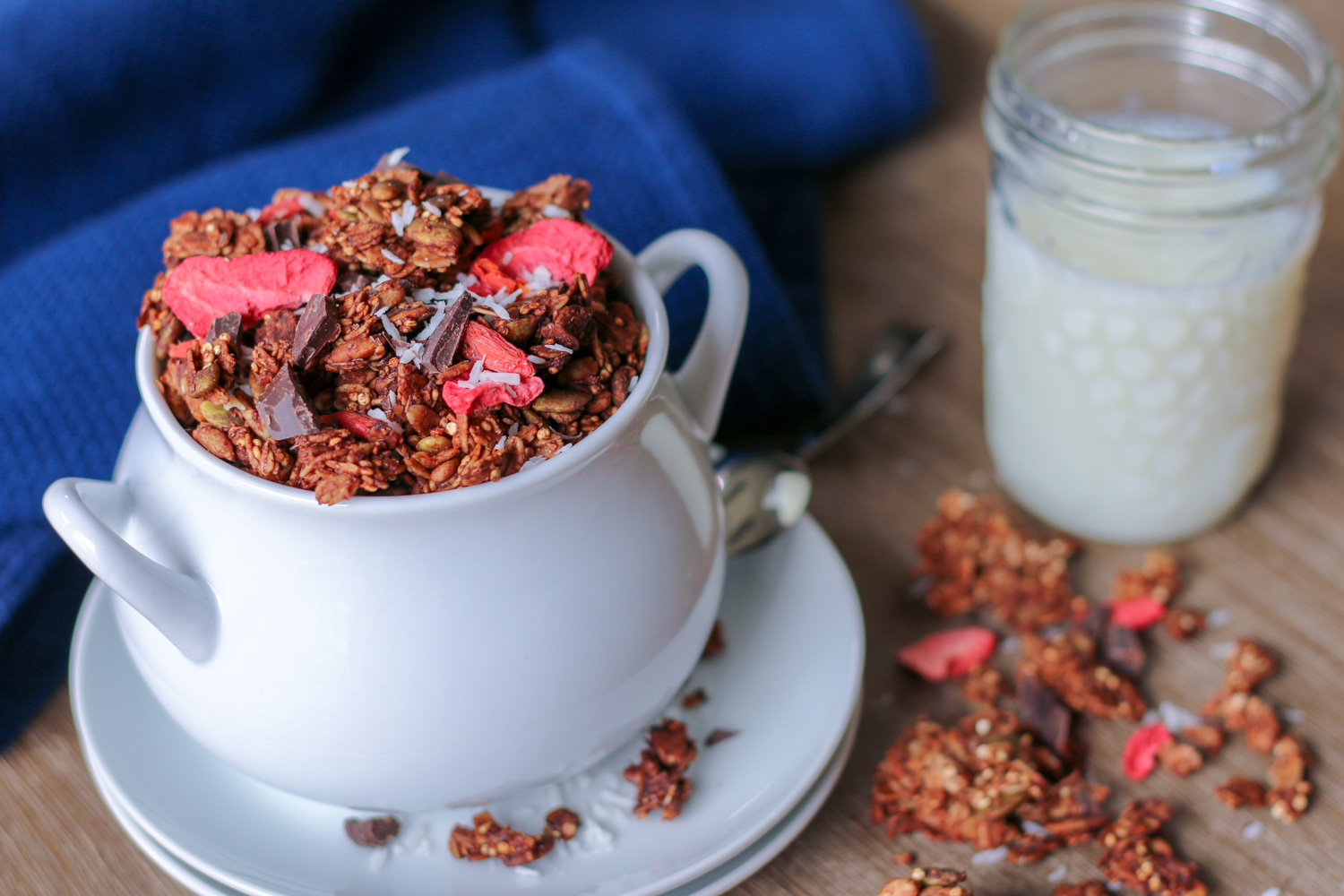 Chocolate Crunch Granola
A delicious and healthier alternative to store bought granola. Control the amount of sugar and oil by making your own homemade granola. Make this recipe your own by experimenting around with different flavourings and granola add ins. Elevate this recipe by adding in your favourite toasted nuts, or if you're allergic to nuts like me keep them out and use seeds.
Ingredients
3

cups

old-fashioned oats*

½

cup

quinoa

¼

cup

flax seed

milled

¼

cup

coconut

shredded and unsweetened

1

cup

pumpkin seeds

raw

½

cup

sunflower seeds

raw

¼

cup

cocoa powder

½

teaspoon

salt

¼

cup

coconut oil

½

cup

agave

1

teaspoon

vanilla extract

2

eggs whites

frothed

½

cup

goji berries

dried

½

cup

strawberries

freeze dried

½

dark chocolate

chunks (I used Camino 71% bittersweet chocolate)
Instructions
Position the oven rack in the middle and preheat to 325 F.

In a large mixing bowl, add oats, quinoa, milled flax seed, coconut, pumpkin seeds, sunflower seeds, cocoa powder, and salt. Stir to combine.

In a medium sized microwave-proof bowl, add coconut oil and heat briefly for 20-30 seconds until melted. When melted, stir in agave and vanilla. Add the liquid mixture into the granola mixture and toss to coat evenly.

In a medium sized bowl, add two egg whites (save the yolks for another use) and whisk until frothy. Add the frothed egg whites into the granola mixture and toss to coat evenly.

Line a baking sheet (17.25 x 11.5 x 1 inch) with a silicon baking liner. Spread the granola mixture over the baking sheet. Using a spatula, press down on the granola to form an even packed layer. Bake for 35 - 45 mins, mixing* the granola halfway through baking. (Note: Use a spatula to flip a portion of the granola at a time. Try to keep the granola later in tact so you will end up with large chunks of granola when done. Using the spatula, firmly press the surface of the granola.)

Remove the granola from the oven and let cool completely before adding goji berries, freeze dried strawberries, and dark chocolate chunks.

Store in an airtight container in your pantry.
Recipe Notes
-*Can use 1 ½ C Old fashioned oats and 1 ½ C oatmeal grain blend such as Rogers Ancient Grains (contains oat, rye, barley, spelt and khorasan flakes, oat bran, millet, flaxseed, quinoa flakes)
-Feel free to swap out the seeds with nuts in this recipe (I used seeds due to my nut allergy)
-Store granola in an airtight container for up to 2 weeks. Granola can be stored in a freezer bag in the freezer for up to a month.
-The granola will feel a bit soft after baking, once it is cooled it will harden.