Oh babyyy~ You know, I'm not usually one to toot my own horn, but god damn these pancakes are good divine! I have been making pancakes so much lately on the weekends and experimenting a lot, that I now know what creates a really moist pancake… and that is the addition of sour cream. Sour cream is so amazing and versatile, I love adding it to batters where I want  to have just a little bit extra moisture without having to add extra fat. Sour cream is also one of my secret ingredients in my ultra soft scrambled eggs. Shh! Keep that a secret!
Another secret to having great pancakes, is letting the pancake batter rest in the fridge before cooking. Doing so allows the baking powder to form little bubble all throughout the batter which makes the pancakes nice and fluffy. Resting also allows the gluten in the batter to relax a bit so the pancakes come out nice and tender, and not super chewy.  Just make sure that when you take the batter out of the fridge, avoid the urge to mix the batter. I know it might be hard, but mixing the batter will only cause the bubbles to "burst" and result in a deflated batter.
I love this pancake recipe because there is so much you can do with it. All you have to do is swap out some ingredients, add a few more and you have something complete different! I've used this recipe to make pancakes flavoured with Baileys and WowButter (a peanut butter replacement product for those allergic to nuts 

) and pancakes flavoured with bananas and bourbon. I haven't posted these recipes yet  mainly because I feel like my blog has now turned into a breakfast blog. For the love of god, where are the dinner recipes?! Patience my friends, the recipes will come. My main issue is that I'm always chasing the daylight so as a result most of my picture worthy cooking happens in the morning and on weekends. But now that spring is here, I have more daylight! So that means I'll actually have some decent light when I come home after work. Yay!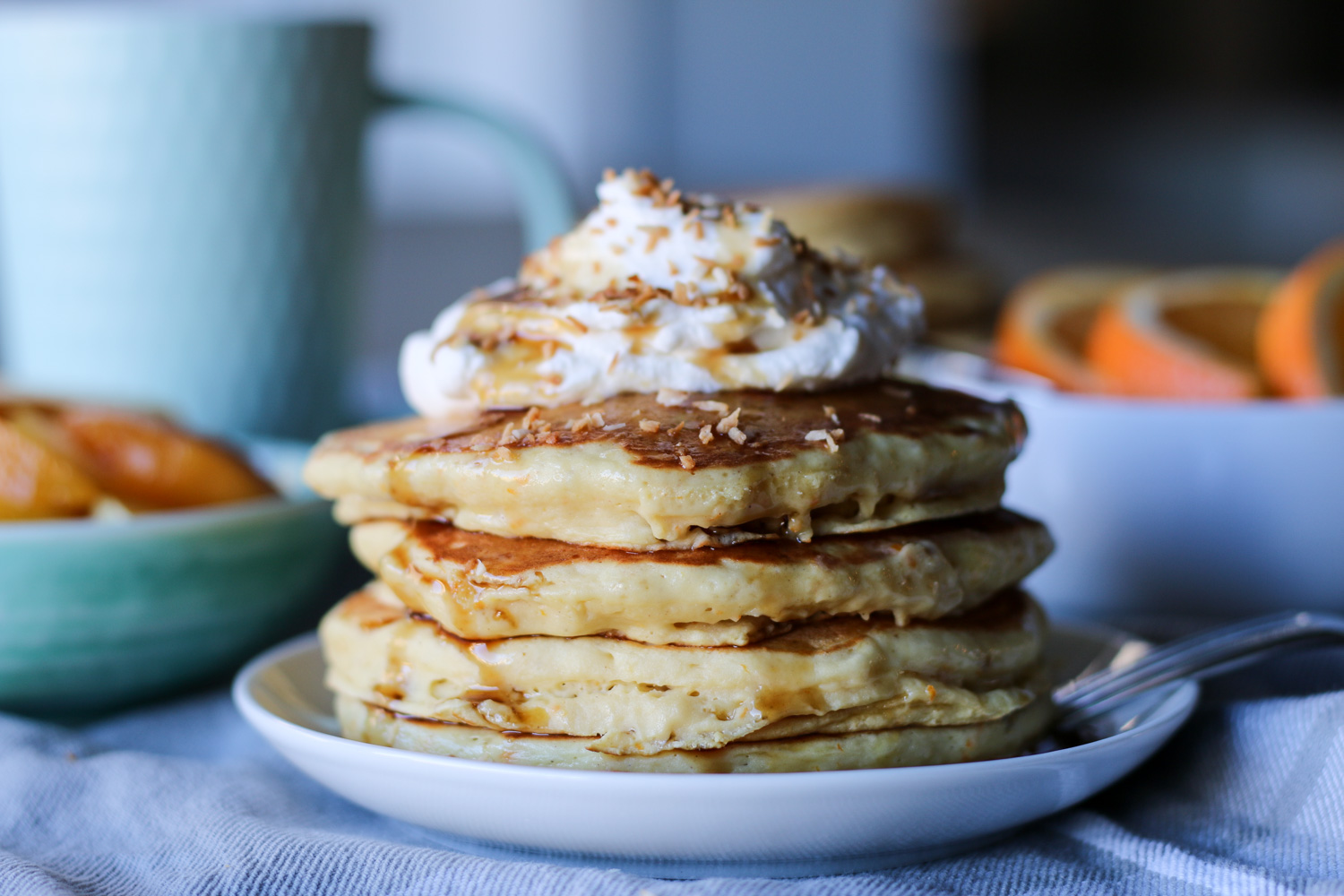 Would.You.Just.Look.At.That. 
  (By the way if you care for a laugh, watch this YouTube video. It's pretty funny. 

)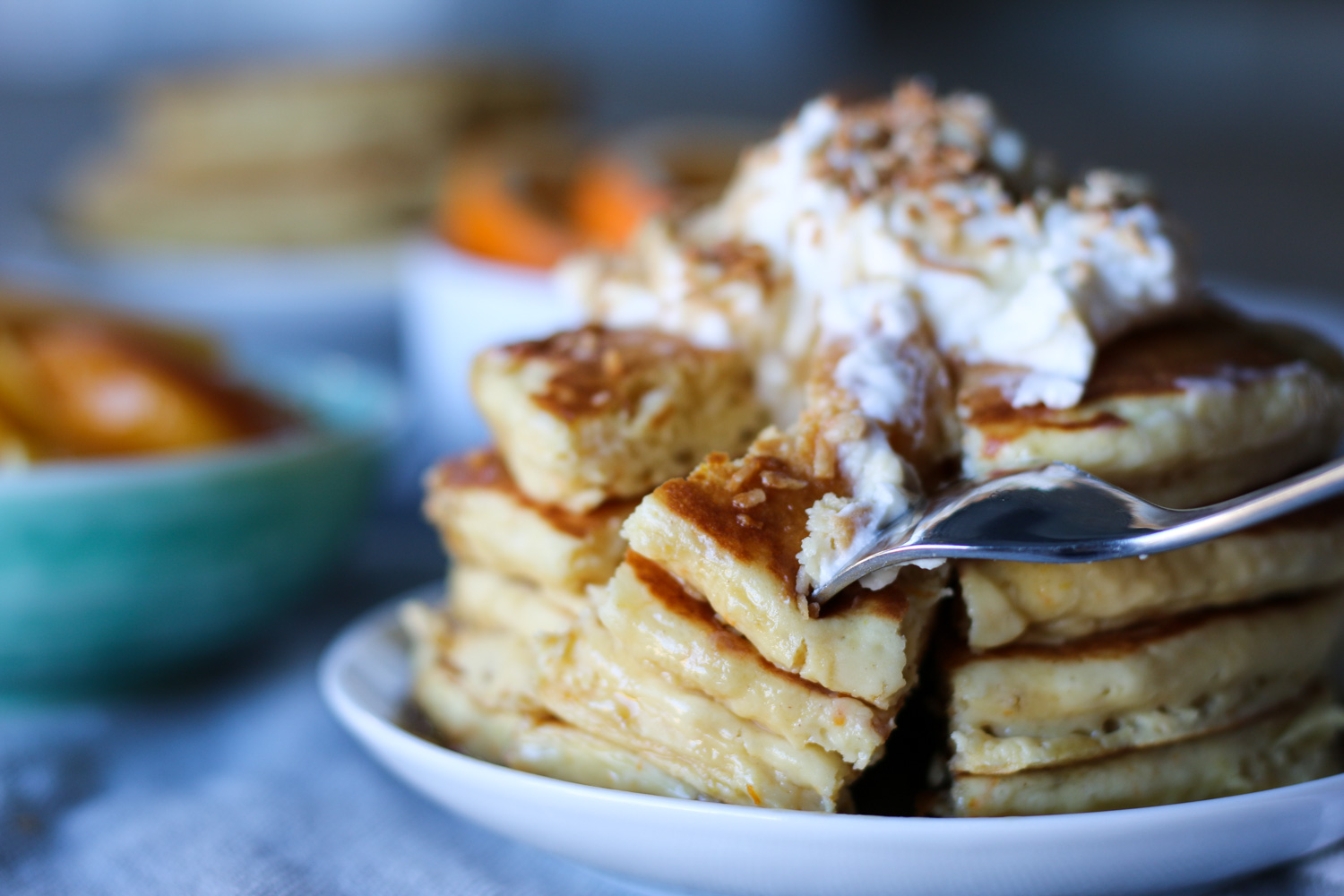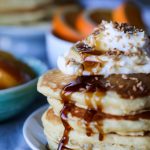 Orange Sour Cream Pancakes with Cointreau Maple Syrup
Warm and buttery pancakes flavoured with orange, served with a healthy dose of whip cream, toasted coconuts, and Cointreau maple syrup. What could be better?
Ingredients
Boozy Fruit Salad
sliced fruit (orange, pineapple, strawberry, peach)

Limoncello

Cointreau

honey

mint

fresh
Toasted Coconut
coconut

shredded, unsweetened
Pancake Batter (Wet ingredients)
1

cup

sour cream

zest of 1 large navel orange

¼

cup

orange juice

2

large eggs

1

teaspoon

vanilla

1

teaspoon

cinnamon
Pancake Batter (Dry ingredients)
1

cup

all-purpose (AP) flour

3

tablespoon

brown sugar

1

tablespoon

baking powder

pinch

salt

oil or butter for griddle
Cointreau Maple Syrup
unsalted butter

real maple syrup

Cointreau
For Serving
butter

whip cream

optional

Cointreau maple syrup

toasted coconut

cinnamon

boozy fruit salad

on side
Instructions
In a small bowl add sliced fruit and a couple of splashes of limoncello and cointreau. Drizzle in some honey and gently mix. Let the fruit salad sit in the fridge for about 10 mins. (The mint will be added to the fruit salad just before serving.)

In a small skillet, add a handful of coconut and cook over medium heat. Stir frequently until most of the flakes are golden brown. Set the coconut aside for later use.

In a medium mixing bowl, whisk together the wet ingredients. Add the dry ingredients and whisk until combined.

Let the pancake batter rest in the fridge for 15 mins. (Note: Do not mix the batter after you take it out of the fridge or it will deflate.)

Heat a griddle to medium heat and cover the surface of the griddle with oil . Using a ⅓ cup ladle, pour the batter onto the griddle. Make sure to have a couple of inches in between each pancake. Cook for a couple of minutes, until bubbles appear in the pancake batter and the underside is golden. Flip the pancakes and cook for another couple of minutes. (Note: Keep your pancakes warm in an oven set to 180 F while cooking the remaining pancakes.)

While the pancakes cook, prepare the Cointreau maple syrup. In a small saucepan melt butter on low. Add in as much maple syrup as you need and add a couple of splashes of Cointreau. Adjust the amounts to your taste.

Top the pancakes with a pat of butter and a dollop of whip cream (if you are feeling extra indulgent). Drizzle over the Cointreau maple syrup, toasted coconut, a dusting of cinnamon, and and serve with a side of boozy fruit salad topped with fresh mint.

Enjoy!