I think I have finally figured out how to make the fluffiest and custardiest (is that even a word?) pancake ever! E.V.E.R.!

 I wasn't really planning on making this into a recipe because I knew I would probably have to try it a couple of time before getting the amounts just right. Especially since this was my first time making this kind of pancake. But it came out perfect so I had to share it. This left me backtracking to make sure I captured the right amounts of each ingredient and how many pancakes it actually made. Silly me, I forgot to count how many little damn pancakes this recipe made, but I'm pretty sure it was 9, 6 inch pancakes. But anyways, this all happened because I had some leftover ricotta in the fridge from when I had made egg yolk raviolo (yum) and was trying to figure out what I wanted to do with it. Then the weekend hit and Kevin mentioned pancakes, and it all just somehow fell together.
I really wanted to have some kind of topping for the pancakes and unfortunately (or fortunately?) I only had exactly 1 cup of ricotta leftover which I needed for the batter so I couldn't use that. So I rummaged through the fridge and found a couple of lemons that were luckily not used as chasers for tequila shots last night. I sliced one of them and tossed the thin slices into some boiling simple syrup to candy them. The great thing about this, is that the lemon infuses into the syrup which can be used to top the pancakes. It really gives an extra-lemony punch in the face. I'm kidding, my pancakes hurt no one! It really did add a nice lemon flavour that went great with maple syrup.
This pancake batter is a bit different than the usual pancake batter because it requires you to use whipped egg whites! What? You don't want to go through all that hassle of separating eggs? Well suck it up princess because this (in addition to the baking powder) is what helps make the pancakes become fluffy little pancake pillows. Trust me, you won't regret doing it! This pancake recipe will definitely be my go-to recipe when I want to whip up something simple, yet fancy for a weekend breakfast.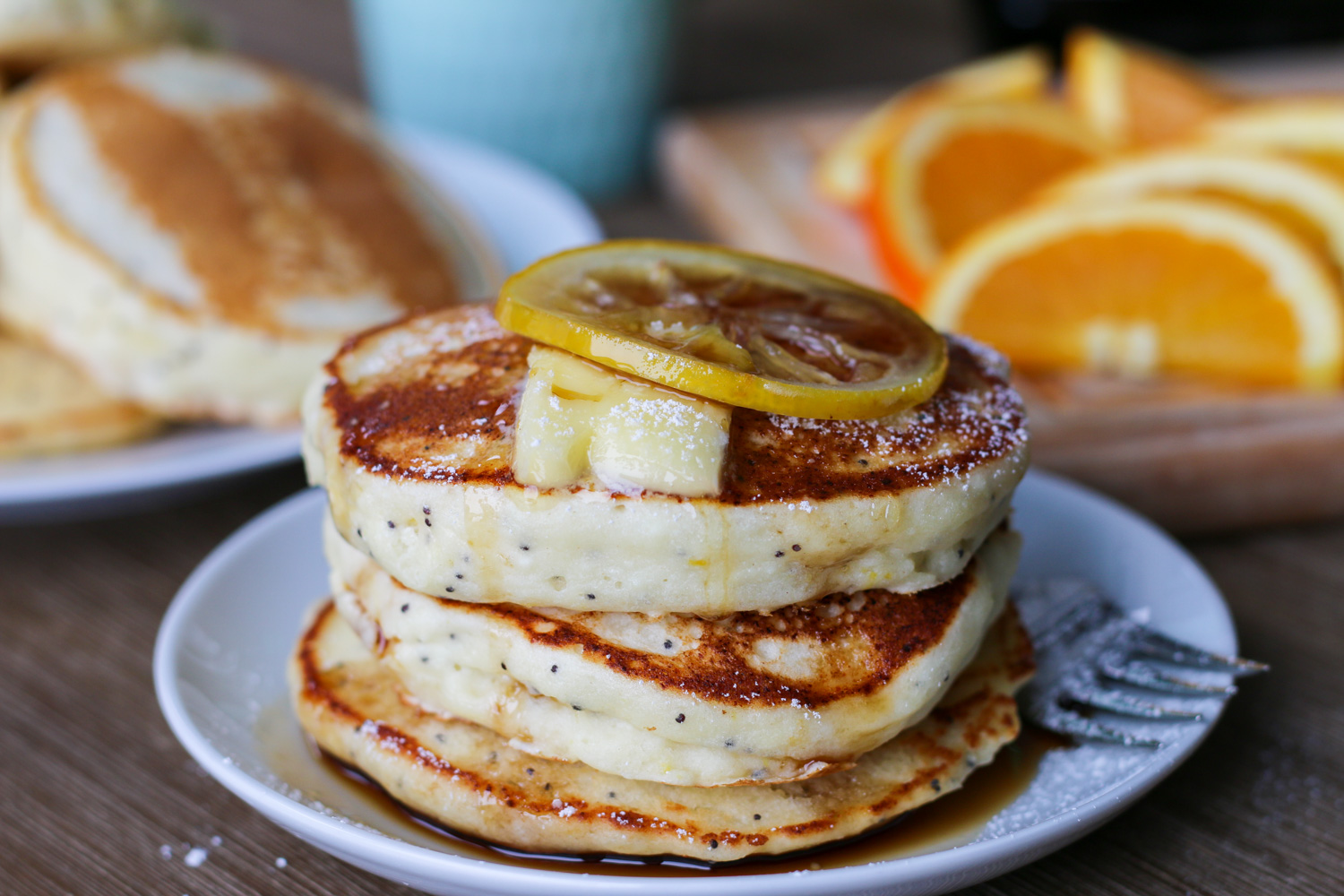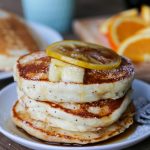 Lemon Ricotta Poppy Seed Pancakes
Delightfully light, fluffy and moist pancakes made with lemon and ricotta cheese makes these pancakes a special treat. These definitely aren't your traditional Saturday morning pancakes. Serve these lemon ricotta pancakes with syrup, fresh berries, or if you're feeling real fancy top them off with candied lemon slices and a dusting of powdered sugar to blow away your guests.
Yields
8
to 10 (6 inch) pancakes
Ingredients
Candied Lemon Slices
1

lemon

thinly sliced

1

cup

water

¾

cup

sugar
Lemon Ricotta Batter
1 1/3

cup

all-purpose (AP) flour

1

tablespoon

baking powder

3

tablespoon

sugar

pinch

salt

1

cup

fresh ricotta cheese

1

cup

milk

2

eggs

separated

1

teaspoon

vanilla

zest and juice of 1 large lemon

1

teaspoon

poppy seeds

unsalted butter

for the griddle
Toppings
unsalted butter

candied lemon slices

lemon syrup

maple syrup

powdered sugar

for dusting
Instructions
To make the candied lemon sliced, in a sauce pan bring the water and sugar to a boil over high heat. When the sugar has dissolved, reduce the heat to medium-low and add the lemon slices. Simmer for about 10 to 15 mins. Remove the pan from the heat and let the lemon slices cool until ready to serve.


For the lemon ricotta batter, in a medium mixing bowl, whisk together flour, baking powder, sugar, and salt. Then using a large mixing bowl, whisk together ricotta, milk, egg yolks, vanilla, zest and juice of 1 large lemon, and poppy seeds. Add the flour mixture into the ricotta mixture and whisk just enough to incorporate all the ingredients.

In a separate bowl, using an electric beater, beat the egg whites until stiff peaks form. Then gently fold in the egg whites into the lemon ricotta batter.

Heat a griddle to medium-high and coat with butter. Using a 1/3 cup ladle, pour the pancake batter onto the griddle. Cook for about 4 mins until bubbles form and the bottom is nicely browned. Flip and cook for another 4 mins. Note: If you notice the pancakes browning too much, turn the heat down.

Serve with a pat of butter, candied lemon slices, a drizzle of the lemon syrup, maple syrup, and a dusting of powdered sugar.

Enjoy!