The first time I had a Nicoise Salad was five years ago in Oman. I remember the experience so clearly because not only was the scenery so beautiful – I was sitting on a patio, looking out to the blue water filled with yachts with large rocky cliffs in the distance – but the combination of flavours in the salad was something I have never experienced before. Why oh why had it taken me so long to try this salad?! This salad was not your typical salad, it was bold, it was it was hearty, it was meaty, and it had so many textures. This salad was quick to become my go-to salad.
I often make a Nicoise Salad when I'm feeling for something healthy but with a bit of substance. This salad is loaded with freshly seared fish (typically tuna, but salmon or other protein sources can be used instead), hard boiled eggs (I prefer medium boiled), potatoes, green beans, tomatoes, olives, capers, greens and anchovies – you can't forget the anchovies! When I make this, I typically leave out the capers since it just isn't a pantry item for me, nor am I fond of them. But hey, if you like them, go ahead and add them as they definitely add lots of flavour.
The key to this salad is the dressing, a flavourful Dijon vinaigrette which is so versatile you can even use it as a marinade for  steak. Typically when you search for salad dressing oil to vinegar ratio, the internet will tell you 3:1. Most of the time if I'm making this salad for others, I opt for a 1:1 ratio because not everyone is like me and prefers a vinegary (not off-puttingly vinegary or anything) salad dressing. If I'm making this salad for myself or if I've meal preped this salad for the week then usually I will cut back on the oil and increase the vinegar.  If you are making this for the first time, then I highly suggest you use the 1:1 ratio, then tweak it to your taste and make it your own when you make it a second time.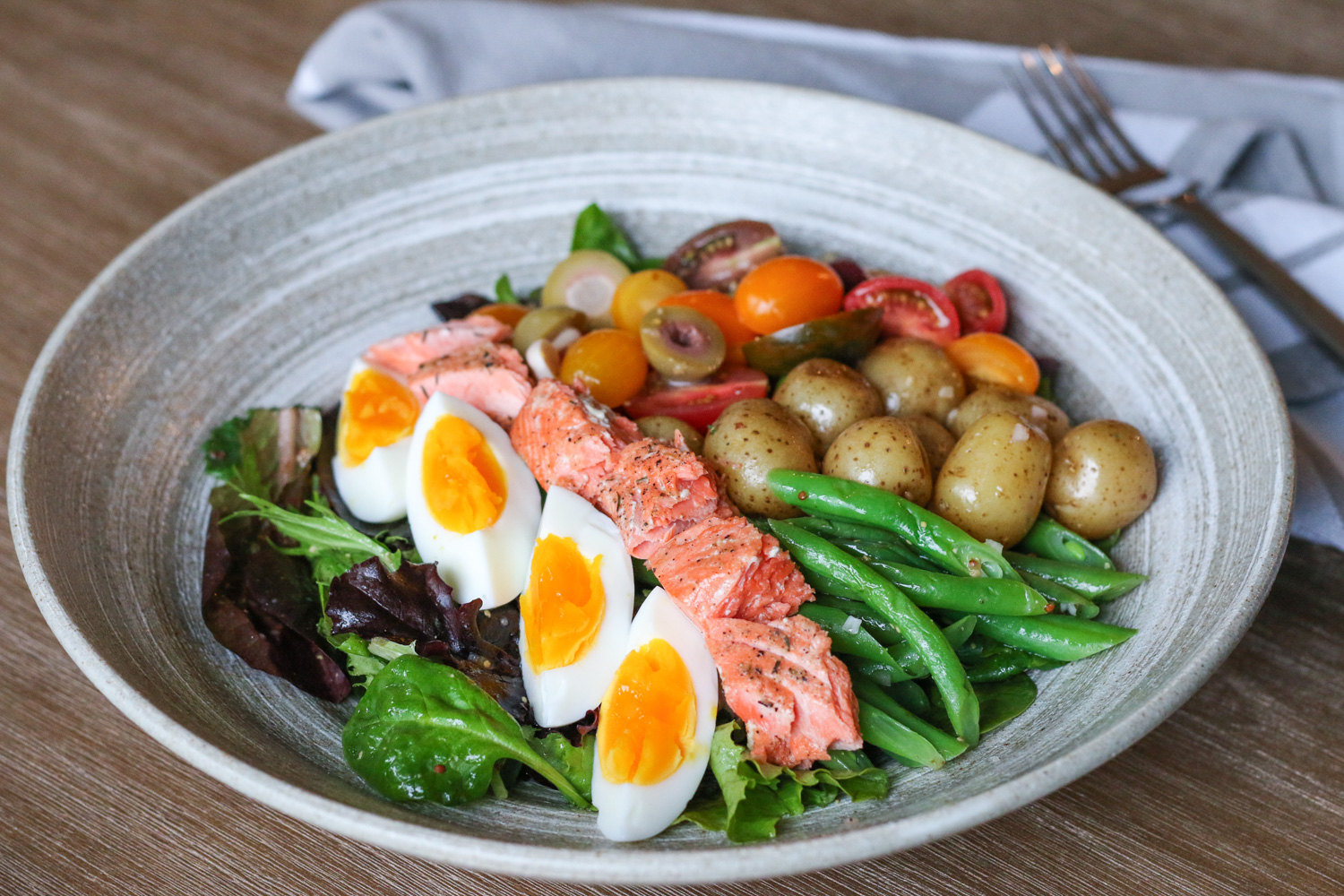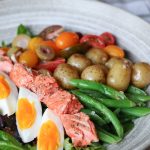 Salmon Nicoise Salad
A take on the classic French Nicoise salad with seared salmon instead of tuna. This is salad is flavourful, full of texture, and simply filling. It's quick to become everyone's favourite go-to salad!
Ingredients
Dijon Vinaigrette (makes ½ cup)
¼

cup

white wine vinegar

¼

cup

extra virgin olive oil

2

tablespoons

whole grain Dijon mustard

½ to 1

(15 to 20 grams) medium shallot

minced

1

tablespoon

(2 sprigs) thyme

fresh

2

teaspoons

anchovy paste

20 to 30

cracks fresh ground black pepper

½

teaspoon

coarse salt
Salad
1

tablespoon

coarse salt

plus more for seasoning

20

(200 grams) yellow mini potatoes

whole

2

cups

(200 grams) green beans

bite-sized bias cut

2

large eggs

1

(8 ounce) salmon fillet

pepper

freshly cracked

120

grams

mixed salad greens

20

(200 grams) mixed cherry tomatoes

halved

4

green olives

stuffed with garlic, rounds

4

kalamata olives

rounds
Instructions
To prepare the Dijon vinaigrette: Combine all the ingredients in a jar, seal, and shake well.

To prepare the salad ingredients: Fill a medium sized pot with water, season with salt, and place over high heat. When the water starts to boil, carefully add the potatoes. Boil the potatoes for about 25 minutes or until fork tender. Using a straining spoon, remove the boiled potatoes from the pot and set aside in a dish.

In the same pot, add the green beans and blanch for about 2 minutes or until tender. Remove the green beans from the pot and set aside. Carefully discard the boiling water.

Place the eggs in a small pot, cover the eggs with 1 inch of water, and bring the water to a boil over high heat. Turn off the heat and let the eggs sit for about 8 minutes. Remove the boiled eggs and place them in a bowl with cold water to stop the cooking. Peel the eggs under cold running water and cut the boiled eggs into 4 wedges.

Rinse the salmon fillet under cold water and pat dry. Season each side with salt and pepper

Over medium high heat, coat a small frying pan with oil. When the pan is hot, place the salmon fillet skin side down and cover the pan. Cook for about 8 to 10 minutes. Place the salmon on a cutting board and cut the fillet in half then into bite sized chunks. Reserve for later use.

To plate the salad: Add the salad greens to a large mixing bowl and toss the salad with the Dijon vinaigrette. Reserve some of the dressing for the remaining salad ingredients. Place the salad greens into two bowls to form the base of the salad. In batches using the same mixing bowl, dress the green beans, potatoes, tomatoes and olives. Equally portion out the salad ingredients between the two bowls. Finally top the salad with salmon and egg wedges.

Enjoy!
Recipe Notes
To lighten up this dressing, you can use half (⅛ cup) the amount of oil. This will make the dressing more vinegary, but still delicious!
If you have an egg steamer, I suggest using it as it is easier than boiling the eggs in water. You can follow the instructions on the egg steamer to produce medium-soft boiled eggs.
Salad can be served cold with freshly seared salmon.