Risotto can take some patience and some elbow grease to make, but when you pair it with wine and some good chatter, nothing can be better than making risotto. A little a stir here, a little sip there, next thing you know your boyfriend/SO/hubby has taken over because you're too drunk to avoid burning yourself. Amiright? 

 Oh wait, does this only happen to me?
I don't know how many times I've made risotto and never though to put a recipe together, but after serving this to a few friends and receiving some good feedback. Heck, why not post this recipe! I love it, my friends love it, and I'm sure you'll love it to. Risotto for me is like a blank canvas. I can change up the flavourings depending on what I feel like eating that night. What I keep consistent however, is the Arborio rice, wine, broth, and cheese (usually Parmesan).
Arborio is traditionally used for making risotto, the rice is starchy and lends to the creaminess of the dish. A nice dry wine adds some lovely flavour compounds, but it is not necessary, you can just stick to broth if you desire (… but a little wine never hurt anyone


). Whatever you decide, just make sure you don't use a sweet wine, that would not be pleasant. Depending on what you plan on flavouring the risotto with, chicken broth is pretty standard and versatile. I've used beef and even dashi broth in the past too. Regardless of which broth you are using, make sure you always add in warm broth! You don't want to disrupt the little rice gems with their starching process by adding in cold broth! Parmesan is a must (or any kind of hard cheese you like), it definitely adds to the savoury profile.
Now the add-ins can be totally up to you, I chose to go for a very mushroomy risotto paired with sun-dried tomatoes (for colour and taste). Since I had some salmon fillets already in the freezer I decided to go the seafood route. I was trying to decide what I wanted for greens, I was originally going to do some sautéed asparagus, but since that is usually my go-to green. I wanted something a bit different, something light and airy, something my friends may have not tried before. A peppery arugula seemed to fit the profile and pair well (at least in my mind) with the salmon. Oh boy was I right. How could I possibly make it any better? I tossed the arugula in black truffle oil. Now, if you don't have truffle oil on hand, you can toss the arugula in a bit of oil and add a bit of truffle salt (or just regular EVOO and a squeeze of lemon). You don't want to overpower the other flavours in the dish, so a little bit of truffle salt goes a long way.
I honestly think this risotto dish with the salmon and the truffle tossed arugula would be a great dinner party dish or a perfect stay-in date night dish. It's fairly easy, a bit time consuming, but oh baby the end result is so amazing! A definite must try dish!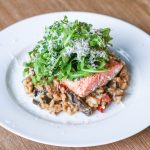 Mushroom and Sun-Dried Tomato Risotto
Wow your guests with this restaurant quality risotto recipe. This risotto is jam packed with mushroom and sun-dried tomato flavours, topped with a perfectly seasoned seared salmon fillet, and piled sky high with arugula dressed in truffle oil and Parmesan dusting.
Ingredients
Sun-Dried Tomato Risotto
6 to 8

cups

chicken broth

150

grams

pancetta

large diced

⅔

cups

shallots or white onion

diced

4

garlic cloves

chopped

450

grams

cremini mushrooms

stems removed and sliced

450

grams

mixed wild mushrooms

such as oyster, portobello, black trumpet, chanterelle, porcini, etc., chopped

2

cups

arborio rice

10

sun-dried tomatoes

sliced and reconstituted

⅔ to ½

cup

dry white wine

2

tablespoons

butter

½

cup

Parmesan

freshly grated (plus more for garnish)

salt

to taste

black pepper

freshly ground (to taste)

3

sprigs

oregano

fresh

3

sprigs

thyme

fresh

1

sprigs

rosemary

fresh, chopped
Salmon
4

(4 ounce/each) salmon fillet

rinsed and dried

salt

to taste

black pepper

freshly ground (to taste)

1

sprig fresh oregano

1

sprig fresh thyme

½

sprig fresh rosemary

chopped
Garnish
4

handfuls arugula

truffle oil

salt

to taste

black pepper

freshly ground (to taste)

Parmesan

freshly grated
Instructions
For the risotto: In a medium sized pot, bring chicken broth to a simmer over low heat.

Heat a large (wide), deep pan over medium-high heat and add pancetta. Cook pancetta until golden brown and crispy, about 8 to 10 minutes. Remove the pancetta from the pan and place in a bowl for later use.

In the same pan, add shallots and garlic. Sauté until soften and a golden colours starts to develop, about 8 to 10 minutes. Add mushrooms to the pan and sauté for another 10 minutes until the mushrooms have softened. If needed, add a pat of butter to the pan. Remove the shallots, garlic, and mushrooms from the pan and place in a bowl for later use.

Add rice to the pan and stir to coat with the remaining oil. Toast the rice for about 2 minutes. Add sun-dried tomatoes and wine to the pan, stir to combine and bring to a boil. Let the wine reduce by half, about 3 minutes.

Using a 1 cup ladle, add the broth to the rice and stir continuously until the broth is absorbed. Add another ladleful of broth, stir, and repeat until the the broth is absorbed and the rice soft but still chewy. This should take 25 minutes or more.

Stir in butter, Parmesan, salt and pepper (to taste), oregano, thyme, rosemary, and the reserved pancetta and mushroom mixture. Turn off the heat and prepare the salmon.

For the salmon: In a large frying pan, oil and heat the pan on medium high heat. Place the salmon fillets skin side down and season with salt, pepper, and remaining fresh herbs. Cook for about 4 minutes uncovered, cover for a remaining 3 to 4 minutes. The salmon is ready when it feels firm to touch and the skin is crispy. (Note: If desired, the skin can be removed prior to serving.)

For the garnish: Place arugula in a medium size bowl, drizzle lightly with truffle oil, season with salt and pepper.

To plate: Place a generous amount of risotto in the middle of a plate and gently flatten the mound. Place salmon on top of the risotto and top with seasoned arugula. Freshly grate Parmesan on top. Repeat for remaining 3 plates. (Note: Depending on size of risotto serving there may be enough for 2 more servings.)

Enjoy!
Recipe Notes
- The amount of salmon and arugula required depends on how large each risotto portion is. For the recipe ingredients/instructions it provides directions for 4 servings.
- Use a wide sauce pan when cooking risotto. A larger surface area is desired so the liquid can evaporate.
- Add the broth in a ladle at a time and stir to let the liquid evaporate. Don't pour all of the broth in at once, depending on the rice you use and how quickly the liquid evaporates you may end up not needing all of the broth or needing more.
- When stirring, make sure to not break the rice grains. The objective is to stir the rice gently so the natural starch is released.
- Don't hesitate to taste the rice often to check for doneness. Just like pasta you want the rice to be al dente, not a mashed up gluey mess!
- If you don't have truffle oil or truffle salt, regular olive oil with a squeeze of lemon seasoned with salt and pepper will do in a pinch.