Oyakodon is an absolute favourite homey Japanese comfort food of mine. You'll probably find me making this very often, if not all the time, for dinner since it's so simple to make. I was actually trying to think what we used to eat for dinners before I introduced oyakodon into Kevin's life. It must of been chicken teriyaki bowls and nabe… which is also so delicious and I wish I could eat everyday in addition to oyakodon! Sometimes I wish for a bottomless stomach so I can fill it will ALL THE JAPANESE FOODS! 

Kevin and I are big into meal prep so for weeknight dinners (in addition to breakfast and lunch), we will prepare everything for the week on Sunday.  Since I still enjoy cooking in the evenings, we just wash and cut the vegetables we plan on using in our dinners. For protein, we usually take out some frozen pre-portioned and cut chicken (or any raw meat that we have vacuum sealed and froze) in the morning so it's thawed by the evening. I find that this reduces the time significantly to prepare a dish if you're busy in the evenings with your family and you just don't have the time! One day I really should do a post on meal prep tips, meat marinades, and lunch recipes that we've nailed down over the years. We have a legit operation peeps!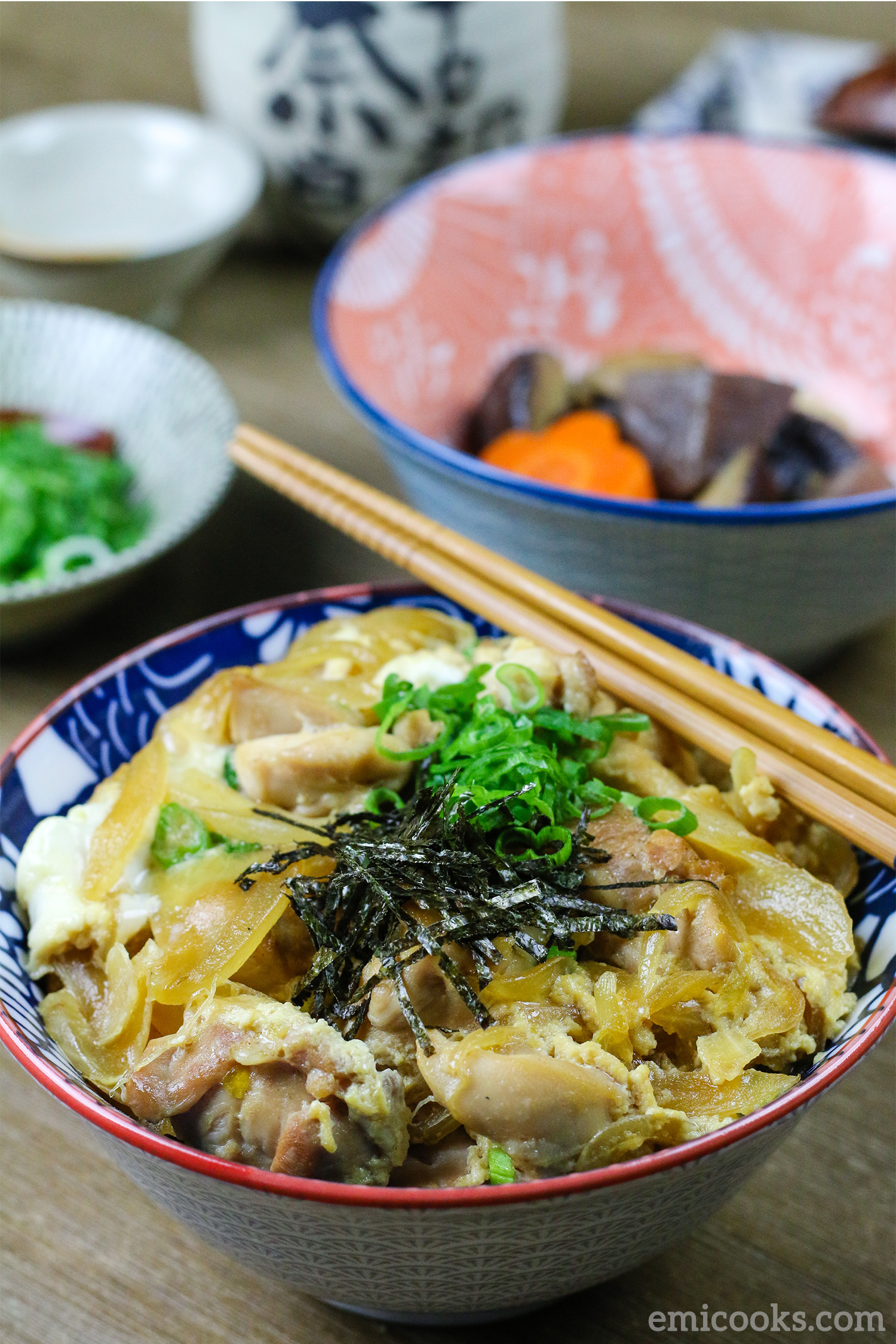 But anyways, back to oyakodon… the most popular donburi you'll find in Japanese restaurants and homes. Oyakodon is, you guessed it, a rice bowl topped with a savoury-sweet chicken and egg mixture. If you translate oyakodon, it literally means "parent and child bowl" because the chicken and egg are served together. My recipe for oyakodon is quite similar to my gyudon recipe. The only real difference with this recipe and the gyudon recipe is the protein (chicken), the addition of sugar, and the omission of sesame oil and ginger. What you'll find common across most Japanese dishes are the main flavour ingredients of dashi, soy sauce, sake, and mirin. I talk a bit about these ingredients in my gyudon (Japanese beef and rice bowl) post if you want to have a quick read.  Since I like to keep things simple, I usually always add equal amounts of soy, sake, and mirin. Although if a dish needs just a touch more saltiness, I'll add in a bit more soy. If you have this ratio and combination of ingredients down you can really add it to any dish and it will turn out spectacular. To add a bit of variation to the donburi dishes I make, sometimes I add more hot sesame oil, red Thai chilis, garlic, or even some miso paste. This combination is wonderful especially with pork.
To make the oyakodon, I combine all of the liquid ingredients in a measuring cup. Since we will be making this in a small frying pan one portion at a time, I suggest using a measuring cup so it's easy to pour half. If you happen to have two small frying pans that's great, you can add half of the liquids into each frying pan so you can cook it at the same time. This recipe is actually fairly healthy since I don't use any extra oil to fry the onions or chicken, it just simmers in the sweetened soy-dashi broth. Once the broth comes to a simmer, add onions and cook covered until soften. I like using yellow onions because it lend sweetness to the dish; however, white onions will work in a pinch. I also always use a lid when I cook oyakodon because I don't want the liquid to reduce a lot, depending on how large your flame is while cooking, you may need to replenish the liquids by adding a bit more water throughout the cooking.
For this donburi I chose to add onsen tamago (soft cooked egg) as a garnish because my mom gifted me with an onsen tamago maker! If you have one, it's super simple. All you have to do is add boiled water and let the eggs sit for around 20 minutes (make sure you time the preparation of the onsen tamago so it's ready the same time the oyakodon is)… but if you don't have this, you can soft poach an egg or just add a raw egg yolk, the latter is obviously easier.

Now if you want to stay traditional, you don't need to add additional vegetables or tofu. Most of the times I'll add Asian mushrooms, carrots, and tofu directly to the simmering liquid. If I add bok choy or broccoli (or a vegetable that counters the overall flavour of the dish), I usually pan fry it separate as I don't appreciate the mingling of flavours. But that's just me. Once you've decided if you want or don't want extra veggies in your life, you'll need to add the chicken thighs (please use thigh and not breast, it really makes a difference – juicy vs dry). A good rule of thumb is two thighs per person. Kevin complained mentioned once that one thigh just wasn't enough protein for his growing body, but you can use just one thigh if you like.
When the chicken is cooked, make sure you have your rice already warmed in your bowl because the egg only takes a few minutes to cook. Add two eggs that have been gently whisked (don't beat, the whites need to be separate from the yolks) to the pan and spread the eggs throughout. Two eggs are a must per serving, one just isn't enough to fill the pan with eggy goodness! Now cover and cook for one minute for partial set eggs or two plus minutes for fully set eggs. When ready, the chicken and egg mixture will easily slip off the pan and into the bowl.

Traditionally oyakodon is topped with mitsuba, but I've never see it in my local grocery stores so I substitute with green onions. You can also add nori strips, onsen tamago (soft poached egg or raw egg yolk), or even shichimi togarashi (not pictured) as a garnish.  Side note: I really wish both of the onsen tamago didn't break when I cracked it open!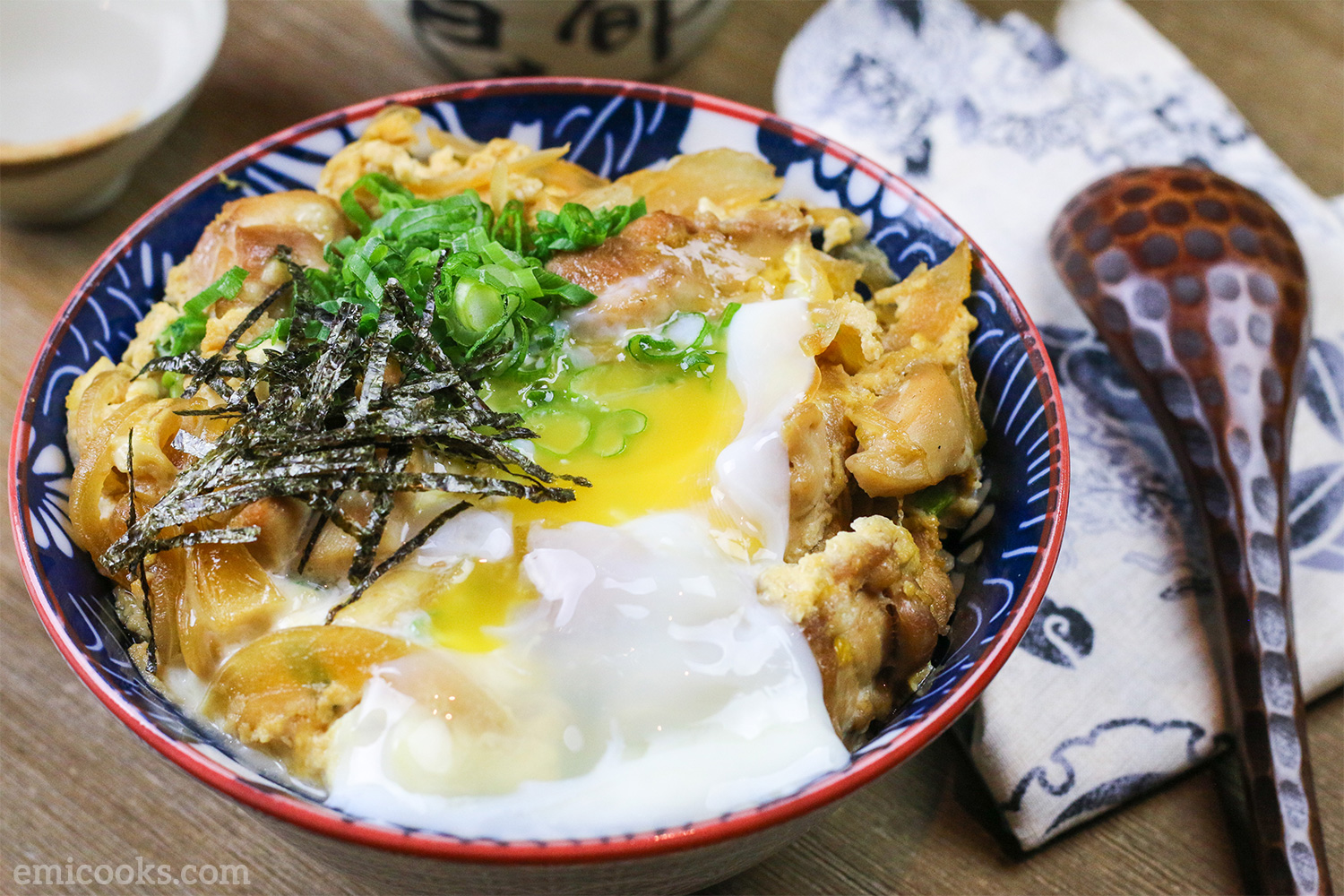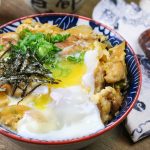 Oyakodon (親子丼) Japanese Chicken and Egg Rice Bowl
A classic Japanese dish made with chicken and egg, simmered in a sweetened soy-dashi broth served over a warm bed of rice.
Ingredients
Dashi Flavouring (makes 1 ¼ cup)
1

cup

dashi broth (1 cup water + 1 teaspoon dashi powder)

1

tablespoon

sake

1

tablespoon

mirin

2 ½

tablespoons

soy sauce

optional gluten-free

Pinch

(1/8 teaspoon)

white sugar

optional
Main Ingredients
1/2

medium

(240 grams) yellow onion

cut into thin ¼ inch wedges

400

grams

boneless, skinless chicken thighs (4 thighs)

cut into 1 inch cubes

4

large

eggs

lightly beaten

2

reasonable portions of rice

warmed
Garnish
2

onsen tamago

optional (soft poach or raw egg yolk)

mitsuba

optional

green onion

thinly sliced

¼

nori sheet

cut into thin strips with scissors

shichimi togarashi (seven spice blend)

optional
Optional Add-ins
1

cup

(60 grams) Asian mushrooms

such as shiitake, shimeji, enoki, etc., sliced

1/2

cup

(30 grams) carrots

julienne

150

grams

silken tofu (half package)

small cubes
Instructions
To make the dashi flavouring: In a 2 cup measuring cup, combine dashi broth, sake, mirin, soy sauce, and sugar. Mix to combine.

To make the oyakodon: Heat a small frying pan over medium-high heat and add half of the dashi flavouring to the pan, along with half of the onions. Cover and simmer for 8 to 10 minutes until onions are softened. (Note: If you want to any of the Optional Add-ins, add half of them in at the 5 minute mark.Cover the pan and cook for 3 to 5 minutes.)

Reduce to medium-low, uncover the pan and add half of the chicken. Cook covered for an additional 8 to 10 minutes, until the chicken is cooked through. If needed add a tablespoon of water to ensure the level of liquid is maintained.

Reduce to low, uncover and add half of the beaten eggs. Spread the egg throughout the pan, cover and cook for 1 to 2 minutes until the eggs are almost set but still runny.

Using chopsticks or a rubber spatula, run the utensil around the frying pan to loosen the egg. Pour the chicken and egg over the steamed rice.

Garnish with 1 onsen tamago (optional), mitsuba (optional), green onions, nori strips, shichimi togarashi (optional).

Repeat steps 2 to 6 for the other portion.

Enjoy!
Recipe Notes
Oyakodon is typically made one portion at a time, I suggest using 2 small frying pans to cook at the same time. The reason for this is to retain the circular shape once the egg has set. This allows for nice presentation when transferring the cooked chicken and egg mixture to the bowl of rice.

Mitsuba is hard to find where I live, so I usually just garnished with green onions.

I used an onsen tamago maker to prepare the eggs, alternatively you can soft boil or just use a raw egg yolk to finish the dish.

I've provided suggestions of Optional Add-Ins if you are looking for additional vegetables and ingredients to add in. Feel free to add other ingredients to your liking.

To make this recipe Gluten Free, substitute regular soy sauce with gluten free soy sauce.