Shiraae is a cold tofu salad mixed with slightly sweet and savoury (and almost nutty) seasoned vegetables. It's a perfect side dish to any Japanese meal. I especially enjoy making this tofu salad in the summer when we do a lot of outdoor Japanese style charcoal grilling.
There are only a few ingredients you need, in addition to the Japanese pantry staples (soy, dashi, mirin, sake, miso, sesame oil/seeds) which are tofu, tahini, and your choice of mix-ins. I always tend to have carrots and konnyaku blocks in the fridge as well green beans and edamame in the freezer so that's what I ended up using. But I've also made this with spinach, bok choy, gobo, hijiki, the list goes on…
I always use medium-firm (smooth) tofu for this dish, avoid using silken tofu as it is a bit too delicate for this recipe and will not yield the same thick and creamy texture as the medium-firm tofu. Start by draining the liquid from the tofu, easiest method is to place a weighted object on top of the tofu or use a pickle press. I tend to let the tofu drain overnight to get out as much liquid as I can, but 1 hour will suffice. If you are short on time, another method I've used is microwaving the tofu for a few minutes to quicken the release of liquids.

While you wait for the tofu to drain, you can prep the vegetables and other mix-ins as desired. Cut them into bite size pieces and simmer in seasoned broth (not pictured) until tender. Using a mortar and pestle (or food processor) grind the sesame seeds, mix in the remaining tofu seasonings, and mash up the tofu until smooth. If you are planning on making this dish in advance, I highly suggest mixing in the seasoned vegetable right before serving to prevent the dish from becoming watery due to the release of liquids from the vegetables.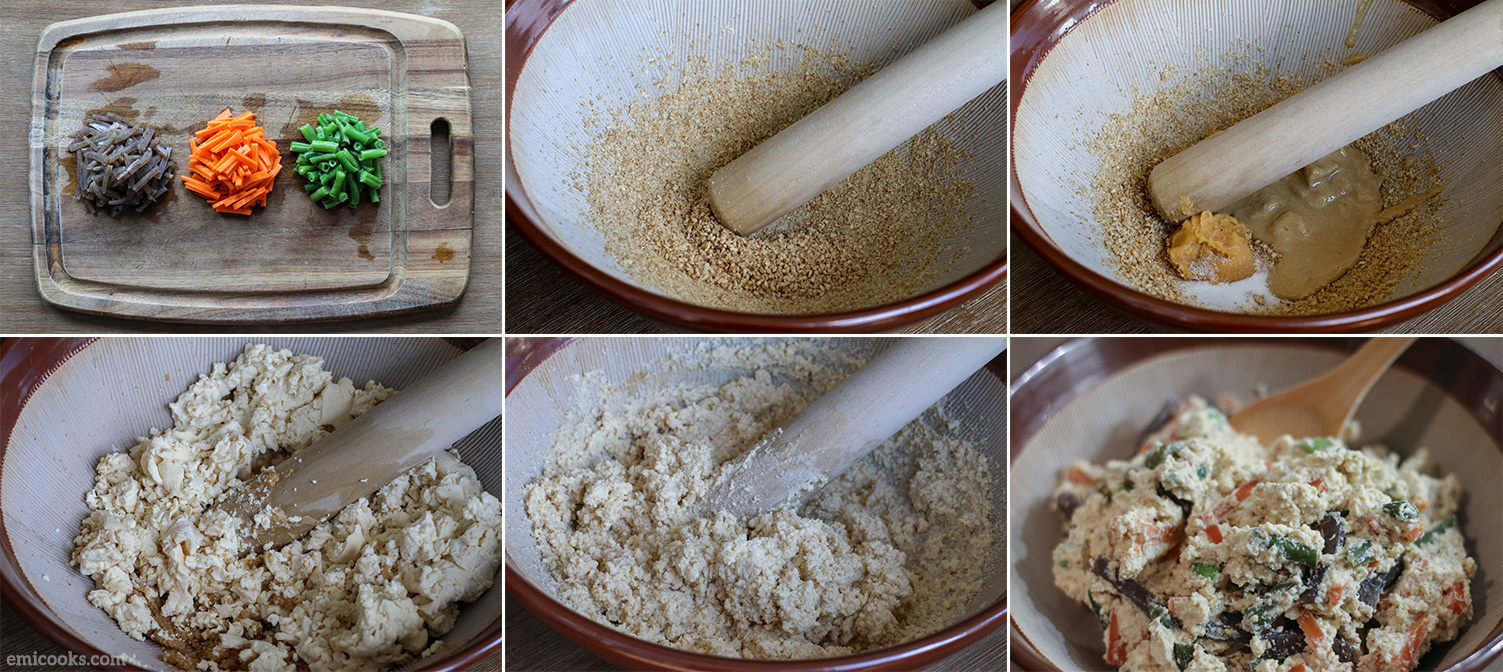 How easy was that?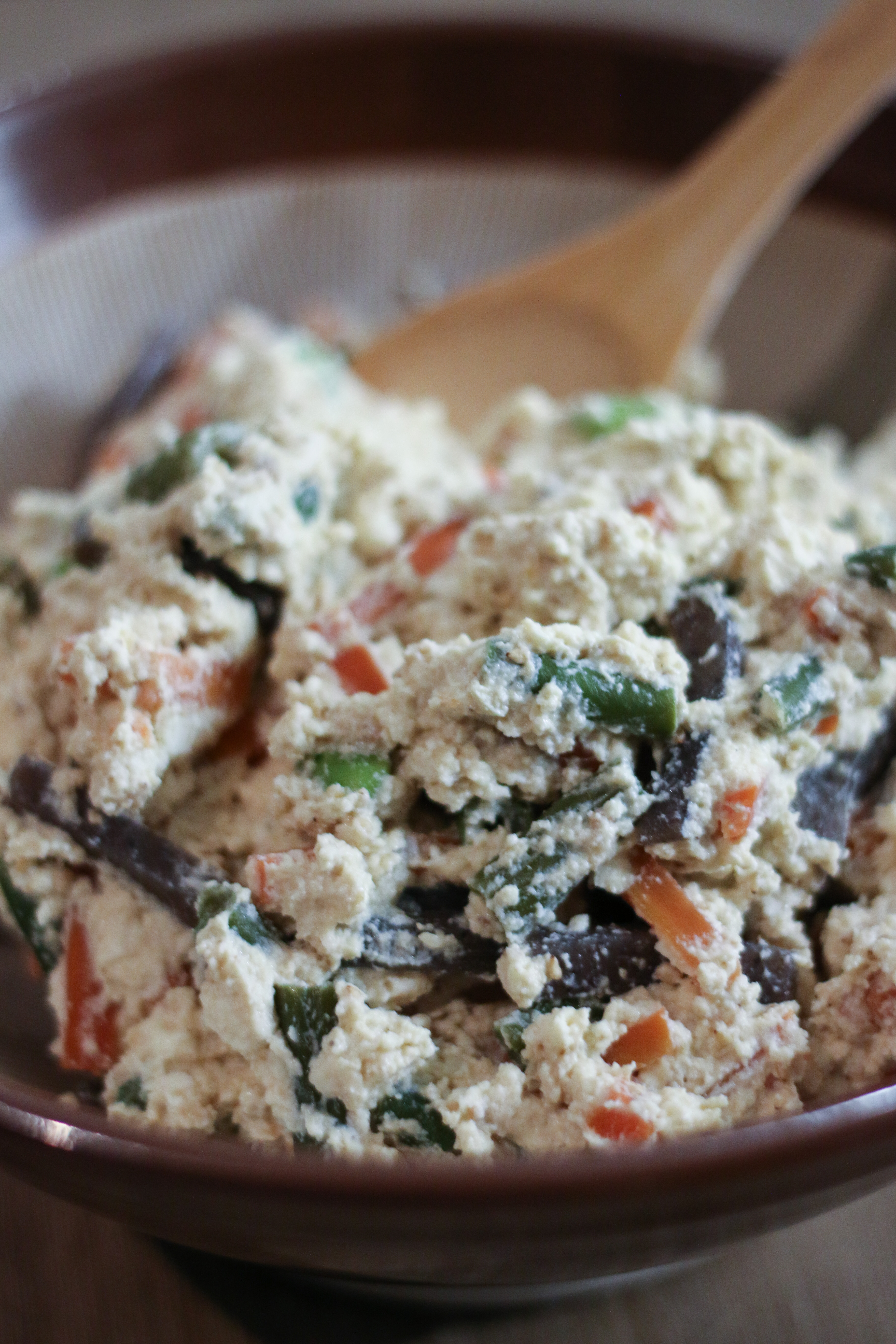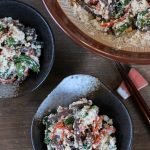 Shiraae (白和え) Mixed Tofu Salad
Simple tofu salad mixed with seasoned vegetable.
Yields
4
large to 6 small servings
Ingredients
Mix-In Base
1

block (454 gram)

tofu

medium-firm

2

cups (about 2 medium)

carrots

bite size

1

cup (1/2 of 220 gram block)

konnyaku

bite size

1

cup

green beans

bite size
Vegetable Seasoning
2/3

cup

water

1/2

teaspoon

dashi powder

1

tablespoon

sake

1

tablespoon

mirin

1

tablespoon

soy sauce

optional gluten-free

1

teaspoon

sesame oil
Tofu Salad Seasoning
2

tablespoons

white sesame seeds

toasted

1/2 to 1

tablespoon

white sugar

2

tablespoons

tahini

2

tablespoons

white miso

optional gluten-free
Instructions
Place tofu in a container larger than the tofu, lay plastic wrap on top of the tofu. Add a weight on top to press the tofu. Place the tofu in the fridge, leave for a minimum of 1 hour to overnight to let the excess water release from the tofu. (I prefer pressing overnight)

Add water, dashi, sake, mirin, soy sauce, and sesame oil to a pot. Bring the liquid to a boil and add carrots, konnyaku, and green beans. Turn the heat down to medium-high and cook until liquid is almost gone, about 10 to 15 minutes. Pour the simmered vegetables into a dish and place in the fridge for 15 to 20 minutes to cool down.

In a suribachi (mortar), add sesame seeds and grind with a surikogi (pestle). Add sugar, tahini, and miso. Mix to combine the sesame paste. Add drained tofu and grind the tofu until it forms into a paste, the paste should feel a bit sticky (about 5 minutes).

Add the chilled simmered vegetables and gently mix into the tofu paste.
Recipe Notes
Feel free to increase the amount of seasoning to your liking
Other add-ins can include: spinach, shiitake, edamame, bok choy, gobo (burdock), hijiki, etc.
If you don't have time to press the tofu, you can microwave the tofu for a few minutes to release some of the liquid.

If preparing in advance, keep the seasoned vegetables and tofu paste separate, combine when ready to serve.

If there are leftovers, you can make tofu fritters called ganmodoki (がんもどき)/hirousu (ひろうす) by adding an egg and some cornstarch to the tofu salad. Form the mixture into small patties. Pan fry or deep fry until golden brown.