Kevin has been talking about and showing me pictures of poke bowls non-stop this week. No, I don't mean pictures of hands poking bowls, but rather delicious tuna poke rice bowls filled with other yummy toppings. Poke (pronounced either po-kei or po-kay, I've heard both ways so I'm not sure which is actually correct) is an easy snack that pleases even the pickiest of people. Trust me, you can't screw this up.
Poke is a Hawaiian dish that is traditionally made with chunks of ahi tuna marinated in soy sauce, sea salt, sesame oil, limu seaweed (a Hawaiian seaweed), onions, and chili peppers. It's generally served with crushed roasted candlenut, but since this is a nut-free house I didn't use any nuts in my recipe. I'm not sure how popular candlenut is outside of Hawaii and being that I have never heard of it before, you could easily use macadamia nuts as a substitute.
There are a lot of other poke variations out there with octopus, crab, shrimp, and even tofu. However since tonight was sushi night I decided to use Sockeye salmon and Albacore tuna since I already had some on hand. The type of fish is really up to you. Any kind of salmon or tuna would work, just make sure it's fresh and sushi-grade.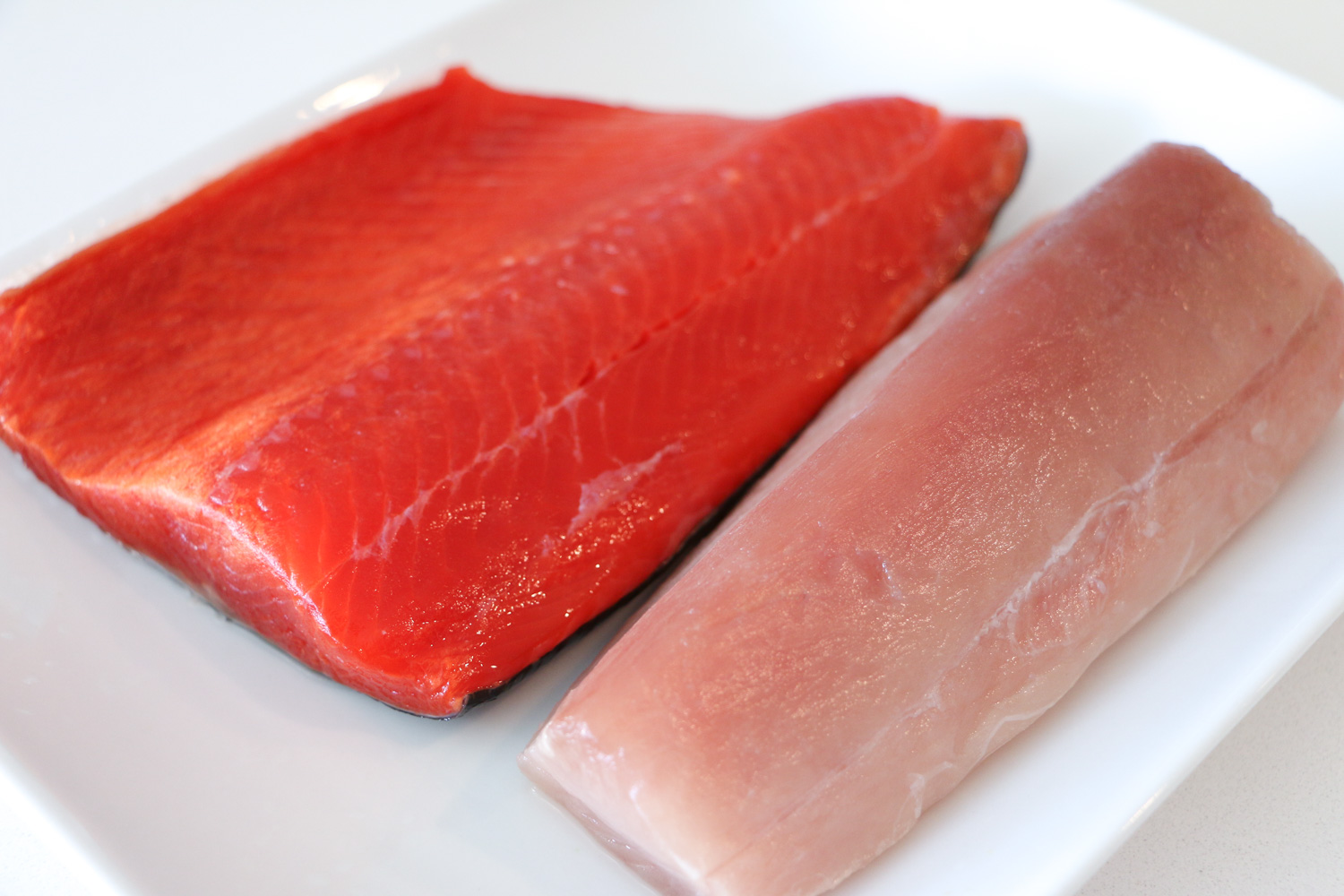 For the marinade I decided to add in some grated ginger, garlic, and hot chili sesame oil to the soy sauce mixture. (Note: For those of you who are living the gluten free life style, you can opt of a gluten free soy sauce to use in the marinade.) I only used a small clove of garlic because I didn't want it to be too garlicky. I do love garlic, but I didn't particularly want a lingering garlic taste in my mouth especially during sushi night! If you don't have hot chili sesame oil, you can use regular sesame oil and a sprinkle of dried red chili pepper flakes. I add hot chili sesame oil to everything, so I always keep some on hand. Once you have your marinade ready, add it to the cubed fish and let it sit in the fridge for about two hours.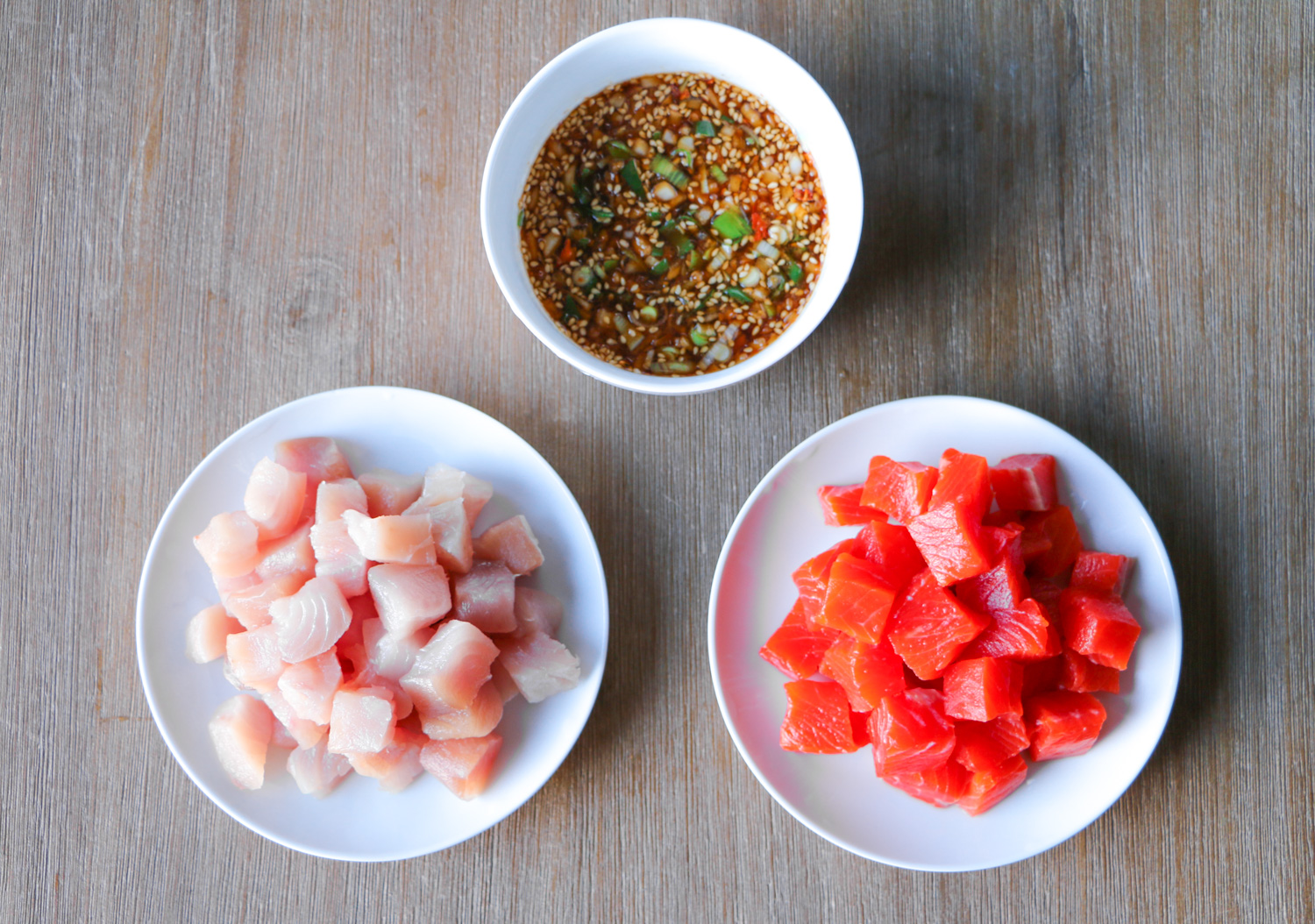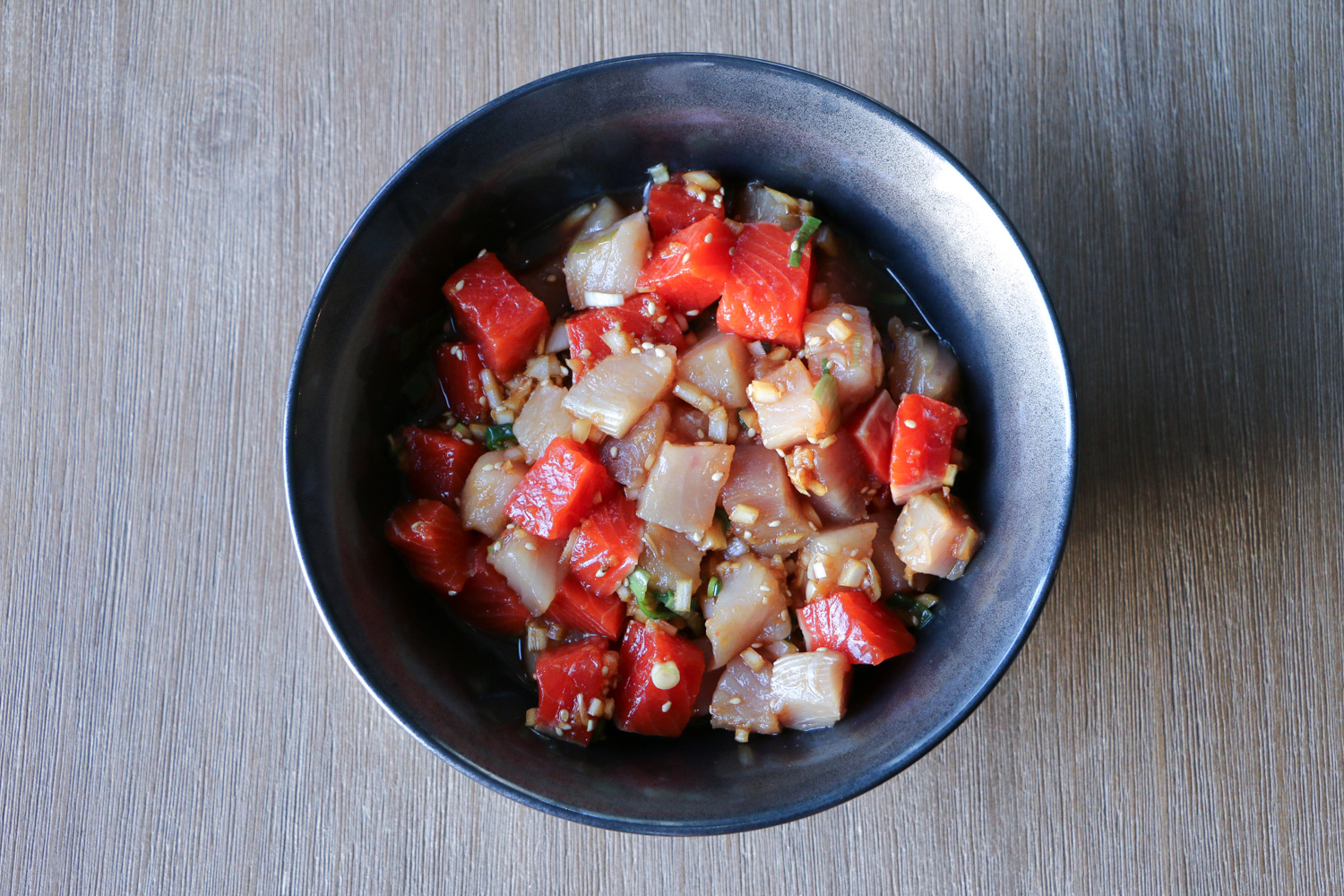 In the meantime, prep all the toppings for the poke bowls. I chose to slice up some carrots, cucumbers, and daikon. I used my Japanese mandoline for the carrots and daikon. This little guy is a time saver! Just make sure not to slice off your fingers, it's very sharp. If you don't have a mandoline, now would be a good time to practice your knife skills

.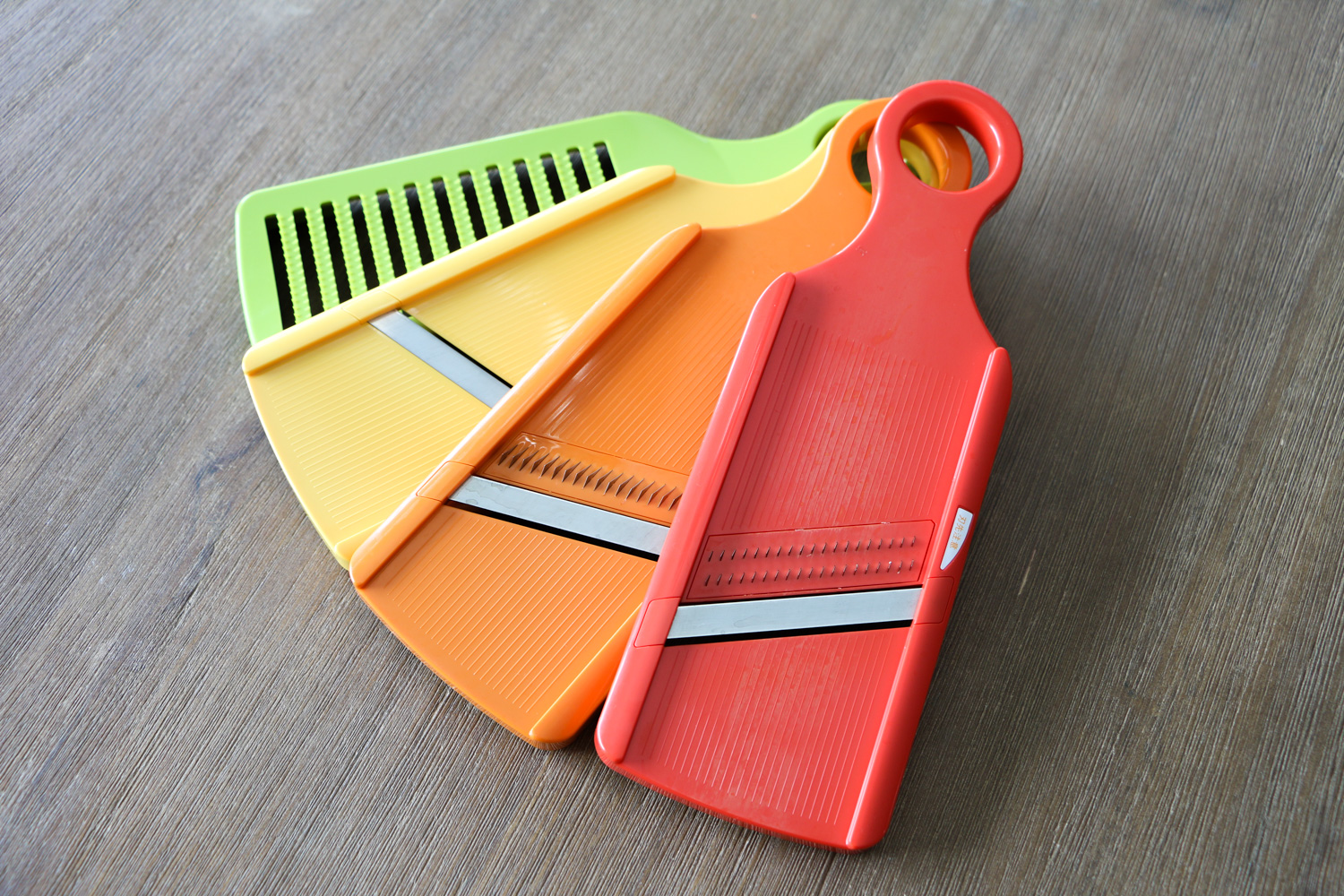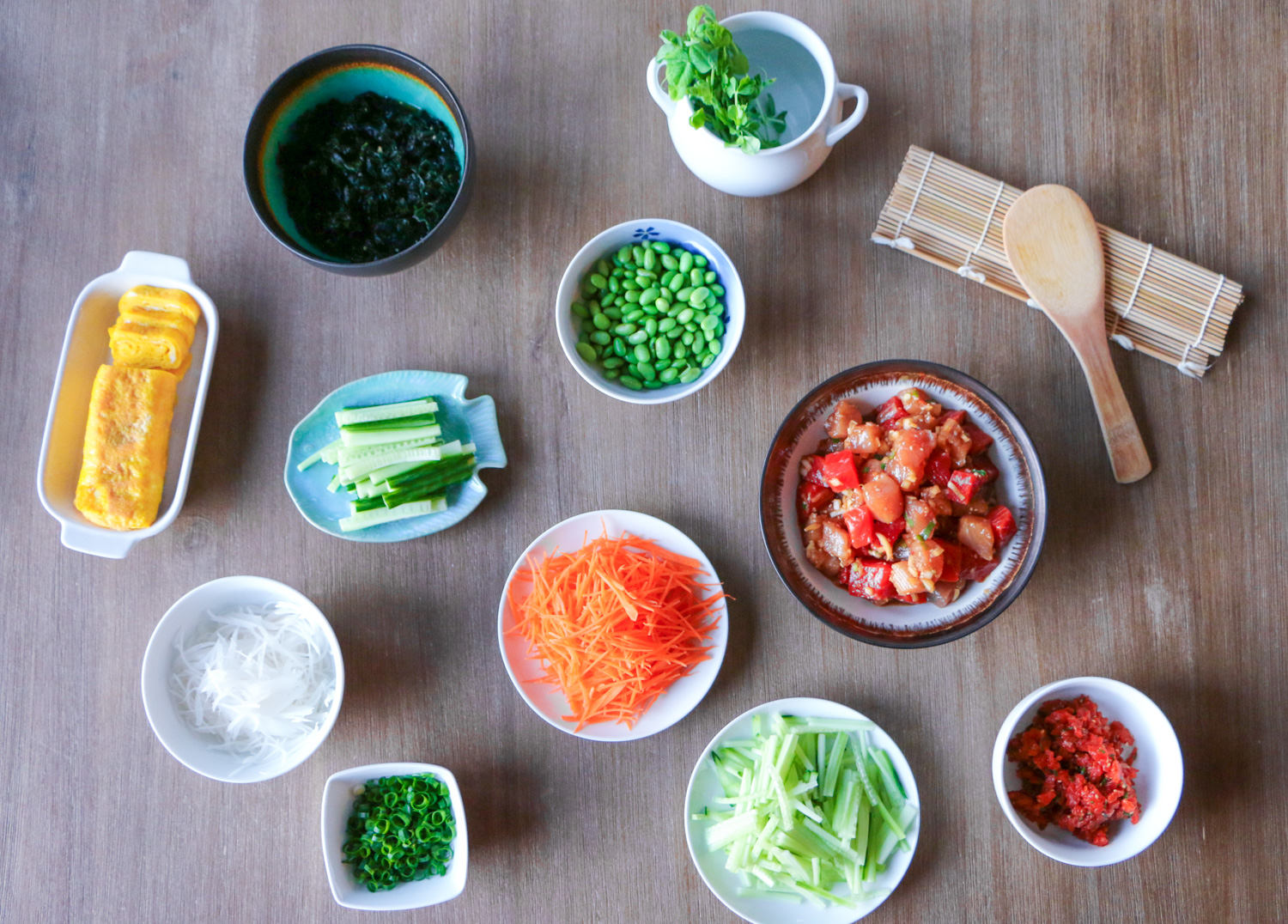 Note:
I intended to make a seaweed salad to go along with the poke, but I couldn't find it dried at my local Asian grocer. You've probably seen variations of seaweed salad on every sushi menu you've ever seen. How I've known it growing up was as chuka wakame which means Chinese seaweed in Japanese. Alternatively it is called goma wakame which means sesame seaweed, or hiyashi wakame which means chilled seaweed. It's a really nice refreshing salad with a slight sweet flavour to accompany the sesame goodness. The seaweed salad looks like this: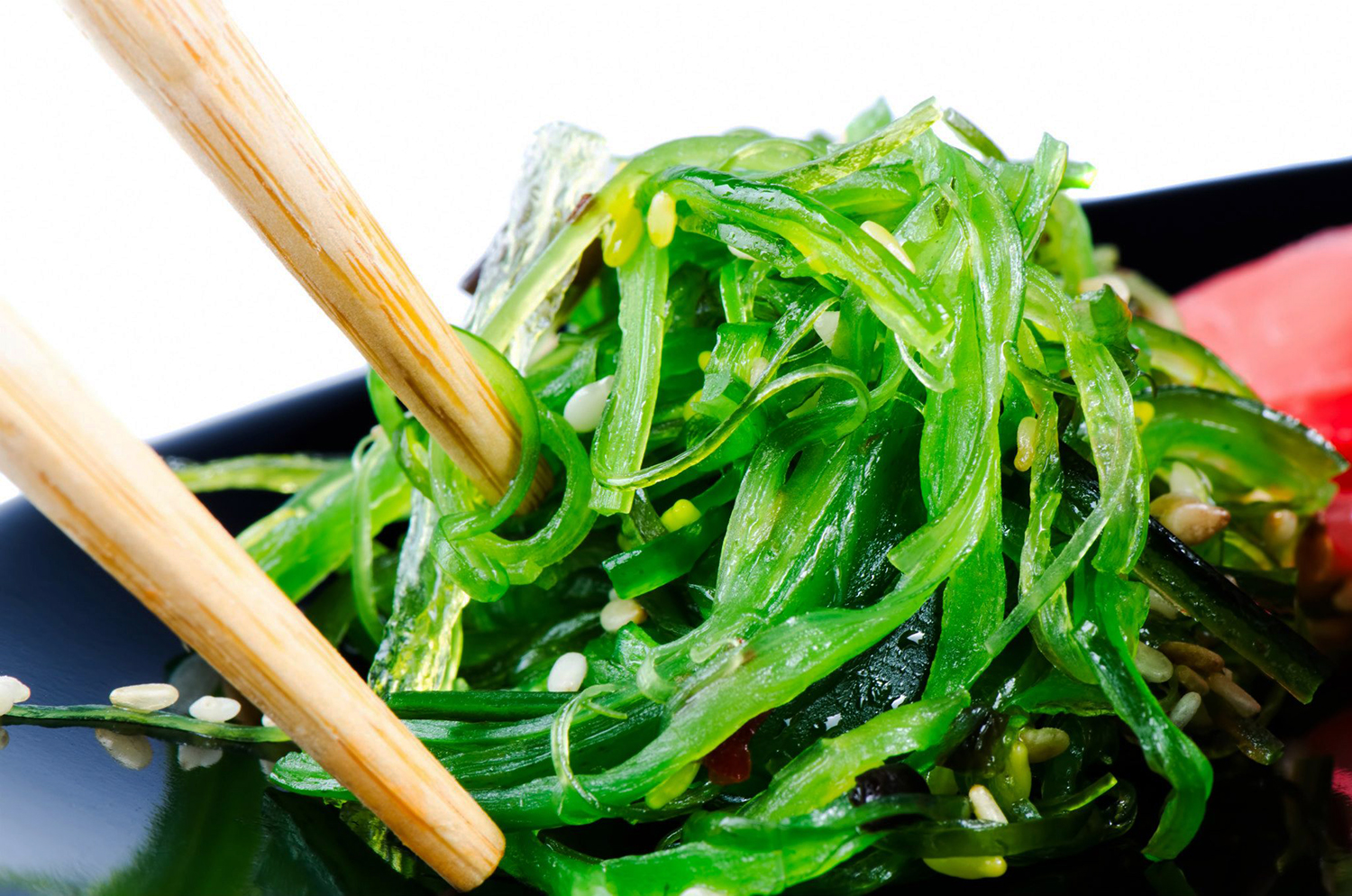 However, the Asian grocer gods did not want me to make it on my own, so alas I tried the sushi counter, but there were only very sad looking pre-made containers of it on display. So, heck with it I decided to use wakame instead. If you want a recipe for the seaweed salad you can find a similar one here. (Note: Be careful with store-made seaweed salad, most of the time they will use regular soy sauce to season the salad. If you have the opportunity to make it yourself, opt for the gluten free soy sauce.) Oh, and if you have some avocados lying around, definitely dice them up and throw it in the poke bowls. I wish I had some ripe ones when I made this, because avocados would be a great addition to this dish.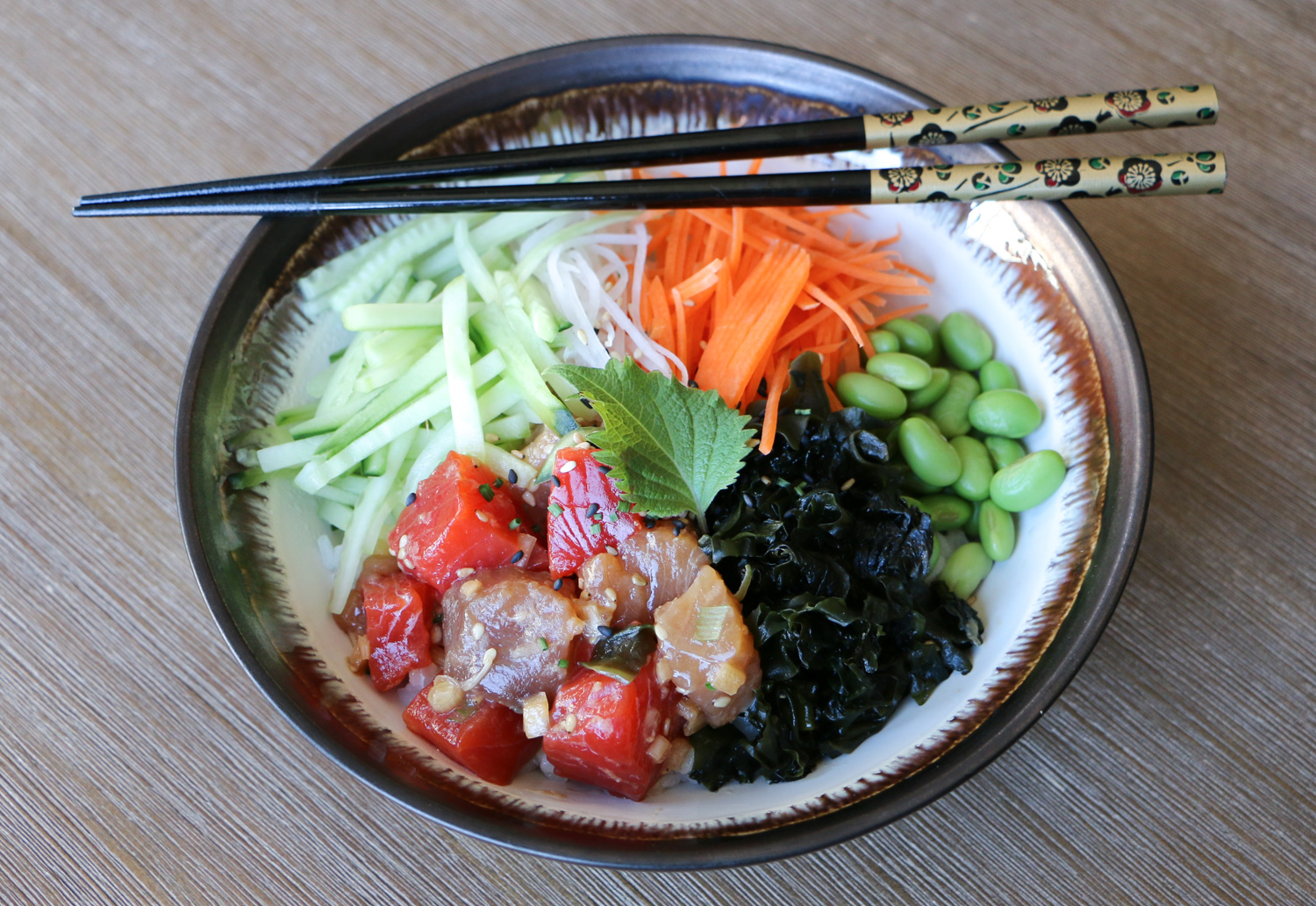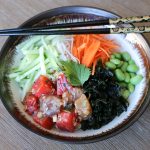 Tuna and Salmon Poke Bowls
Delicious shoyu marinated tuna and salmon that can be served as an appetizer with wonton crisps, rice crackers, or even in a rice bowl with additional toppings!
Ingredients
Shoyu Poke Marinade
¼

cup

soy sauce

gluten-free version optional

1

teaspoon

chili sesame oil

¼

cup

green onions

chopped

¼

cup

yellow onion

chopped

1

teaspoon

fresh ginger

grated

1

small garlic clove

grated (optional)

½

chili pepper

cored, seeded and diced (optional)

2

teaspoon

toasted sesame seeds

coarse ground sea salt

to taste
Fresh Fish
½

pound

fresh Albacore or Ahi tuna

cut into bite-size pieces

½

pound

fresh Sockeye or Atlantic salmon

cut into bite sized pieces
Toppings
carrots

thinly sliced

cucumber

thinly sliced

daikon

thinly sliced

seaweed salad

edamame

avocado

diced

sprouts

nori

pickled ginger

furikake

tobiko
Instructions
Add all of the marinade ingredients to a large bowl.

Add the fish and mix lightly.

Cover and refrigerate for up to 2 hours before serving.

To serve, layer the bowl with a bed of rice, add the poke mixture, and any of your desired toppings.
Recipe Notes
To make this recipe gluten free, use gluten free soy sauce for the marinade and omit any store-bought seaweed salad as this will most likely contain soy sauce. You can replace the seaweed salad with wakame.