One of my favourite parts of travelling is wandering aimlessly in foreign streets, falling into unexpected adventures, and uncovering hidden gems you would not find in a travel guide. While in Osaka, Kevin and I stumbled upon a quaint shisha bar called Cafe Absinthe. With the non-stop walking we were doing, we decided to relax a bit and order some nibbles, drinks… and shisha of course. What amazed me about this little cafe was how AMAZINGLY YUMMY the hummus was. Something so simple, so easy, and so basic, was turned into something so unique! Trust me I could eat an entire tub of this stuff! The hummus was so creamy, the pita so pillowy, and the addition of what seemed to be something similar to a thickened version of cream of mushroom soup was just so perfect. Kevin made sure that I took notes on the flavour profile so I could make him the same hummus when we got back home.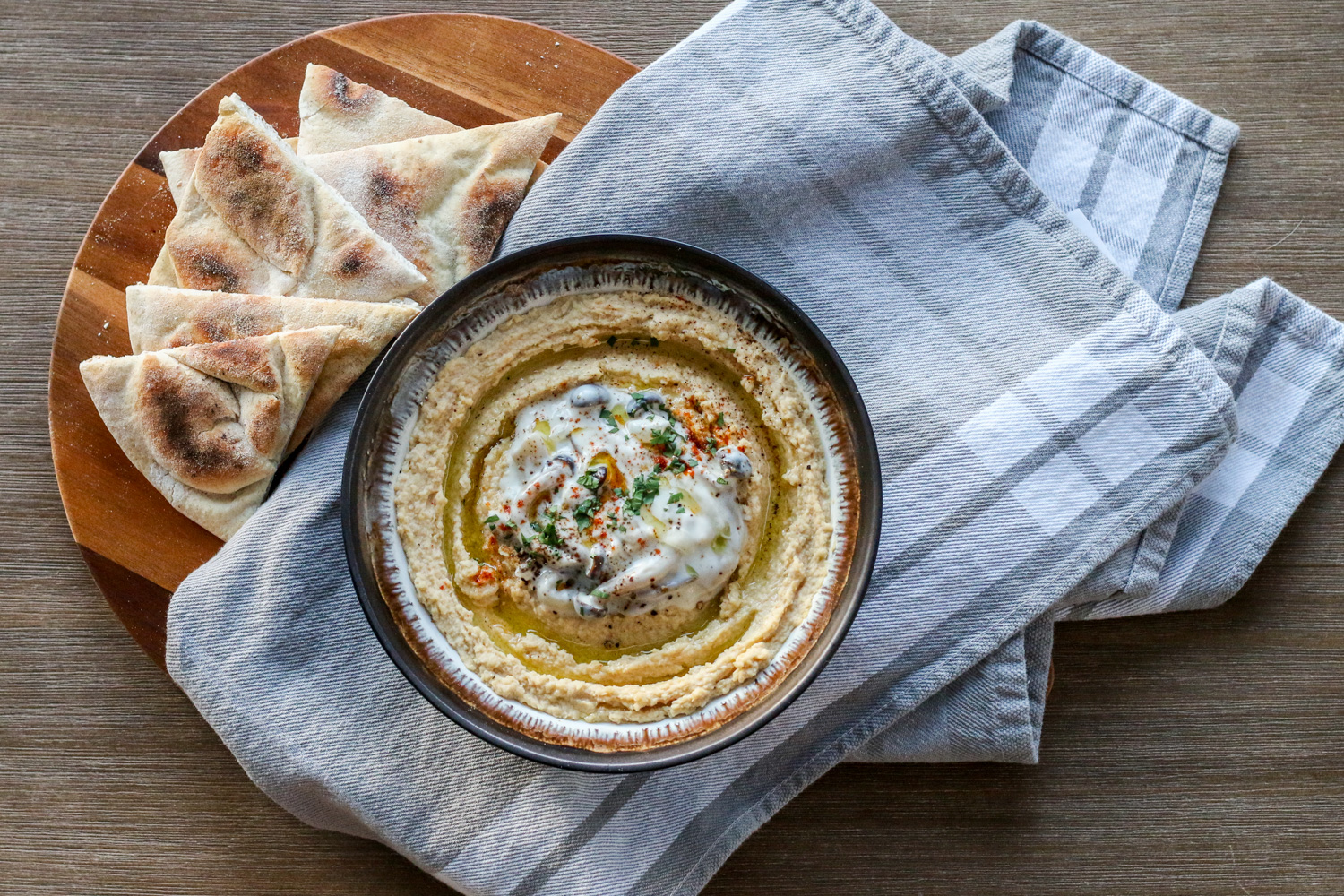 With not much to do yesterday, other than scour the web for Boxing Day deals, Kevin pleaded with me to make some hummus and pita that he could munch on. Luckily I already had most of the ingredients, except for parsley. Shhhh… don't tell anyone 

,  but I totally used finely chopped cilantro to mimic parsley.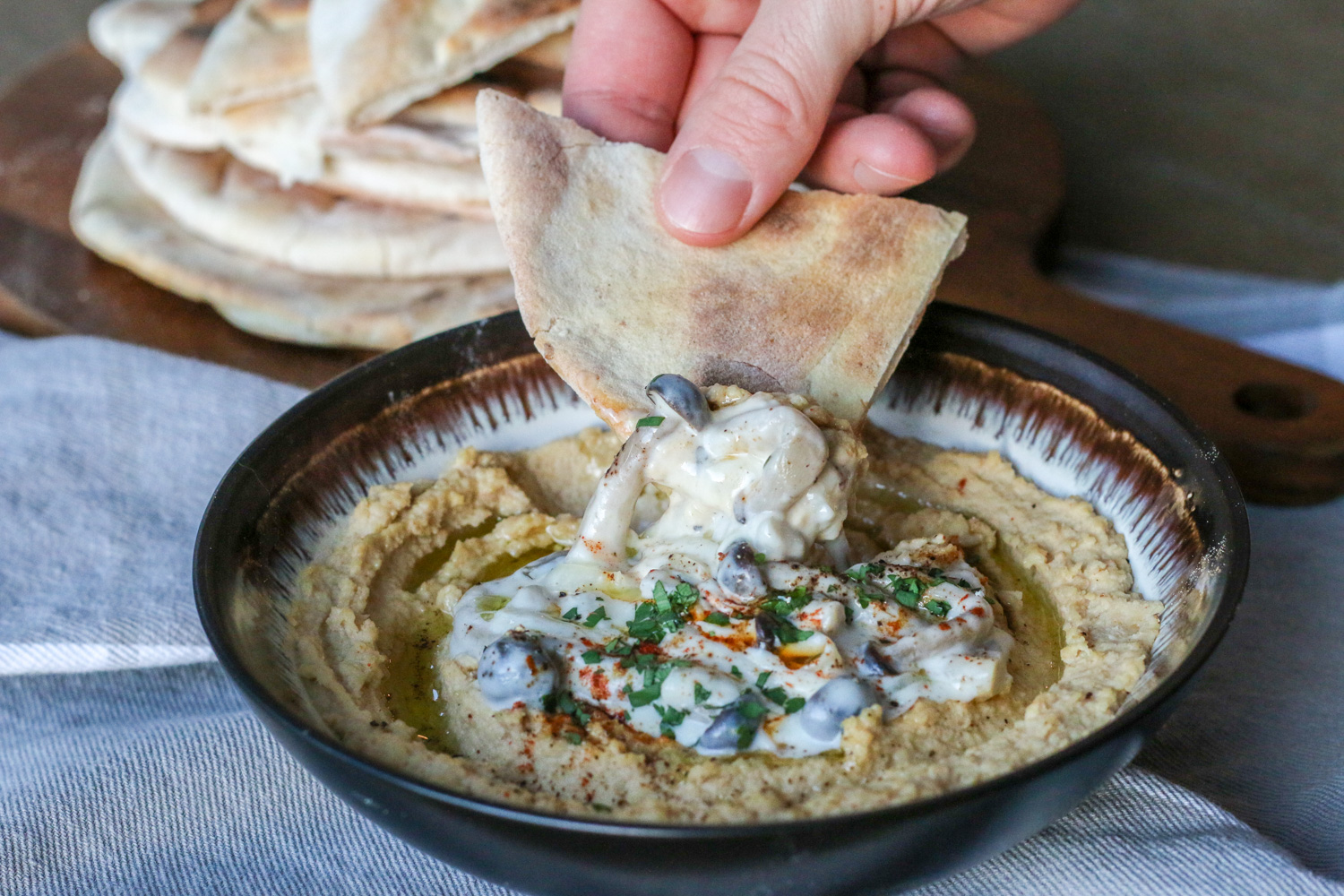 For the pita, I just used Serious Eats' Perfect Pita recipe, because why create my own when one already exists? Surprisingly, pita is extremely easy to make, so easy that you'll never want to buy pita from the store again!
Hummus is just the same, basically everything goes into a food processor. These are my favourite kinds of recipes! The texture is really up to you, because Kevin doesn't like smooth hummus, I toned the liquids down. If you prefer a more whipped and creamy texture, feel free to add a bit more oil and/or water. Everything is really "to taste", I have measurements as guide, but you can adjust to your own flavour preferences to make it your own. Since I was on a truffle kick, I added truffle oil to each part of the recipe, but feel free to use regular extra virgin olive oil if you don't have truffle oil. Truffle oil can be a bit pricey, but if you have it, you should definitely use it because it adds a nice earthy and mushroomy kick to the hummus.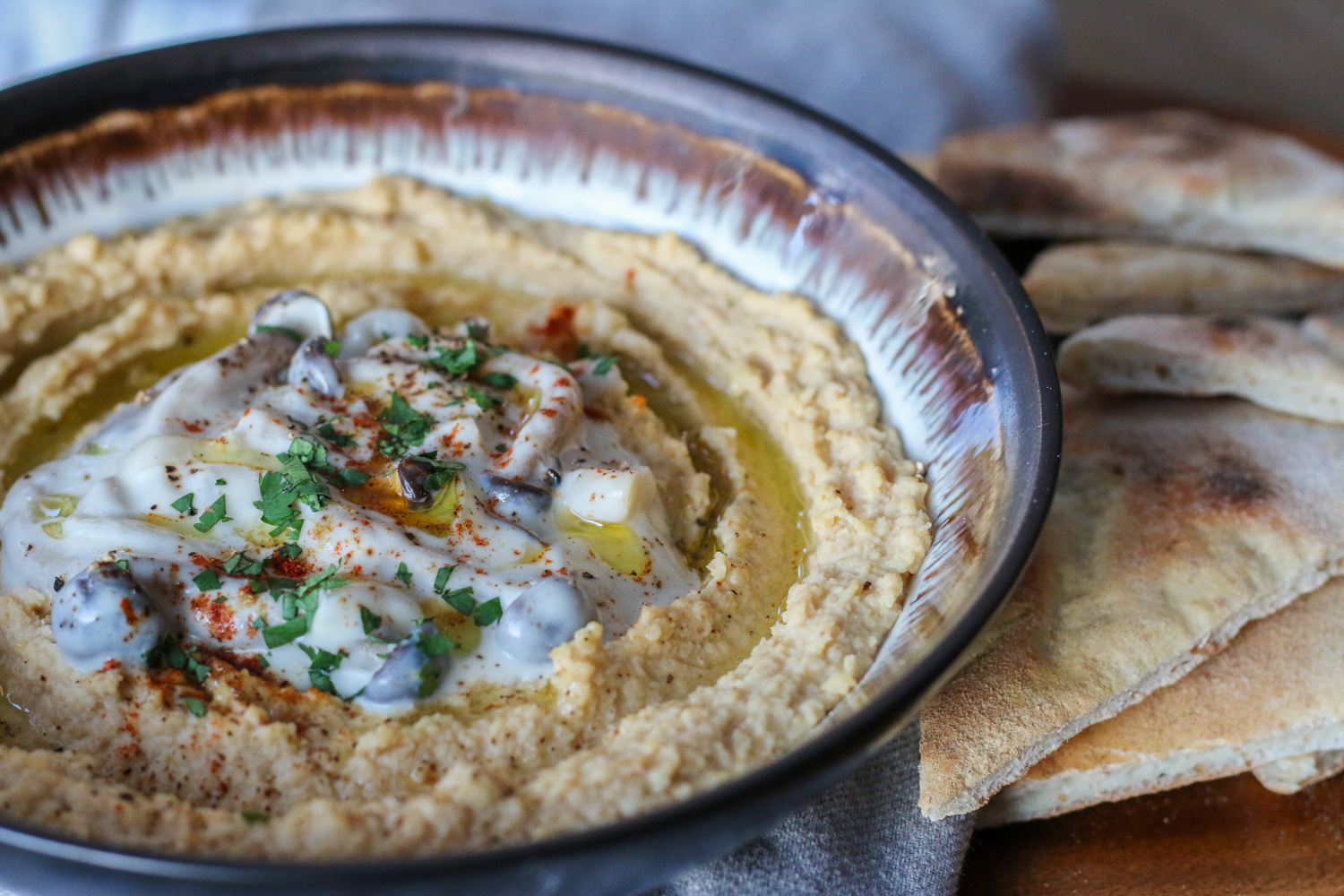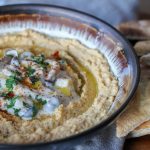 Creamy Mushroom Hummus
Mushroom cream sauce and hummus? Who would have thought they fit so perfectly together. Try this simple twist on traditional hummus to please any of your mushroom-loving friends.
Ingredients
Hummus (makes 2 cups)
½

teaspoon

extra virgin olive oil

2

cloves

garlic

smashed

¼

cup

tahini

¼

cup

lemon juice

fresh squeezed (1 whole lemon)

¼

cup

extra virgin olive oil

1

19oz. can chickpeas, rinsed and drained

3

tablespoons

water

⅛ to ¼

teaspoon

cayenne pepper

add more if you like heat

½

teaspoon

ground cumin

¾

teaspoon

truffle salt
Mushroom cream sauce (makes 1 cup)
1

tablespoon

truffle oil

⅔

cup

65 g white onions, half moons

2

cloves

garlic

minced

2

cups

150 g, brown shimeji mushrooms

½

tablespoon

butter

1

tablespoon

flour

⅓

cup

+ 1 tablespoon heavy cream

⅓

C

+ 1 T chicken broth

⅓ C + 1 T water + ½ t chicken paste

¼

t

ground cumin

Small pinch of nutmeg

¾

t

truffle salt

to taste

¼

t

black pepper

fresh cracked
Garnish
Truffle oil drizzle

Black pepper

fresh ground

Paprika

Parsley

fresh chopped
Instructions
In a small frying pan, heat oil to medium-high and add garlic cloves. Sauté until soft and brown. Reserve for use in hummus.

In a food processor, add in sautéed garlic, tahini, lemon juice, and oil. Blend briefly until combined. Add chickpeas, water, cayenne, cumin, and truffle salt. Blend until smooth. Reserve for later use.

In a medium pot on medium-high heat, add truffle oil, onions, garlic, and mushrooms. Sauté for about 10 mins until the onions are soft. Add butter and stir in the flour. Add cream, broth, cumin, nutmeg, truffle salt, and pepper. Cook until the mushroom sauce thickens.

Place hummus in a bowl and add mushroom cream sauce in the centre. Drizzle over truffle oil and add garnishes. Serve with warmed pita.

Enjoy!