I have to admit I was never a fan of red meat, I just didn't grow up eating it. It wasn't until about four years ago I started to introduce red meat into my diet, thanks to Kevin and our shared meal planning. I can't believe what I was missing out on. Beef has grown to be one of my favourite meats, just after pork. So what do you do when you are gifted a chunk of grass-fed beef from a farmer and you happen to be making fresh bread? Well obviously you have to make beef dip sammies!
Beef dip or French dip sandwiches are typically served on a soft and chewy French roll, that's how it gets its name, however you can choose whatever bread you like. We happened to be making a nice hearty loaf of yummy gluten filled bread for Kevin as well as some (surprisingly good) gluten free mini loaves for me.  I'm a recent gluten-free convert (not by choice) and have been struggling to figure out how to make good bread without gluten. My past attempts have resulted in seriously dense bricks

… but through trial and error and concocting a batch of my own homemade gluten free flour, I seem to be reaching the light at the end of the tunnel. Exhibit A: Gluten free loaves worthy of being using in this beef dip recipe.


Now on to the beef. A nice marbled cut of beef works best, I ended up using a round roast, but some alternative cuts that are ideal for slow cooking would be chuck roast, rump, or rib roast.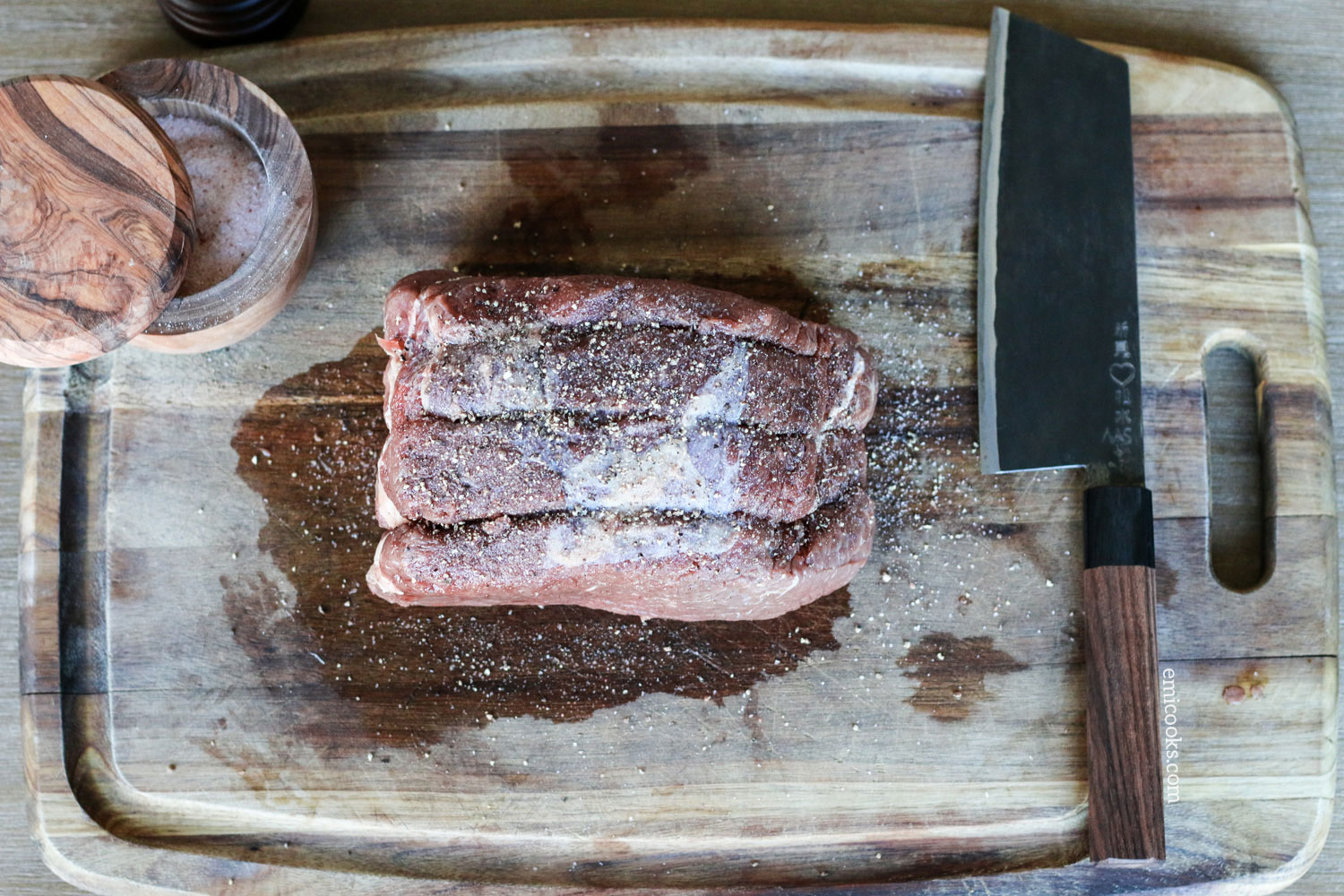 Searing is key. Yes, it's an extra step and you can skip this, BUT do know that you'll be missing out on developing greater depth of flavour that will enhance the overall finished dish. Searing the meat prior to slow cooking caramelizes the surface and creates that nice browned looked on the roast, a look you won't be able to achieve by slow cooking in liquid. Without the high sear on the meat's surface, the Maillard reaction won't occur. In simple terms, the Maillard reaction describes what occurs when sugars react with proteins and amino acids under high enough heat. This reaction causes food to develop complex flavours and aromas.
Once the meat is seared and the onions and garlic are nicely browned, combine in a slower cooker and add in all the flavour juices (broth, worcestershire, peperoncini pepper and liquid (so good!), and bay leaf). If you are making this gluten free, make sure the beef broth (if made from paste or cube) is gluten free, most of the popular go-to brands will contain gluten. I usually use Better than Bouillon paste or GoBio!. The former is definitely way more flavourful than the latter. Another gluten culprit is Worcestershire sauce due to the malt vinegar. Main brands such as Lea & Perrins will contain gluten, opt for French's gluten free worcestershire for an easy alternative. (Note: I'm not sure if these are celiac friendly)
Let the meat slow cook for 6 to 7 hours on low, turing half way. When the meat is done, you'll want to slice it up and place it back in the liquid to soak up all that flavourful-goodness. Also it'll give you time to prepare the remaining counterparts: au jus and horseradish spread.


Putting the sandwich together is pretty easy. Butter both sides of your bread of choosing and toast in the oven, then pile on the goodies – beef, onions, garlic, cheeeese (a few slices of Swiss will do) and place it back in the oven just to melt the cheese. Spread on a generous portion of horseradish sauce and you're done!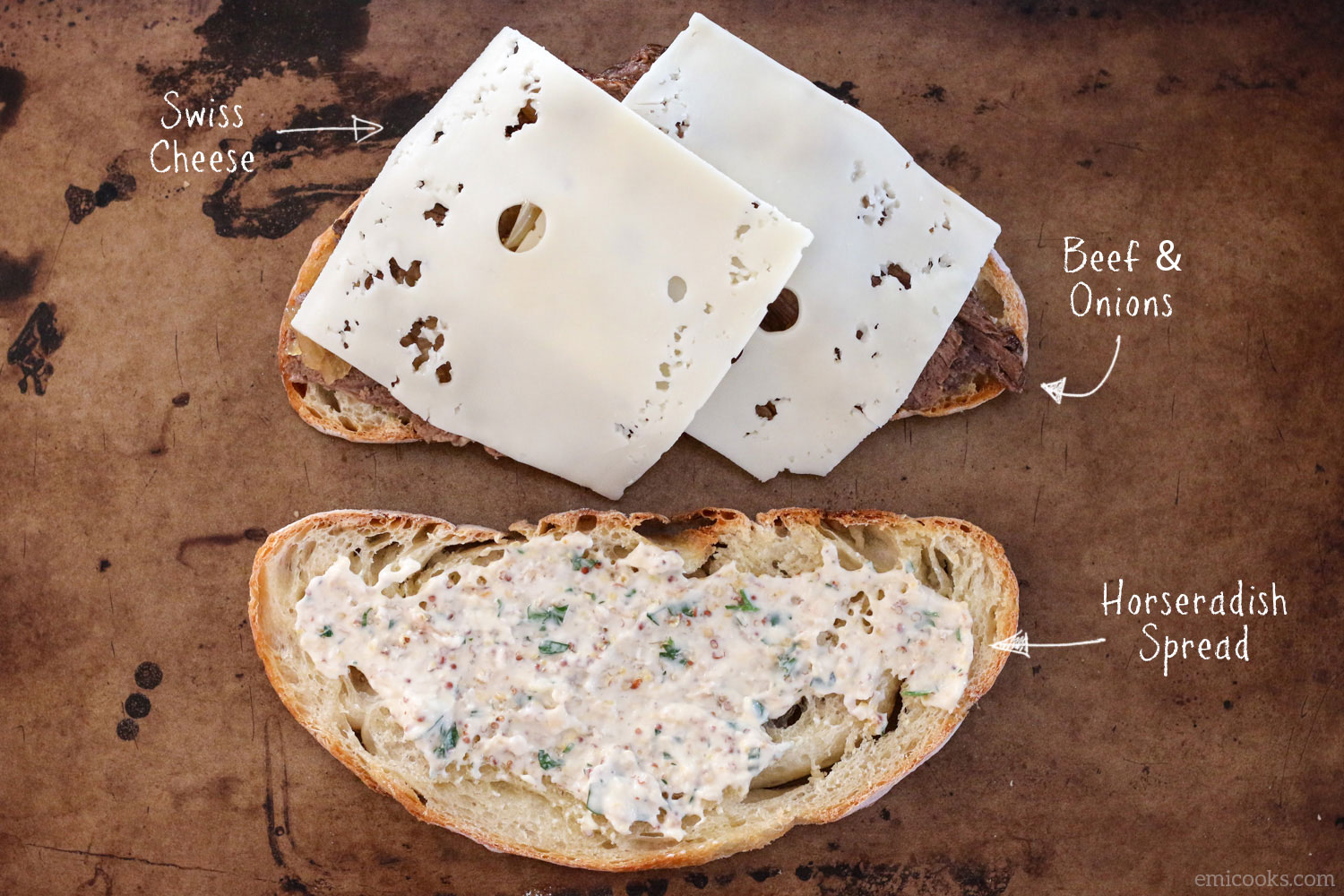 Serve along side au jus and some cornichons.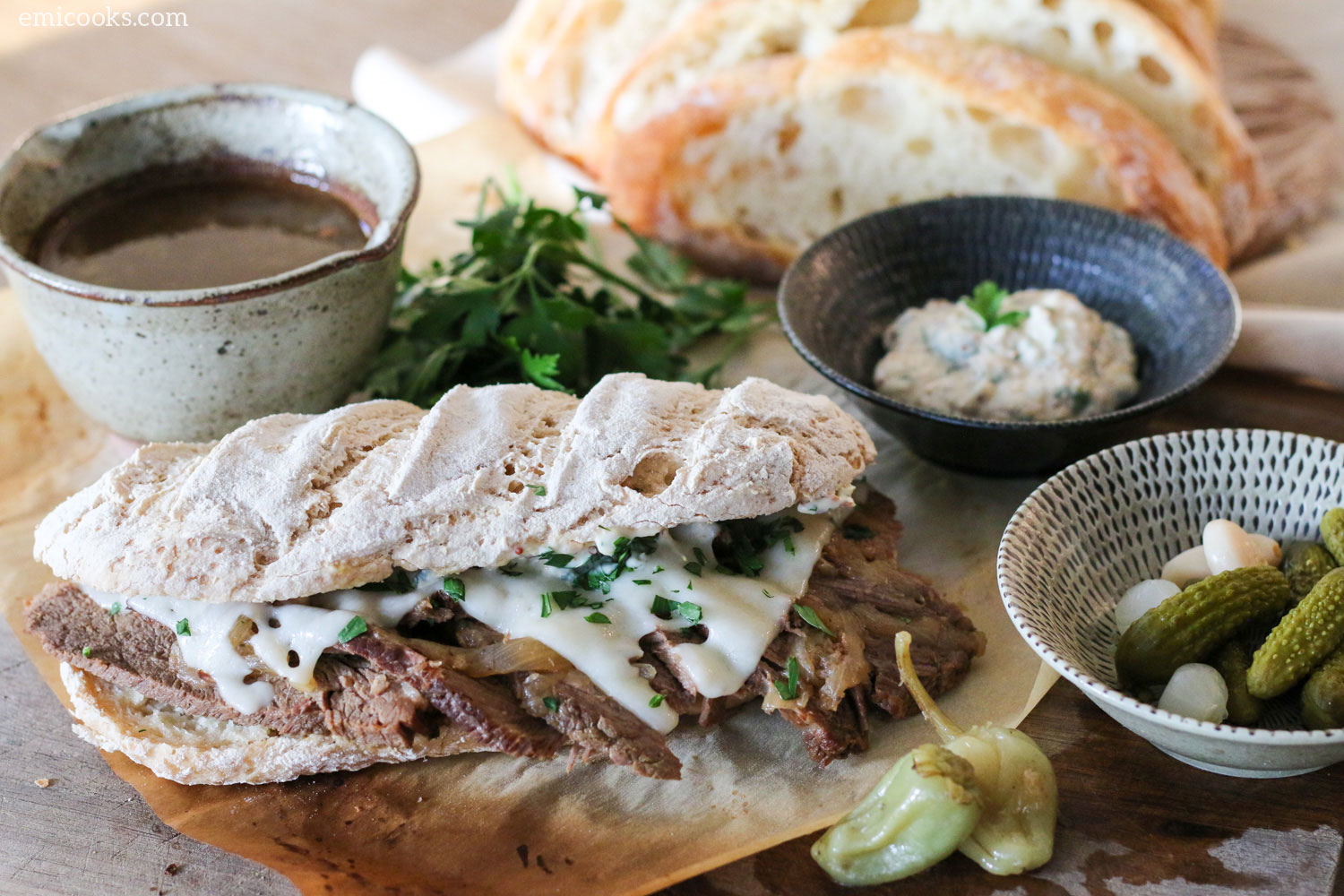 Don't forget to dip!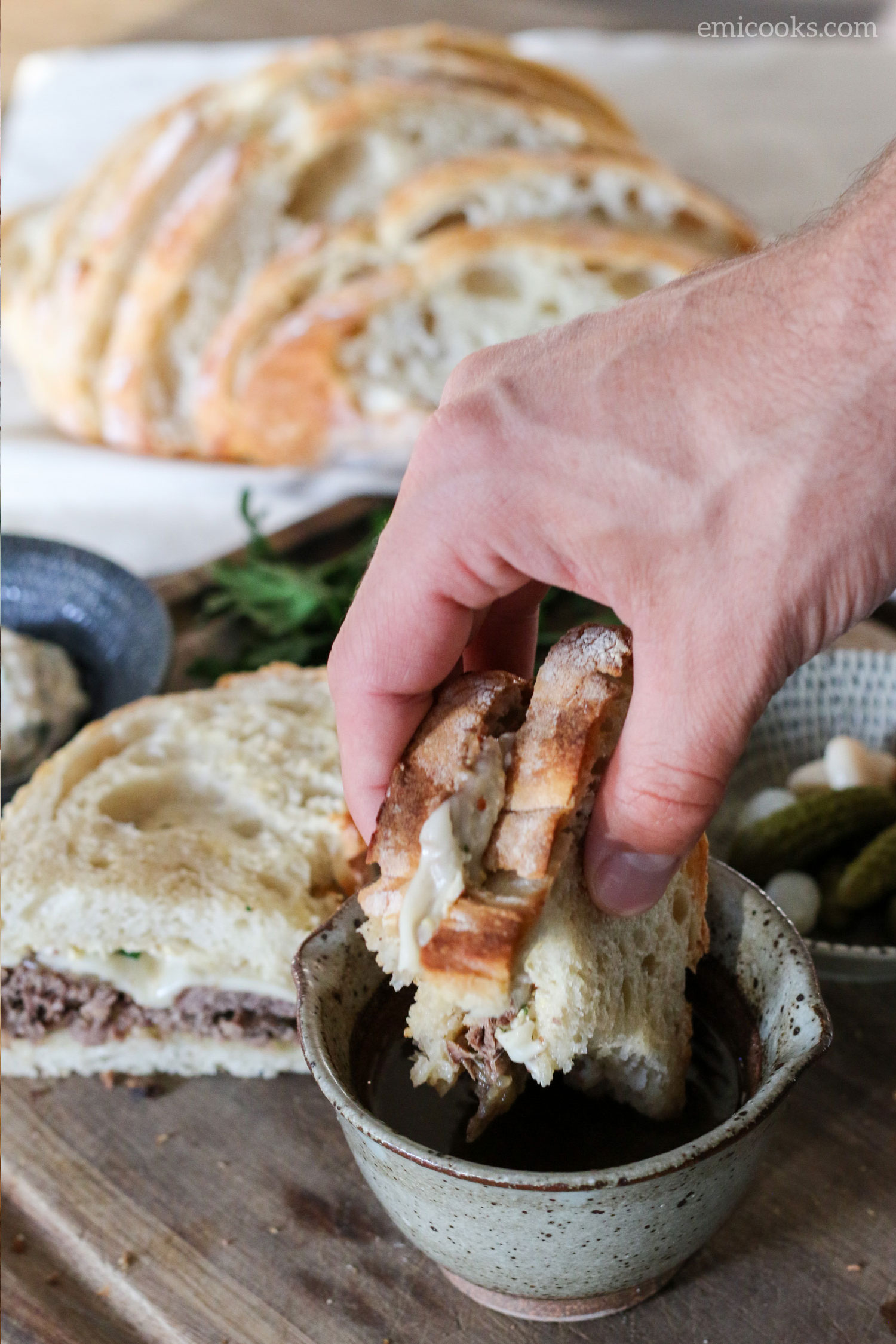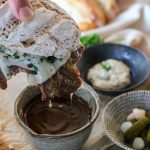 Slow Cooker Beef Dip Sandwich
Slow cooked beef, onions, and cheese piled high on a soft bun dipped in a savoury au jus, what could be better? Beef dip is an easy crowd pleaser that definitely will not disappoint.
Ingredients
Slow Cooker Beef
1.35

kilogram

grass fed round roast

fat trimmed (or any marbled cut of meat)

salt and pepper

for seasoning

2

tablespoons

oil

divided (plus more if needed)

1

(460 grams) large onion, sliced

4

cloves

(25 grams) garlic, sliced

2

cups

beef broth (2 cups water + 1 beef bouillon cube)

1

tablespoon

worcestershire sauce

10

pickled peperoncini pepper

½

cup

peperoncini pepper pickle liquid

1

bay leaf
Horseradish Dressing
3

tablespoons

prepared creamed horseradish

3

tablespoons

stone ground dijon mustard

6

tablespoons

mayonnaise

2

tablespoons

fresh parsley

chopped
Sandwich
6

sandwich rolls

split

12

Swiss cheese slices
Instructions
To prepare the beef roast: Pat the roast dry and generously season each side with salt and pepper. Using your hand, pat the seasoning into the beef.

In a heavy bottom pan or cast iron pan, heat 1 tablespoon of oil over medium-high heat and brown each side of the beef, about 2 to 3 minutes each side. (Note: You may need to add additional oil while browning each side to prevent burning). Coat the bottom of the slow cooker with some oil and transfer the roast to the slow cooker.

In the same pan, add another tablespoon of oil and cook the onions and garlic for about 5 minutes or until a golden colour develops over medium heat. Transfer the onions and garlic to the slow cooker when done. Add in beef broth, worcestershire sauce, pickled peperoncini peppers and liquid, and bay leaf to the slow cooker.

Set the slow cooker to low and cook for 6 to 7 hours. Turn the roast over halfway through cooking.

Carefully remove the roast and place on a cutting board. Thinly slice the roast. Skim off the fat from the roast juices and place the sliced roast back into the juices. Let the roast sit in the juices for about 30 minutes.

To prepare the beef juice: Strain the beef juice and serve in a dipping bowl.

To make the horseradish spread: Mix together horseradish, Dijon, mayonnaise, and parsley in a small bowl.

To prepare the sandwich: Set the oven to broil. Butter both halves of each of the buns and place on a baking sheet, cut side up. Toast for a few minutes or until golden brown.

Place meat, onions, and peppers on the bottom half of the bun and place 2 slices of Swiss cheese over the meat. Repeat for the remaining buns. Place the sandwich back on the baking sheet (without the top buns) and broil until the cheese melts, about 1 minute.

Spread the top buns with a generous amount of horseradish spread and top each of the bottom halves.

Enjoy.
Recipe Notes
To make this recipe Gluten Free, substitute the following ingredients:
Bouillon - use a gluten free bouillon cube or paste such as GoBio! or Better than Bouillon
Worcestershire sauce - use a gluten free Worcestershire sauce such as French's
Bread - use a gluten free bread of your choice