If you were to ask me what my favourite winter dish was growing up, I would definitely say nikujaga (肉じゃが). Nikujaga (meat and potatoes in Japanese) is a homey dish made of simmered potatoes, onion, shirataki, and surprisingly just a bit of meat for flavour. Just like most Japanese simmered dishes (nimono 煮物) the ingredients are simmered in a sweetened broth flavoured with dashi, sake, and soy sauce. The taste of nikujaga varies from household to household, but the flavours are never forgotten by those who grew up with their mom's cooking. Typically as people get older, they reminisce about their mother's cooking, which is why dishes like this are considered ofukuro no aji (おふくろの味) meaning the taste of mother's home cooking. I personally do this all the time, I tell Kevin about all the amazing food my mom would make, he usually responds with "You talk about all this delicious food, yet you never make me any of it" (insert sad puppy face). Hey what can I say, sometimes I get hung up with our weekly meal prep and I forget to fit in yummy dishes like this.
Since Kevin had been begging me to make something similar to the niku dofu we usually get at our local Japanese restaurant. I thought this was a great opportunity to make my mom's nikujaga recipe since I haven't made it in a while. Whenever I'm craving my favourite childhood dishes like nikujaga or oden, I usually call my mom and tell her how much I miss her cooking. She always ends up making my favourite dishes for me… for some reason it's just way better when she makes it. 

This dish is actually pretty easy to make, the only "hard work" would be prepping the ingredients… and that's not even hard! This is the easiest one-pot dish that warms the body and soul during the winter months.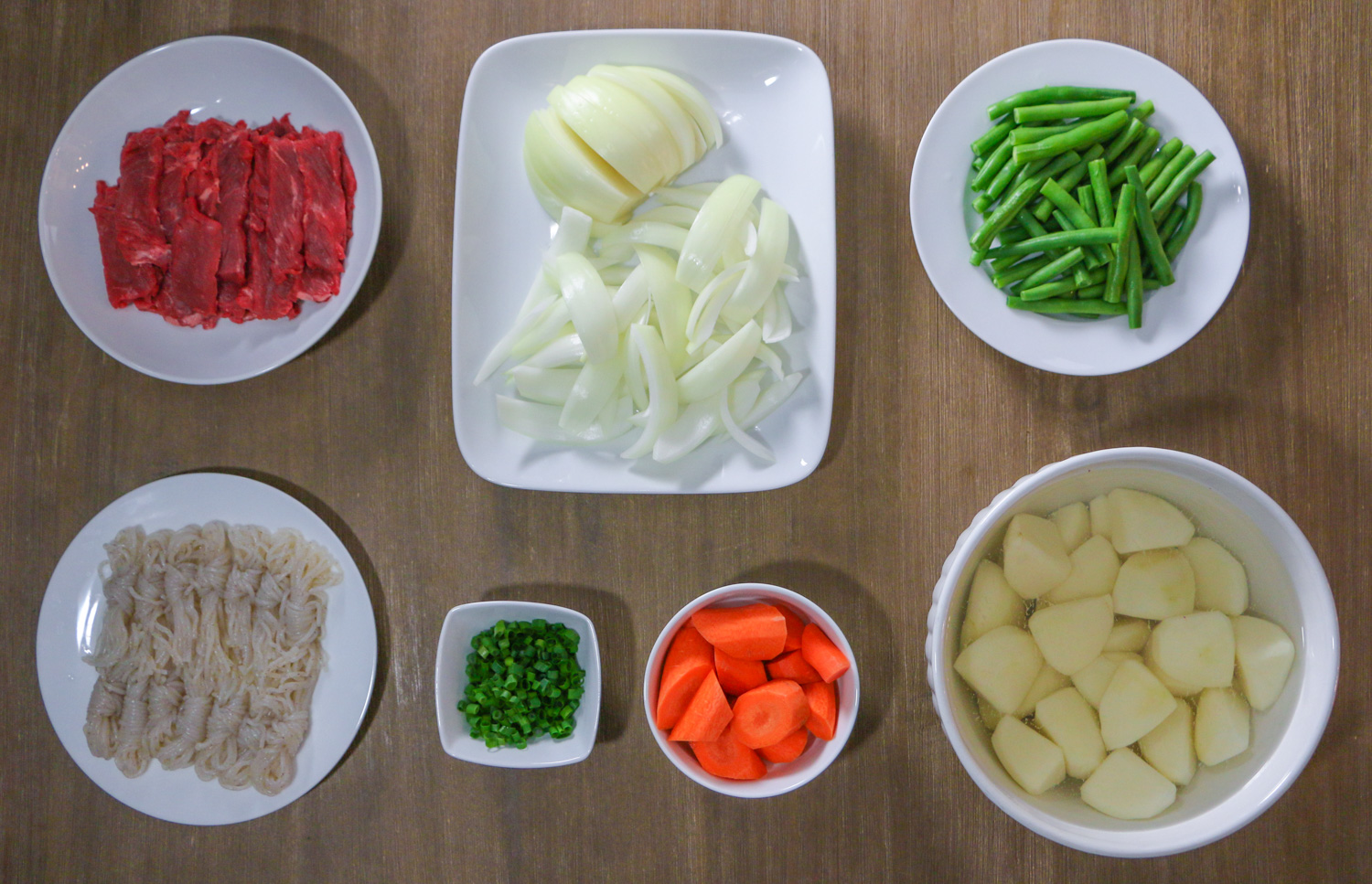 For this dish, I used a few tip and techniques I've learned from my mom and are quite common in dishes like this one. The first is the mentori (面取り) cutting technique which is used to round out the sharp corners of vegetables used in simmered dishes. Creating a smooth beveled edge on vegetables such as potatoes and daikon lessens the chance of vegetables breaking into pieces during the cooking processes. The second is the rangiri (乱切り) cutting technique which is used to cut long and thin vegetables like carrots, cucumber, and gobo into "rolling wedges". This technique involves making diagonal slices while rotating the vegetable in quarter turns. You can see both of these in the image above. The third is the use of an otoshibuta (落とし蓋) which is a wooden drop lid used during cooking to prevent ingredients from losing their shape and to allow for even distribution of flavouring within the ingredients. If you're anything like me and things in your house seem to grow legs and walk off, you can use aluminum foil that has been sized to fit inside your pot.
So hurry up, head over to the store and get the ingredients to make this! This recipe will definitely not disappoint!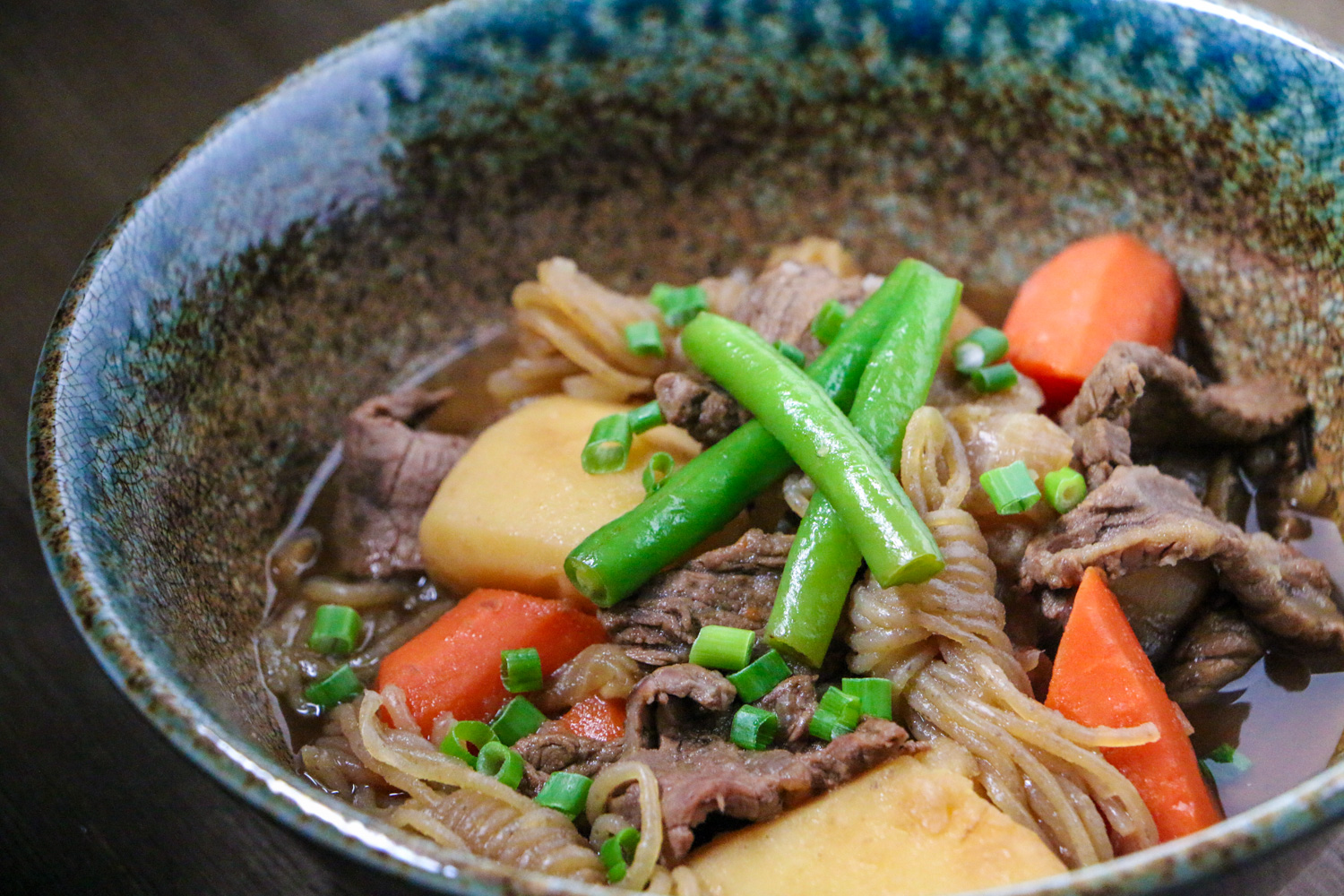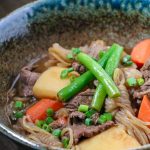 Nikujaga (肉じゃが) Japanese Meat and Potatoes
A popular Japanese meat and potato stew typically made during the winter months to warm the body and soul. Nikujaga always tastes better the next day because the flavours get to set in, so don't be afraid to make lots!
Ingredients
4

large potatoes

2

medium carrots

1

onion

1

(200 gram) package

shirataki noodles

1

teaspoon

oil

350

grams

beef

thinly sliced

½

cup

sake

5

tablespoons

soy sauce

optional gluten-free

2

tablespoons

sugar

1

teaspoon

dashi or kombu powder

2

cups

water

100

grams

green beans

trimmed

1

green onion

thinly sliced
Instructions
Peel and cut the potatoes lengthwise then into wedges. Bevel the edges and soak for 10 minutes in cold water.

Peel and cut the carrots into rolling wedges or large rounds.

Peel and cut the onion lengthwise, then into large wedges.

Rinse the shirataki noodles and set aside.

Heat oil in a pot and stir-fry the beef on medium-high heat until cooked through. Remove the beef from the pot and reserve for later.

Turn the heat down to medium, add the onions and sauté until translucent about 5-8 minutes. Add the potatoes and carrots and sauté for another 5 minutes. Add the shirataki and beef into the pot.

Pour in sake, soy sauce, sugar, dashi powder, and water and bring to a boil. When the water starts to boil, reduce to a simmer and place the otoshibuta (drop lid) over the ingredients. Simmer for about 30-40 minutes (until the potatoes are tender).

Remove the otoshibuta, add in the green beans, and cook until tender.

Serve in bowls and garnish with green onions.
Recipe Notes
To make this recipe Gluten Free, substitute regular soy sauce with gluten free soy sauce.